Australian start-up Seabin Project is partnering with Coca-Cola Australia to tackle marine pollution in Sydney Harbour, through its world-first Smarter Cities – Cleaner Oceans Sydney Pilot. 
Established in 2016 by Australian entrepreneur, Pete Ceglinski, Seabin Project tackles marine litter in public waterways, marinas, and ports with its "rubbish skimmer" technology and is now a global initiative operating in more than 53 countries. 
The Smarter Cities – Cleaner Ocean pilot on Sydney Harbour will remove debris in areas from Jones Bay Wharf, Pyrmont through to Rose Bay, with an emphasis on collecting data to better understand the health of our waterways and assist with future marine litter reduction programs. 
"To fast track solutions, we have always used a co existent approach. The decision to partner with Coca- Cola was not one made lightly, but the team and I are excited and confident we have made the right decision, as we need buy in from all levels. From government, to industry, corporate, private business and regular people. We all have a role to play in solving the plastic pollution problem," said Seabin Project Co-Founder and CEO Pete Ceglinski.  
"We look forward to working with the Coca-Cola team to help scale the program, fast track solutions and raise awareness of the issue of ocean pollution."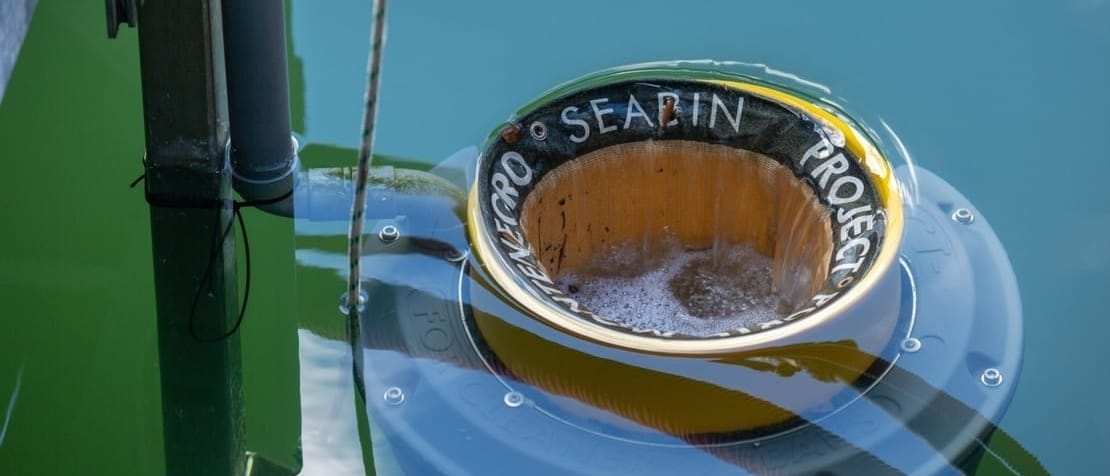 One of the key goals of the partnership between Coca-Cola Australia and Seabin Project is to collect data that helps measure where the waste in our waterways is coming from and how successful the reduction efforts are. 
"Data is critical – the Seabin technology itself is just one element of our work. We need better education and prevention strategies in place to ensure garbage doesn't end up in the ocean in the first place. As we process the data we collect, we can forecast behaviours," said Pete.
The Coca-Cola Company is working towards their global World Without Waste vision, aiming to collect and recycle a bottle or can for each one it sells by 2030. To help drive a circular economy for plastics, Coca-Cola is using less virgin plastic and more recycled content, with packaging designed so it has the best chance of being recycled and supporting collection and recycling infrastructure and programs.  
"We're excited to support Australian innovation through this Pilot. Pete and his team are passionate and committed to tackling marine pollution head-on with a simple model that's data driven and effective," said Anna Dear, Community and Partnerships Senior Manager, Coca-Cola ASEAN and South Pacific.
"Our partnerships are critical to achieving our global 'World Without Waste' goals to keep plastic packaging out of our oceans and landfill. We look forward to working closely with the team and using our scale and resources to further support its rollout," said Anna. 
Through the partnership, an estimated 4.3 billion litres of water will be filtered from Sydney's iconic harbour, removing oils, fuels, microplastics and microfibres. An expected 28 tonnes of marine litter will be cleaned from Sydney harbour by the end of July 2022 as a result. 
To read more about The Coca-Cola Company's 'World Without Waste' goals, visit https://www.coca-colacompany.com/au/news/world-without-waste-coca-cola-progress.
– ENDS –
Media Contact:
DEC PR
Maddy Berry
coca-cola@decpr.com.au
Seabin Project
Alexandra Ridout
Alex@seabinproject.com
About Coca-Cola South Pacific: The Coca-Cola Company (NYSE: KO) is a total beverage company, offering over 500 brands in more than 200 countries. Our portfolio in Australia includes Coca-Cola, Coca-Cola No Sugar, Fanta, Sprite, Powerade and others. We're constantly transforming our portfolio, from reducing sugar in our drinks to bringing innovative new products to market. In 2018, The Coca-Cola Company announced its 'World Without Waste' to goals to collect and recycle a bottle or can for each one we sell by 2030. To achieve its collection goal, The Coca-Cola Company is continuing to work toward making all of its packaging 100% recyclable globally.  We're also working to reduce our environmental impact by replenishing water and promoting recycling. With our bottling partners, The Coca-Cola Company employs more than 700,000 people, bringing economic opportunity to local communities worldwide. Coca-Cola Amatil (Aust) Pty Ltd is the authorised manufacturer and distributor of The Coca-Cola Company's beverage brands in Australia. Coca-Cola South Pacific Pty Ltd is an indirect wholly owned subsidiary of The Coca-Cola Company and provides marketing, technical and quality services to The Coca-Cola Company in Australia. Learn more at www.coca-colajourney.com.au and follow us on Twitter, Instagram, Facebook and LinkedIn.

About the Seabin Project: Seabin Project develops clean ocean technology and marine health data systems to remove and prevent pollution from entering our waters, and to drive behavioural and policy change on land. ​Today, its clean ocean technology plays one small yet significant role in the global fight against pollution entering our oceans - they believe the end solution is awareness, education, prevention, policy and behavioural change. Since 2016, Seabin has grown from an idea into a global brand. Their tech platform has evolved into a full-service offering, including community engagement, marine data, environmental services and impact reporting to inform and guide future ocean health policies for cities & government. And more importantly, they are a business for good. Since 2018, Seabin Project have installed over 1,100 Seabin's globally in 54 countries and growing.  Over 1,400 tons of pollution is being removed from the water by the global Seabin fleet every year. Seabin Project is on a mission to stop the flow of pollution into the world's oceans. Learn more at https://seabinproject.com and follow us on Twitter, Instagram, Facebook and LinkedIn.