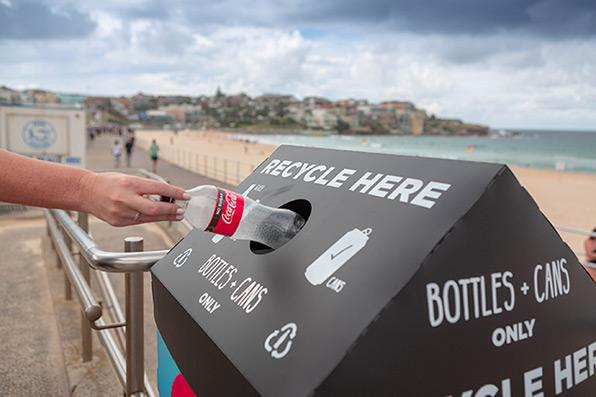 Can we make Sydney the cleanest city in the world? Social enterprise Citizen Blue believes a creative approach to container deposit schemes is one of the ways we can make this happen by 2020.
Citizen Blue is made up of a network of environmental organisations including the Surfrider Foundation, Total Environment Centre, Clean Up Australia and the Boomerang Alliance.
Supported by Coca-Cola, they're pioneering a new approach to NSW container deposit schemes.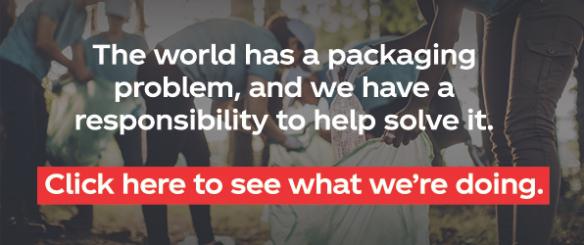 Under the Citizen Blue initiative, branded recycling bins are strategically placed around key event venues and pollution hotspots. The cash back on the bottles and cans collected is then donated to charities.
Container deposit schemes across Australia
To keep bottles and cans out of oceans or landfill and make sure they have another life, we support cost-effective, well-run container refund schemes that reduce litter and improve recycling rates in a community across Australia.
It meant when Citizen Blue approached Coca-Cola Australia to partner on a project, there were already some strongly shared goals. But the path to partnership wasn't always an easy one.
Challenging the system
Jeff Angel is the director of the Total Environment Centre (TEC), one of the organisations comprising Citizen Blue. He has always had a passion for environmental sustainability.
"I first volunteered in 1973 while at university studying economics and politics. I was an outdoors type of person and I wanted to be useful. So I started volunteering at TEC and learning about environmental care, planning and environmental issues. It was effectively another university degree," said Jeff.
Drink containers feature heavily in the waste we produce, making up more than 40% of the litter in NSW. TEC and the Boomerang Alliance believed a container deposit scheme was necessary to tackle this and 13 years ago, Jeff and his team started a campaign to introduce container deposit schemes around NSW.
Initially they were met with opposition from various governments and businesses, including Coca-Cola, who weren't convinced deposit schemes were the most efficient way to tackle the litter crisis.
Christine Black, director of public affairs, communications and sustainability at Coca-Cola South Pacific acknowledged the original wariness around container deposit schemes.
"Since those days the increases in efficiency and outcomes have been significant, which is why we support cost-effective, well-run container refund schemes that reduce litter and improve recycling rates in a community," Christine said.  
An easier path to recycling
Once legislation was passed in NSW and container deposit schemes were officially in place, Jeff and the Citizen Blue team approached Coca-Cola to tackle the problem together with a new project.
From 2019, deposit bins bearing the Citizen Blue and Coca-Cola logos will be placed in key venues.
Drink containers collected via the bins are processed through the NSW Return and Earn scheme. The 10c refund per bottle and can are then donated to charities and community groups.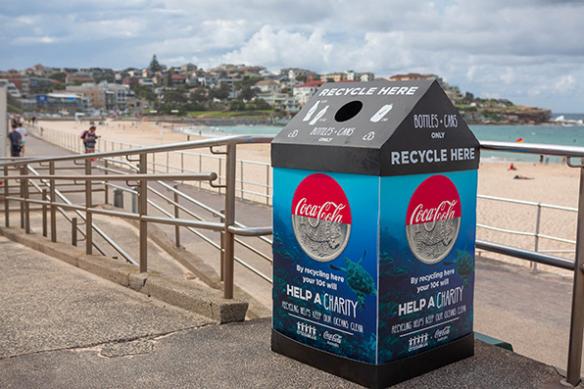 An equal partnership
Christine Black reflected on the potential of the partnership to help Coca-Cola achieve its global commitment.
"Locally, we are focusing our efforts on designing packaging to be 100% recyclable across our entire portfolio and increasing the recycled content we use in our packaging. This partnership is part of the next step for Coca-Cola in tackling drink container waste, whilst inspiring positive change to ensure our bottles and cans have another life beyond their first use," said Christine.
According to Jeff, not only does the partnership support Coca-Cola's goal, the contacts Coca-Cola has in the events and entertainment industry means Citizen Blue can increase its impact as well.
"We wanted to retain our independence. We wanted this to be an equal partnership and that's certainly proving the case and it's becoming a very positive relationship," said Jeff.
"It's also important that Coke is putting itself out there with branding on our bins and in media communications, saying they're now fully involved and supportive of the scheme. That's a very important message because it also makes container deposit schemes more popular and more entrenched in our economy and society," he said.