In their biggest ever sampling campaign, the brand marketing team have been aiming to distribute two million samples out across Australia.

"The proof is really in the pudding," said Marina Rocha, Group Marketing Manager, Coca-Cola. "We knew people would need to get their hands on it and try it for themselves. Trial of the product was very, very crucial from the beginning."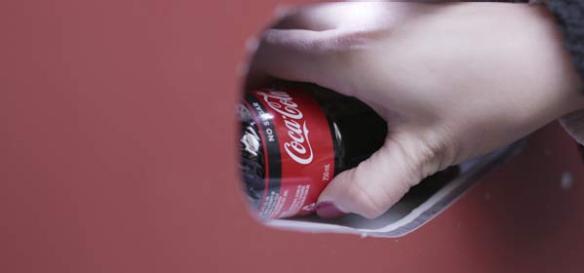 "The approach we took was to combine both traditional can in hand sampling with more innovative digital interactions, and WOW experiences."

Billboard serving it up

In bustling Pitt Street in the centre of Sydney, Coca-Cola installed what looked just like a normal sign. But by shouting the word "YES!" into the panel a 250ml bottle of chilled Coke No Sugar popped out - for free.
"At the beginning, people thought that screaming "YES" at a random panel was a bit weird," said Marina. "But once people actually started doing it they actually attracted people around them and encouraged them to do it themselves. People would stop walking to wonder what on Earth was going on."
What's that? The sound of free samples
"It works like a QR code, but with audio. Their technology is incredible," said Marina. "When you Shazam the TVC, it picks up the Taste of Feeling remix."

Thirsty in the winter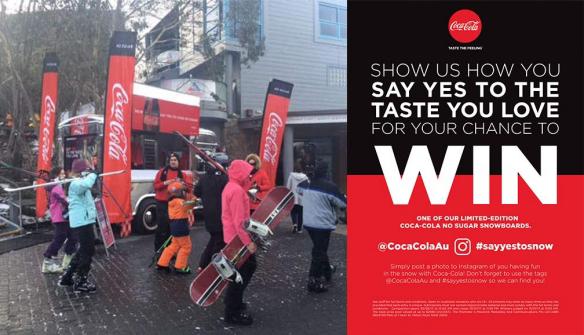 A different sort of challenge for Marina's team was getting cold beverages in the hands of people who are also, well, cold. While Coke normally runs promotions when the weather's a little warmer, the team needed to find a fun way to get the word out about Coke No Sugar during the Australian winter.
"It's a challenge to launch a new refreshing drink in the middle of winter. Despite the season, we still did a lot of can in hand sampling across the country, but we thought why not embrace the wintery challenge head on" said Marina. "So we hit on the idea of going down to the snow where people need their refreshment."

Even the team uniforms got people talking. "Often I look at promo uniforms and I feel sorry for the person who has to wear what they've been given," said Marina. "We invested a bit more in ensuring our team got cool ski jackets. Loads of people rocked up wanting a ski-jacket like that."
While they mightn't have been able to walk away with any Coca-Cola clothing, most were pretty chuffed to receive a free mini bottle. "People were just so happy, and really surprised by the taste of it," said Marina.
In addition, Foodora and Menulog's food delivery services top eight restaurants in Melbourne and Sydney will have free Coke No Sugar along with their orders.

Kelly Rowland coming to you (Facebook) live
The crown jewel in the Coca-Cola No Sugar sampling campaign was the launch event - a surprise performance by singer, Kelly Rowland. Though she'd been in Australia for months for the current season of The Voice, Rowland hadn't actually performed live.
Coke nabbed her for the launch of Coca-Cola No Sugar - but didn't tell anyone in advance. "We didn't really promote that she'd be there. We kept it relatively secretive," said Marina. "We told people to come down to Parramatta to see what we were launching for the first time, with a special guest. When we announced who it was, people lost it. The crowd was loving it."
The person who was most excited was Kelly Rowland fan Liaana Pokoina. When the MC asked what people would do for a free Coca-Cola No Sugar, Liaana grabbed the mic and sang. Her song choice? The Kelly/Nelly duet 'Dilemma' – with improvised lyrics about the new Coke drink. 

"It was totally unexpected, we didn't know it was going to happen," said Marina. "Liaana was super-excited, and she wanted to show Kelly she could sing, and she had a beautiful voice!"
The samples were delivered with the help of friends and fans via Facebook Live. Comedians Lana Kington and Madison Lloyd of SketchShe buckled up to take a road trip from Northmead, picking up singer Tom Jay Williams and gamer ChampChong for a few laughs en route.
Asking people to say yes to the taste you love
We knew we had a great product in Coca-Cola No Sugar, and we also knew that the way to get people on board was to put our product into their hands to try it for themselves.
Inviting people to say "YES" to the taste they love using a mix of traditional can in hand sampling, innovative digital interactions and exciting experiences with Kelly Rowland and our sampling activity in the snow, we have been surprising our consumers with the delicious and refreshing Coca-Cola No Sugar.