A brand new flavour in the Coca-Cola family has arrived, and Australians will be the first in the world to experience it.
Welcome Coca-Cola Ginger, a limited edition twist on the familiar flavour of Coca-Cola.
Designed with curious taste buds in mind, Coca-Cola Ginger came about after research on the beverage flavour preferences of the Australian market found ginger was a significant trend.
From concept to completion, Coke Ginger was developed in under six months
"Ginger can have warm aromatic notes" said Noemie Livain, brand manager at Coca-Cola South Pacific. "The recipe we've created is refreshing, and intriguing".
From concept to completion, the new flavour was developed in under six months, including lead-time for product research, testing and creation.
 "It's Coca-Cola but there's something more" said Noemie. "There's a surprising yet subtle twist of flavour which is perfect for summer."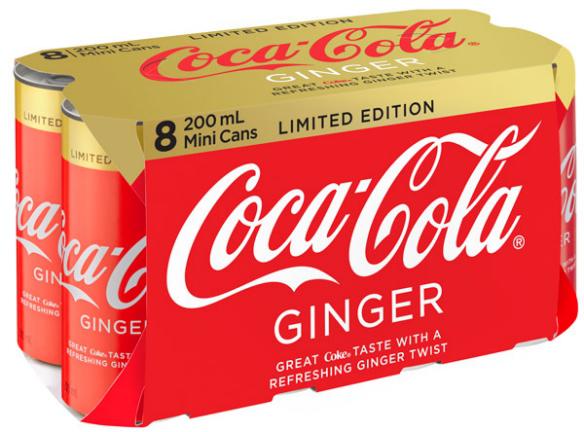 Coca-Cola Ginger has the taste you love with a twist of ginger
Coca-Cola Ginger joins the Coca-Cola line up as its newest flavour. Coca-Cola Classic has remained unchanged for over 120 years and stands alone as the most popular soft drink in history. More recently, Diet Coke and Coke Zero captured the need for reduced sugar options, and Coca-Cola Vanilla added an innovative twist.
It's now time for a new innovation, according to Marina Rocha, group marketing manager at Coca-ColaSouth Pacific.
"With summer just around the corner, it's the perfect time to introduce a refreshing and sophisticated new flavour to Coke fans in Australia," Marina said.
Coca-Cola Ginger is only being released in a limited edition run in Australia so you will need to get in quick to grab a bottle before they are gone.
Coca-Cola Ginger provides the perfect companion for warm summer days
The packaging for Coca-Cola Ginger will be distinct, with premium gold used throughout the labels and bottle caps to highlight the exclusivity of the product as well as differentiate it from the core Coke range.
Coca-Cola Ginger will be in various pack sizes, including in the classic Coca-Cola glass contour bottles, from independent and major retailers.
The Aussie preference for Asian fusion cuisine is a perfect complement to the new flavour, according to Noemie.
"Ginger works with a variety of flavours and is a lovely balance to Asian inspired food, light salads and seafood," she said.
This cultural mix made Australia the perfect choice to first launch Coca-Cola Ginger. "We know that Australians love an icy-cold Coca-Cola on a hot summer day, so we're excited that we will be the first country in the world to try it," Marina said.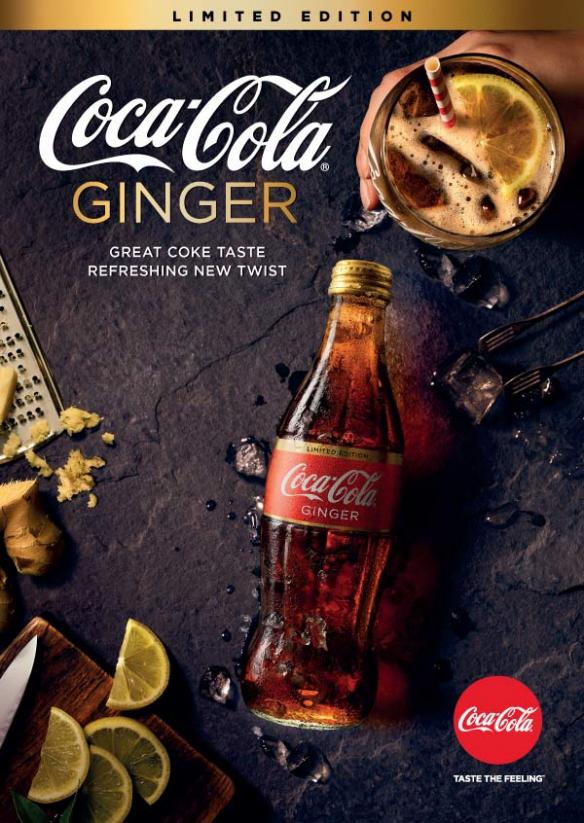 The limited edition flavour has a ginger twist that is intriguing and refreshing
Ginger is a popular flavour across Asia and the Pacific, New Zealand has also launched the range.
As for serving suggestions, it's all about savouring the taste experience, according to Noemie.
"Fill your glass with ice, pour yourself a drink, add a slice of lemon and relax," she said. "It's all about those simple summer moments."
Want to be first to know about new products? Sign me up.