Looking back on your life, you can almost pinpoint the moments that changed you. As a young lawyer, Sarah would pass by a homeless man on her way to work. Little did she know that a failed act of kindness, would change her whole perspective on life.
"I would buy him a burger meal every day as a way to help. Not once did I think to greet him or ask his name. I thought I was the hero. One day after months of this, he lit the burger on fire, threw it at me, and yelled, 'did you ever stop to think that I might want a salad sandwich?' That was a lightbulb moment for me, I was humbled by his courage and embarrassed by my judgment. We are all human beings trying to connect in this world."
In the years that followed, Sarah and this man became close friends and would talk daily. To this day, Sarah applies this humbling lesson as a mother, wife, and professional.
Making a difference
Sarah joined Coca-Cola South Pacific in 2014 as business unit legal counsel. Driven by her philanthropic passions, she soon became a board member of the Coca-Cola Australia Foundation. To Sarah, working at an organisation that invests back into the community is incredibly important.
"I'm extremely proud that Coca-Cola invests in important causes that reflect the social needs of our time. I am proud that Coca-Cola don't do this merely to "check a box" but rather as a truly authentic commitment. As a board member of the Coca-Cola Australia Foundation, I can see first-hand that Coca-Cola is doing it for the right reasons," Sarah said.
Sarah's proudest moment as an ex-board member of the Coca-Cola Australia Foundation was overseeing the implementation of the Employee Connected Grants Scheme. The Scheme encourages Coca-Cola employees to nominate charities close to their heart for a funding grant provided by the Coca-Cola Australia Foundation.
"I've nominated a few charities myself and being able to call them and say 'my company is going to award you $25,000' is an incredible feeling. I feel privileged to work for an employer that fosters my connection to community in such a powerful way," Sarah said.
"We are one community. We are all in this together," Sarah added.
Culture
According to Sarah, this sense of community is highlighted in every part of Coca-Cola, especially through teams. While Coca-Cola is a global company, she believes that creating community and a non-hierarchical led culture is key to maintaining a happy and healthy workplace.
"From the cleaner to the president, we should all be treated the same. That is really important to me. I am empowered to create a culture that's fun, open and flexible, because after all, each of us are different. There's a genuine care at Coca-Cola for people's wellbeing and development, and there is no sense of 'us' and 'them' between leaders and others," Sarah said.
Mentoring
Much to Sarah's delight, one of the ways this culture manifests at Coca-Cola South Pacific is through mentoring. Traditionally you might think the mentor-mentee is a one-way transfer of knowledge, but that's not how Sarah sees it.
"I love being a mentor because I get to learn too! As you get more established in your career, you may start to think you know it all. But through mentoring you meet young, up and coming diverse professionals with a completely different take on something, which means you can both grow and learn," said Sarah.
Connecting with a global network of colleagues, mentors and mentees is another highlight of Sarah's position at the company.
"Right across the business, we're deliberately set up to be connected internationally. We have face-to-face and virtual meetings in locations all around the world and it's fantastic to be able to bounce ideas around and gain new perspectives," Sarah said.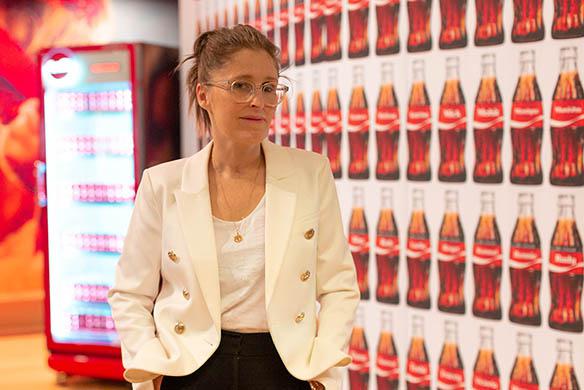 "A constant I've noticed throughout all Coca-Cola offices, is a commitment to ethics-based decision-making and leadership. If your decisions and your business are not based, first and foremost on ethics and human beings, you won't win. Leadership affords me the privilege of serving others daily and I'm proud to work for a global business that places these elements at its core," added Sarah.