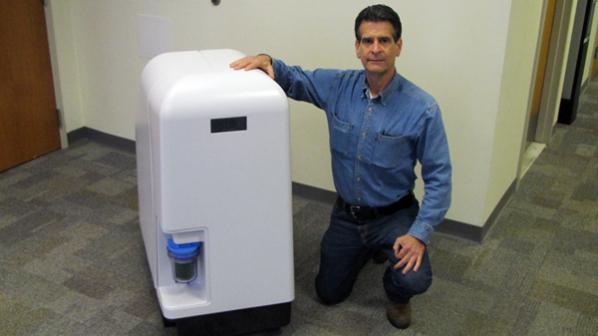 The undistinguished looking box stands about waist high, weighs less than 140 kgs and has all the charm of a motel icemaker. But its potential is much greater.
The box may become the unsung tool that transforms life for great numbers of the world's population. It is called Slingshot, a vapor compression water purification machine produced by inventor Dean Kamen, the man best known as creator of the Segway transporter. Slingshot can produce roughly 30 liters of water an hour using no more energy than required by a standard handheld hair dryer.
Tackling a Seemingly Insurmountable Global Issue
Kamen has been developing this technology for more than a decade. But recently, Kamen began the process that may at last get Slingshot machines into the remote villages of the world where it is most needed.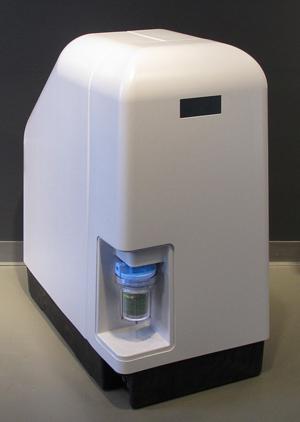 In a partnership with Coca-Cola North America, Kamen's firm DEKA Research and Development will bring Slingshot to communities in need of clean water in rural parts of Latin America and Africa. "For years," Kamen says, "we looked for a partner who could help us get the Slingshot machine into production, scale it up, bring down the cost curve, and deliver and operate the units in the places where the need is greatest. Now we have that partner with Coca-Cola, which brings unparalleled knowledge of working, operating and partnering in the most remote places of the world."
"Being able to bring clean, potable drinking water to people in need and being a part of Coca-Cola's water commitment is taking this technology to a new level. We're proud to be a part of delivering this solution to communities in need; saving countless hours for those who routinely spend up to four hours a day walking to often wait in line for dirty water that is unfit to consume," says Kamen.
The effort includes the Inter-American Development Bank (IDB) Group and Africare, a leading health care NGO.
In October, Kamen and Muhtar Kent, global Chairman and CEO of The Coca-Cola Company, announced the new partnership at the Clinton Global Initiative. "Water is becoming a scarce, valuable commodity. Today more than one billion people lack access to safe drinking water," says Kent.
He says that Slingshot dovetails with Coke's long-term plans to replenish 100 percent of the water used in its beverages and their production by 2020.
The new effort builds on field tests of Slingshot last year, when machines in five towns in Ghana proved their effectiveness and durability.
But it is only the beginning.
Critical Next Steps
The Slingshot system of vapor compression distillation basically boils and then condenses any dirty water source. It is versatile and can use energy from many sources — a standard electric grid, solar cells, batteries, or even methane from animal dung.
Coca-Cola North America and DEKA R&D will partner with IDB and the Multilateral Investment Fund (MIF), a member of IDB Group, to initially test the Slingshot technology in health centers and schools in remote communities in Latin America in 2013.
The World Health Organization (WHO) has highlighted lack of clean water as one of the persistent causes of discomfort and illness in less-developed areas of the planet. Only about 2 percent of water on this planet is drinkable; most of us forget that we depend on systems of purification, aqueducts, or wells to bring fresh water to our kitchen faucets.
But for much of the earth's population, getting fresh water is a daily struggle. Some 300,000 die annually from illness or malnutrition or other factors due to lack of clean water, WHO estimates.
Progress in medicine and education also largely depends on the presence of water. A Slingshot unit can purify up to 365,000 liters of water each year — enough daily drinking water for roughly 300 people. The challenge is to produce enough units to make a major impact on this global problem.
Kamen compares the development of Slingshot to the manufacturing of a book. The first handwritten manuscripts were the initial $200,000 prototypes. "Every part was milled out of solid aluminum by computer drive machines," he explains. "Now we have moved to high-impact, injection-molded, lab-grade plastic."
Currently, there is a new production run of machines underway that, as Kamen notes, moves it from the handwritten manuscript level "to taking the manuscript to Kinko's to be photocopied." But ultimately the goal is for serious production of Slingshot. Kamen believes Coca-Cola will be there for the next step as well — the "printed book"— which will be implemented and maintained around the world.
The Makings of an Inventor
Kamen grew up in New York, the son of an artist who contributed to Mad magazine. A self-taught engineer who was not satisfied with formal academic education, Kamen was first noticed because of an insulin pump he developed in his twenties. When he sold his company, Auto-Syringe, in 1982, he acquired the means to set up a lab for further inventions. DEKA R&D went on to develop — in the face of many skeptics — a home kidney dialysis machine. The iBot wheelchair, with gyroscopic stabilisation, shared the technology seen in the Segway.
Kamen's fame for fresh ideas led DARPA (the Defense Advanced Research Projects Agency) to come calling. The agency wanted Kamen's help on building a better prosthetic or robotic arm called Luke — after Skywalker. The company continually seeks problems to solve, then applies often-unconventional approaches, as with an air cannon that can launch military personnel onto rooftops.
For Coke, DEKA devised a remarkable "beverage jukebox" that prepares and vends more than a hundred different flavors of drink. The Coca-Cola Freestyle machine helped pave the way for Kamen and the beverage giant to partner on Slingshot.
"Muhtar Kent and Coca-Cola understand Slingshot," Kamen says. "With them, we can scale it up and bring down the cost curve to get more machines into the field."
With the "book" version of Slingshot ready, Coca-Cola will be especially helpful.
"The Coca-Cola system has more than 700,000 employees," Kamen says. "300,000 people in Africa." That is an incredible resource for getting the word out about Slingshot. Kamen notes, "Invention is part of innovation," he says. "The rest is the infrastructure to support and deliver the solutions."
The idea is to eventually use the company's delivery infrastructure to get Slingshot machines to remote villages; perhaps carried by hand over dirt roads, traversing the proverbial "last mile" that is often the key hurdle to distributing technology and medicine. Kamen hopes to get machines to India and the Middle East as well. Eventually, the partnership is expected to add more than half a billion liters of clean drinking water per year to the global water supply.
But there is quite a lot to be done before that happens. Fortunately, Kamen is up for the challenge.
He moves at an intense pace, traveling by helicopter or the jets he owns and often pilots himself. He is a man in a hurry.
"The only resource you can't buy more of is your time. Why would you want to spend hours of your life," he asks rhetorically, "on anything that doesn't improve the way people live?"