It's not an obvious pairing, a drink and a music movement. But the history of Sprite and hip-hop is a long one, spanning the careers of dozens of artists over more than three decades.
In the beginning it was simple: matching a drink to a bold, youthful movement. But as the idea took off and expanded, it became stronger based on one thing: authenticity.
From underground parties to the most listened genre in the world, we take a look at the history of hip-hop, and Sprite.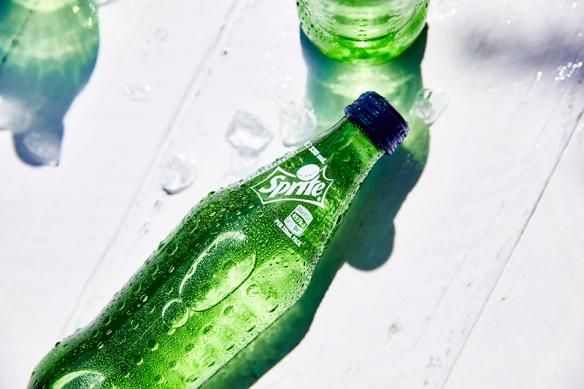 The history of Sprite and hip-hop is a long one, spanning the careers of dozens of artists over more than three decades.
Making it real

With a career spanning thirty years, Rakim has been called one of the most influential figures in hip-hop history. Like many artists, funding his work wasn't easy, and remaining authentic while being sponsored was even harder.
"It's hard to get well-known sponsors sometimes for rap," Rakim told writer Elliott Smith. "I remember 12-15 years ago I did an audio commercial for Sprite and to be honest being an MC we do things and we try to be cool about what we do.
"But this is one of those things, that when they called you tell your man 'I got a Sprite deal.' Because it means something. It's something that lasted in the hood. It's authentic."
So how did Sprite maintain a relationship with artists? By getting in early, and staying for the long haul.
Birth in the Bronx
Hip-hop rose during the post-industrial 1970s in the Bronx borough of New York City, and spread via block parties. Invite was word of mouth and the music was brand new: raw and spontaneous. At the same time breakdancing and graffiti art rose too, and the whole scene had a clear and defiant call to action, which was to tell your own story.
By the late 1970s hip-hop began to grow beyond the warehouses and streets and into homes via radio and television. The word was spreading fast.

Urban authenticity
By the late '80s, hip-hop's influence on popular culture was taking shape but was often misunderstood by those wanting to lock down the "urban" demographic. The messages the artists were communicating was often overlooked by the bold style and image.
But amongst the colour and noise the creative team at Sprite identified the stories being told and the resilience of the artists behind them, and sought collaborations.
So, in 1986 the company cast rapper Kurtis Blow in a commercial for Sprite making it one of the first mainstream brands to feature hip hop stars in a national advertisement.
The Kurtis Blow advertisement went on to inspire the 'I Love The Sprite In You' ad, which featured popular artists like LL Cool J and Kris Kross.
"Music is important and plays a role in all of our lives," said Bobby Oliver, director of Sprite & Citrus Brands, Coca-Cola North America at the time.
"Sprite realised this dating back to the 1980s and in hip-hop, there was a power of creativity in this new form that was really resonating with the population. We embraced that and ingrained ourselves as part of that culture," he said.
Obey Your Thirst
By the early 1990s Sprite decided it was time to deepen the exploration of their relationship with hip-hop. They tapped artists not based on their popularity, but those that had an underground following and were seen as respected urban "soothsayers" at the time. The aim was to represent their understanding of the genre and in turn the community.

"The thing Sprite did differently was that it didn't go after the most well-known artists or celebrities, they went to artists who had an appreciation of the culture, and the commercials had an authentic tone," said Jamal Booker manager of heritage communications at Coca-Cola.
 
"Sprite struck a chord with the artists so that when the next series of commercials ran the next artists would say 'yes' and they connected with brand," he said.

The outcome of this series was the 'Obey Your Thirst' campaign.

Obey Your Thirst featured some of the most authentic artists in hip-hop culture at the time, including Pete Rock & C.L. Smooth, A Tribe Called Quest, Nas and Grand Puba, who it is rumoured coined slogan "Obey Your Thirst" during a rehearsal.
Obey Your Verse
Hip hop continued to evolve over the next 30 years. It's now a ubiquitous part of today's musical landscape. The early pioneers inspired a new generation of artists, and Sprite responded by showing their continued understanding and respect.
Over the past three years Sprite has redesigned their "Obey Your Thirst" campaign with "Obey Your Verse" a campaign aimed at celebrating the artistry of lyricism within the genre.
The brand paid tribute to artists such as 2Pac, Missy Elliott, J. Cole, Drake and Rakim by decorating their cans with some of the artists most inspirational lyrics.
Once again, borrowing from its history of promoting new talent, in mid-2017 cans were adorned with lyrics from the current up and coming rappers including Lil Yachty, Vince Staples, DRAM, Vic Mensa, Kamaiyah and Kap G for the "Summer Sprite Cold Lyrics Series". In addition, Lil Yachty's song "Minnesota," featured in a Sprite television ad that featured professional basketball player LeBron James.
"Sprite has been there for us since they realised they could reach out and do things like this," artist Rakim said of the long history between hip-hop and Sprite. "It's an authentic brand to be a part of, and I'm glad to be able to do that."