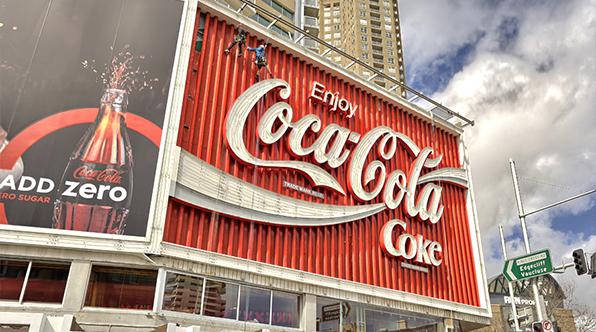 The Kings Cross Coca-Cola sign has been a beloved feature of the Sydney skyline for more than 40 years. 
Brightening the intersection of Darlinghurst Road and William Street in Kings Cross since 1974, the red and white neon sign has featured in news photography, happy snaps, films, music videos, and especially when giving directions: we'll see you under the Coke sign!
After so many years of service, it's time to begin restoration work so the iconic sign can continue to illuminate Sydney's nightlife well into the future. Most visibly, the lights have been switched off at the outset of the maintenance work. 
"Recently structural engineers have highlighted that substantial maintenance needs to be carried out, the first stage is to fully scope the extent of the maintenance required and collaborate with the council on the form the restoration will take," said Leo Roberts, Group Marketing Manager, Integrated Marketing Communications. "Construction staff will work to ensure disruption is kept to a minimum."

Lighting The Way 

The original Coca-Cola billboard was built on the side of the Hyatt Kingsgate hotel and featured a weather update, alongside other Coca-Cola advertising panels. The sign was designed and maintained by outdoor signage company Claude Neon.
"In Australia in 1974, there was nothing like it," Leo said of the billboard's first appearance. The position was unbeatable, and the iconic logo became an instant landmark, still referred to as the gateway to the Cross.
The last time major work of this scale was undertaken on the billboard was in 1990, when the left side of the billboard was upgraded.
The plastic graphics, border and red background were also replaced, and the "Coke" logo was added beneath the Ribbon. In a sign of the times, the entire sign was re-wired with the old breaker system replaced with a computer.
The actual sign is made up of more than 800 fluorescent lamps and stretches 41 metres across, so a custom-made scaffold is being constructed around the sign to ensure public safety while work is being carried out.