From working with teams in bottling factories around the world to supporting sugar cane farmers in Queensland, water is always front of mind for director of sustainable operations at Coca-Cola, Dr Paul Bowen.

But when Paul first set foot in a Coca-Cola bottling plant and asked how much water was being used, no one could answer his question.
"We realised that we needed to reduce the amount of water we were using and we needed to give back water that was used in our production and in our beverages," Paul said.
After the United Nations released a statement in 2003 warning of global water stress, Coca-Cola responded with an ambitious goal of reducing the amount of water in beverage production by 20 per cent. "It was the first time the company had ever put forth that type of goal," Paul said.
Coca-Cola has since achieved the target and has reduced water use for 14 years in a row. "And now I can go into just about any plant and ask, 'How much water do you use?' Paul said. "And they can tell me. 

"That's a tremendous culture shift and a tremendous shift in the way the company's done business and that's been extremely rewarding," he said. 
The amount of water Coca-Cola is now returning to the environment and communities is equivalent to the amount of water used in all beverages and production around the world.
Supporting farmers
Last year alone, the Coca-Cola Foundation awarded $27 million in grants to community organisations around the world for water and environmental initiatives.
As part of Project Catalyst, Coca-Cola is working closely with the World Wildlife Fund Australia, farmers and natural resource management groups to reduce the environmental impact of sugar cane farming on the Great Barrier Reef. 
"The growth of sugar cane in northern Australia impacts the Great Barrier Reef with the run-off and the fertiliser use," Paul said.

"So we worked with some farmers where we could help them understand the impact that good, sustainable farming would make.
"That has helped reduce significantly the amount of run-off into the Great Barrier Reef," he said.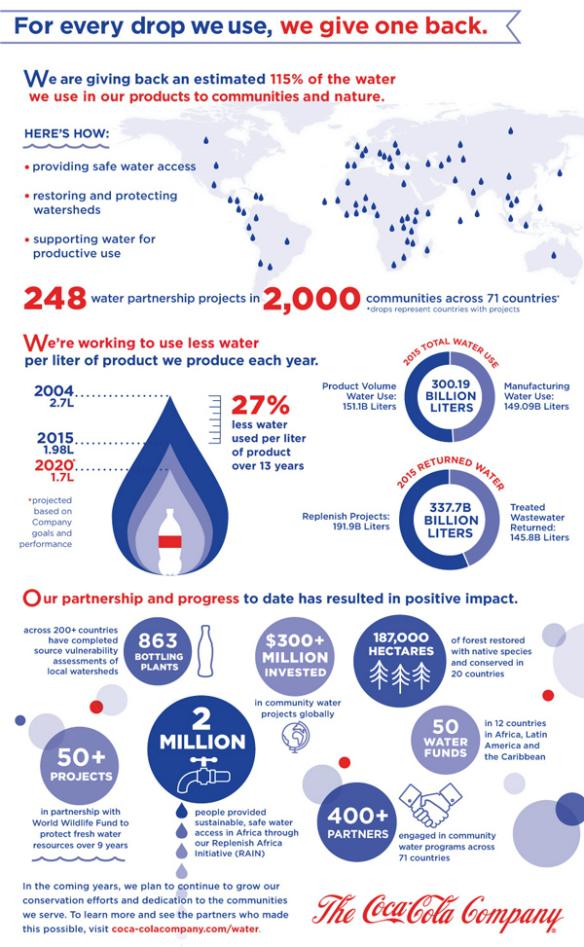 The Coca-Cola Foundation has contributed more than $6 million to the project, which has improved the quality of an estimated 150 billion litres of water.

Shaping the future
Further abroad Coca-Cola has been working closely with community organisations to replenish water supplies in 80 different countries through a total of 250 projects.
In Mexico, this includes working with local communities to plant thousands of trees to help reforest targeted areas. "It not only helps capture water, so now water doesn't just rush off, it settles into the soil and then into the aquifer but those trees also sequester carbon in those areas," Paul said.

"We've done projects in India where we've restored rainwater catchment basins so that when it rains, they fill with water which helps replenish the aquifers. 
"In Africa we've done a large number of projects where we've provided sustainable water supplies to villages," he said. 
Mapping our community water projects
Through these projects combined, Coca-Cola is now returning the same amount of water to the environment and communities as the amount of water used in all beverages and production around the world. "So we're a water-neutral company," Paul said.  
"I think there's a lot more that we can do and I expect us to do a lot more, but right now that's one of the things I'm most proud of.  
 "We have to really think and make conscious decisions to do things like reuse water, capture water, and make sure that it doesn't go down the drain.
"That every drop gets used multiple times," he said.