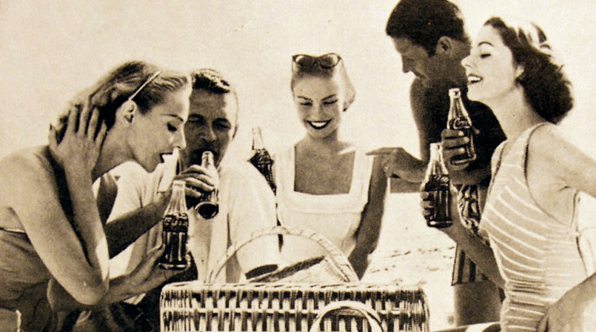 It is a globally recognised brand, but did you know Coca-Cola has also been made in Australia, by and for Australians, for eight decades?
We take a trip back through time to 1938 to trace the history and impact of Coca-Cola in Australia.
Birth in Atlanta
The story began in Atlanta, USA, in 1886, whenCoca-Cola inventor Dr John Pemberton took his jug of syrup and soda mix down the street to Jacob's Pharmacy and  staff decided to put it on sale for five cents a glass.
Thinking that "the two Cs would look well in advertising," Dr. Pemberton's partner and bookkeeper, Frank M. Robinson, suggested the name and penned the now famous trademark "Coca-Cola" in his unique script. With a stroke of the pen he created an icon that would last more than a hundred years.
The rest, as they say, is history.
Arrival in Australia: 1900s
While Coke was imported to Australia from the United States in the early 1900s, it wasn't until 1938 that The Coca-Cola Company  began production locally.
The first Australian-made bottle of Coca-Cola rolled off the bottling lines in 1938 in a small building on the corner of Crescent and Dowling Street in Waterloo, Sydney.
It all rested on the shoulders of just one famous drink, 10 staff and four trucks.
Early days: 1930s
The early days for Coca-Cola in Australia weren't easy. The capital city markets were small by international standards and geographically separated.
It was also an unknown product, initially sold to shopkeepers by the bottle – literally. A former Coca-Cola salesman from Adelaide, Bob Jemison, recalled vigorously persuading a shopkeeper to take a single bottle. The following week, he talked the shopkeeper into taking two bottles.
By 1939 plants were operating in a number of locations around  Australia, just in time for the outbreak of World War II. In 1941, a turning point arrived when President of The Coca-Cola Company, R. W. Woodruff, decided to make Coca-Cola available to all US service men and women, wherever they were, whatever the cost.
Australian plants supplied not only Americans but Australian service men and women, from urban bases to 'jungle units' stationed in the Pacific theatre.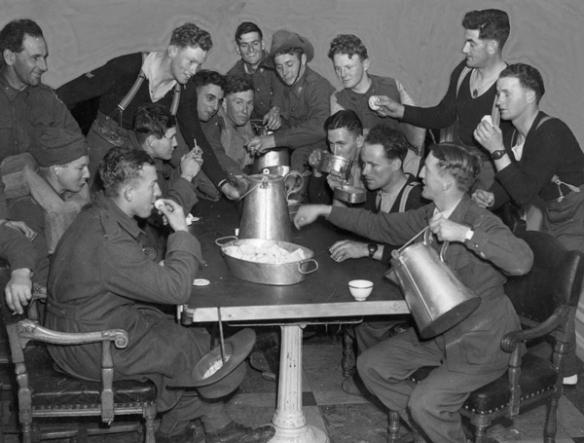 Members of the A.I.F. on board troopship, 1940, Argus Newspaper Collection of Photographs, State Library Victoria

During the war the small Coca-Cola plant in Brisbane became the focus of this operation, with manufacturing often running 24 hours a day to service the United States South Pacific headquarters, also located in Brisbane.
After the war, Australia saw an influx of US servicemen who brought with them new music, American style coffee, and of course, a love for Coca-Cola.
Post war boom: 1950s
By 1950 the post-war economy had stabilised and The Coca-Cola Company began to grant franchises across Australia.
At one stage, Coca-Cola was bottled in 30 different locations throughout Australia from small, single-town bottler serviced country towns such as Inverell and Cairns, to large conglomerate bottlers spanning regional areas.
It was a time of cultural change, too. In Perth, radio announcer and DJ Colin Nichol was one of millions of young people all over the world who signed up for the Coca-Cola Hi-Fi Club. As host of the local chapter he had access to rock and roll records never before heard in Australia, helping bring a new sound to our shores and providing a venue for our own homegrown artists.
The reach of Coca-Cola products grew steadily due to innovation in computerised bottling systems, new delivery methods, and the introduction of high-speed packaging technology.
Ultimately the many bottling companies and franchise territories were consolidated into the single territory held by Coca-ColaAmatil today.
Nightlife and city lights: 1970s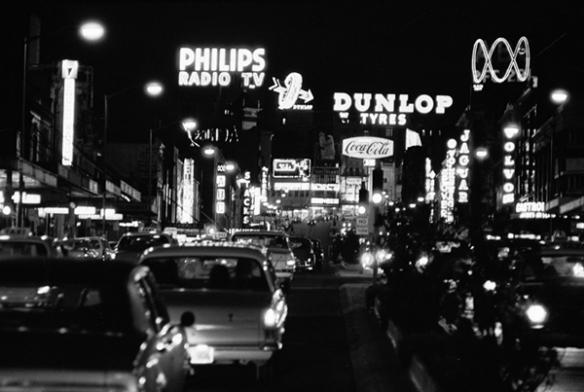 The Coca-Cola sign created an unmistakable landmark, one that defined the area that quickly became known as 'The Gateway to the Cross'.  


Amongst the bright lights of the 1970's shone the famous Kings Cross Coca-Cola sign. Taking pride of place above the intersection of Darlinghurst Road and William Street in Sydney's Kings Cross, the red and white neon sign has featured in news photography, happy snaps, films, and music videos. For Sydney locals it grew into an iconic meeting place - "We'll meet  you under the Coke sign!"
The 1974 Coca-Cola sign created an unmistakable landmark, one that defined the area that quickly became known as 'The Gateway to the Cross'.
Contemporary Coke: New Millenium

The original campaign on the Coca-Cola Kings Cross billboard, left, and the 2017 quality version, right. Artwork credit: Rudi de Wet.
When an upgrade to the Kings Cross billboard was needed, letters from the original Coca-Cola sign were auctioned off in 2016, with all proceeds going directly to local charity Wayside Chapel.
Coca-Cola first hosted Kings Cross as an official VIVID precinct in 2017, when the billboard came alive with portraits of Kings Cross locals.
Also in 2017, Australia participated in a postal vote for marriage equality, and Coca-Cola showed its support by issuing limited-edition  'Love' cans' and emblazonging 'Say Yes to Love' on its famous billboard in Kings Cross. The Love cans were the first time in 130 years that the iconic Spencerian script had been used for something other than the Coca-Cola logo on its packaging.
Long gone are the days of ten staff and four trucks and one famous beverage. Today, Coca-Cola Australia and Coca-Cola Amatil employ almost 4,000 employees directly, with another 10,000 employed through production and supply and locally it now offers 165 drinks across 25 brands.
2018 is the 80th anniversary of Coca-Cola being made in Australia. Find out how we're celebrating with a locally made TV commercial, a flipped script, and a little help from our friends down under.