Coca-Cola North America recently concluded efforts to return ownership of bottling operations in the United States to local business owners. A diverse network of nearly 70 independent Coca-Cola bottlers – multinational owners to multigenerational family businesses – is now operating as a coordinated, but local and independent, system. 
Through a multi-year process known as "refranchising," the company has executed 60 transitions to its U.S. bottling partners, which included 350 distribution centers, 51 production facilities, 55,000-plus employees and over 1.3 billion physical cases of volume. 
Today's fully refranchised Coca-Cola bottling system is the product of more than a decade of collaboration between The Coca-Cola Company and its bottling partners to develop a "21st Century Beverage Partnership Model" that better serves the changing customer and consumer landscape in the United States and creates a more aligned, agile and efficient network of bottlers.
We caught up with Todd Beiger and Bruce Karinshak, who led the refranchising transaction and transition teams for Coca-Cola North America, to learn more about this process and what it means for the future of the company's business in the United States.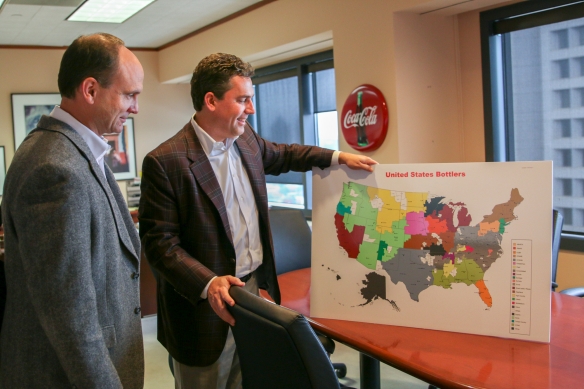 Bruce Karinshak (left) and Todd Beiger led the refranchising transition and transaction teams for Coca-Cola North America. Here, they look at a 2017 map of the U.S. Coke bottling system.
First, how did all this get started? What was the case for change?
Beiger: Nearly a decade ago, we started looking at how we could transform the business in North America to be highly local while, at the same time having the right scale and governance at a national level. Many of our botting territories were not contiguous, and legacy contracts resulted in economic misalignment. In an era of fast-changing consumers and customers, this model needed an update as we moved toward smaller packages and a more diverse total beverage portfolio.
Local ownership of Coke bottlers in the United States is both old and new. Our bottling business started at a hyper-local level in the early 1900s as local businesses around the country acquired rights to sell Coca-Cola in their hometowns. But by the 1980s and 1990s, bottler ownership became increasingly centralized and consolidated under our then-largest national bottler, Coca-Cola Enterprises (CCE). While this consolidation met business needs of that time, the future of our business needed to be agile as our portfolio expanded and we believed it would perform best in the hands of local businesses that are closest to the communities and customers we serve. 
In 2010, The Coca-Cola Company acquired the North American territories of CCE, which represented nearly 80 percent of our bottler-distributed business in our flagship market. Following this acquisition, we created a new company-owned bottling business – Coca-Cola Refreshments (CCR) – to be integrated with our North America business unit and then to begin formulating the vision of a 21st Century Beverage Partnership Model that could be established with new and existing partners across the country. It quickly became about building and deploying an aligned operating model – driving scale and speed, optimizing costs and driving local ownership, with the ultimate goal of partnering with local companies who were eager to invest in long-term growth.
What did you look for in potential partners?
Beiger: First and foremost, we wanted people who were focused on our business and passionate about growing and investing in our brands. We also looked for people who were aligned with our strategic vision and had a long-term, multigenerational view… folks who want to be in this business for 100 years, not 10 years. We also wanted superior operators – either those who have proven so as an existing Coke bottler – or in a related industry. Execution was key. We need leaders who can execute and who have a passion – and the capability – to invest in this business. Not just at the initial transition, but over the long run… in people, capability, capital and more.
Why was diversity of ownership such a priority?
Beiger: We knew we wanted our bottling system to act, look and feel like our customers and consumers. It's important to note that when we use the term diversity, we're not just referring to ethnicity or race, but to ways of thinking and working. We wanted people who would bring thoughtful, innovative growth leadership to this business. For example, our new bottlers created during this process – Coca-Cola Beverages Florida, Coca-Cola Reyes Bottling and Coca-Cola Southwest Beverages – all bring to the table a proven execution mentality. Junior Bridgeman of Heartland Coca-Cola, which serves parts of the Midwest, was a well-known NBA player but most recently built a thriving business as a quick-serve restaurant franchisor. His approach to building a culture and engaging with the local community is so important. And Liberty Coca-Cola in the Northeast … that's a quintessential story of two passionate Coca-Cola veterans who wanted to stay in the business and take on challenging, high-visibility markets.
The numbers are staggering when you look at the amount of work that goes into each transaction, and the sheer volume of change. How did you do this without causing hiccups in local operations?
Karinshak: Coordinating the handoff of territories from CCR to the local bottler was a top priority to ensure that the transfers were seamless for employees, customers and consumers. Our work has been driven by two major guiding principles: minimizing disruption to our customers during the transition, and ensuring a positive experience for employees who are transitioning. We created a detailed transition plan with more than 2,000 activities that we execute for about five months leading up to each transaction.
In each transition, we turn on new IT systems on day one. And there are a host of activities that have to be coordinated– from planning to execution. About two weeks prior to close, we enter what we call the "cutover" period and everything is coordinated by the hour.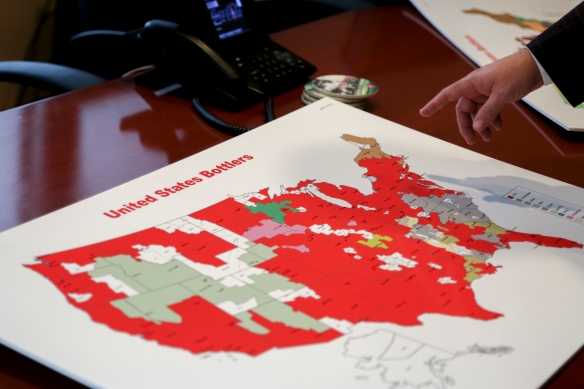 A map of the U.S. bottling system in 2013, when the majority of Coke's distribution territories were company owned.
The pace of U.S. refranchising seemed to really pick up to meet your stated year-end 2017 deadline. How did you execute so many transitions in such a short period of time?
Karinshak: Yes, and we finished early. The credit goes to our extended team as this was truly a team effort between the company and our bottling partners. The passion for our business, work ethic and commitment to excellence from everyone involved was absolutely amazing. The key was learning from the early transitions to ensure we had a proven model that worked. In fact, this year alone, we have transitioned more locations, employees and sales volume than we did between 2013 and the end of 2016. That's because this team has continuously applied learnings to get better, faster and more efficient.
It's also important to note that these are not deals where you hand-off the keys and move on. That is why we heavily invested in helping these bottlers be successful on day one, which has been part of the formula that has worked for our team and the bottlers.
We've heard a lot about new bottler contracts. Was that a driver of this process with your partners?
Beiger: A key component of our strategy was modernizing 100-year-old franchise bottling contracts with what we call the Comprehensive Beverage Agreement (CBA). It will allow our system to focus on growing the value of our beverage sales as it governs the commercial relationship between the company and our bottlers. 
We also rewired our IT infrastructure, established an organization to provide shared services to our bottling partners, and created the National Product Supply Group, which required changes to the framework of how we work together as a system. The new IT platform significantly improves the ability to coordinate and manage information across bottling partners at both local and national levels and the business services and NPSG will work to deliver our products at the lowest optimal cost.
Looking ahead, how does refranchising position the Coca-Cola system for success?
Beiger: Having an aligned system with one operating model will ensure that our U.S. business is pursuing a single, clearly defined vision. Coca-Cola North America will be focused on long-term growth strategy, brand marketing, commercial leadership, franchise leadership and managing partnerships with our national retail customers. From an economic perspective, this brings an asset- and capex-light model to the company. Bottlers, meanwhile, will focus on production, distribution, regional and local customer management, in-outlet execution and community relationships. This brings the heart of Coca-Cola back to the local bottler as it was in the early days. It's a proven model that works – we've just updated to reflect 21st century needs of the business.
Karinshak: Refranchising also has been important because it gives our bottlers more contiguous territories, which will allow them to be more efficient and move quickly in response to customer and consumer needs. If you look at our system map prior to refranchising, it was vastly different – very much like a "patchwork quilt." This was a big part of our strategy, because these bottlers live and operate in the local communities we serve.