Coca-Cola goes to great lengths to ensure its beverages are always within an arm's reach of desire – even in a galaxy far, far away.  
When Star Wars: Galaxy's Edge opens on May 31 at Disneyland in Anaheim, Calif. and Aug. 29 at Walt Disney World in Orlando, Fla., park guests can stay refreshed – and immersed in the Star Wars storyline – with custom bottles of Coca-Cola, Diet Coke, Sprite and DASANI.
The Coca-Cola Company introduces hundreds of new products each year to give people more of the drinks they want in a range of innovative packaging – but none quite like this. Spherical "orb" bottles – which will be exclusive to Star Wars: Galaxy's Edge – stay true to the Star Wars aesthetic with a rounded look, resealable caps and brand names printed on scuffed, rusted labels in Aurebesh, the written language featured in the film franchise.
"When we first approached Coca-Cola and shared the idea of bringing their products into the Star Wars galaxy in a new and unique way, they immediately saw the opportunity to give our guests the refreshing drinks they love in a way that maintained the authenticity of the story – which is very important to us – and that was, frankly, just plain cool," said Scott Trowbridge, portfolio creative executive and studio leader, Walt Disney Imagineering.
Star Wars: Galaxy's Edge invites fans into the Star Wars universe through immersive, multi-sensory experiences – from flying the Millennium Falcon, to building a lightsaber, to grabbing a bite to eat at Oga's Cantina. For the first time ever, fans will be able to live out their very own Star Wars adventures amidst geological formations on planet Batuu, in the outermost rim of the galaxy. Every detail in Disney's largest-ever, single-themed land expansion was designed with an authentic Star Wars feel that never breaks character or strays from the mythology.
"For over 40 years, people have been dreaming about stepping into the worlds of Star Wars," says Trowbridge. "With Star Wars: Galaxy's Edge, we want to give our guests the opportunity to finally make those dreams come true. We've worked very hard to make sure that every detail feels authentic and consistent with what a 'real' Star Wars location would provide."
That includes food and beverages offered throughout the 14-acre land. As Disney's longest-standing corporate partner, Coca-Cola was there on opening day of Disneyland in 1955 and Walt Disney World in 1971 – and has been a core part of the Disney Parks experience ever since. And while the company has found creative ways to bring its brands to life through guest experiences like Coca-Cola Refreshment Corner on Main Street, U.S.A. in Disneyland Park, creating a custom bottle for an environment like Star Wars: Galaxy's Edge presented a unique challenge.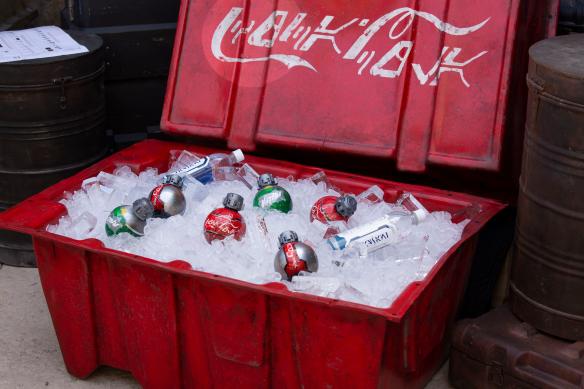 "To quote Walt Disney, 'It's kind of fun to do the impossible'," said Susan Propp, vice president, strategic partnerships marketing, Coca-Cola. "This was a passion project that provided us with an amazing opportunity to connect with our consumers in a galactic – and only-Coke-can-do – way."
The creative process kicked off more than three years ago. Coca-Cola Design created dozens of prototypes of all shapes and sizes, collaborating with Walt Disney Imagineering and Lucasfilm Ltd. before eventually landing on the designs that will debut in Star Wars: Galaxy's Edge (Coca-Cola and Disney are both listed on the patent of the proprietary over-cap).
Matt Cooper, an associate industrial designer at Coke, said the project challenged his team to "take our brands places we'd never taken them before." Specifically, Batuu. 
"We wanted to create a package that would appear like it was pulled off a ship or left behind and repurposed as a bottle of your favorite Coca-Cola beverage – all with visual cues that keep you in the Star Wars storyline," Cooper explained.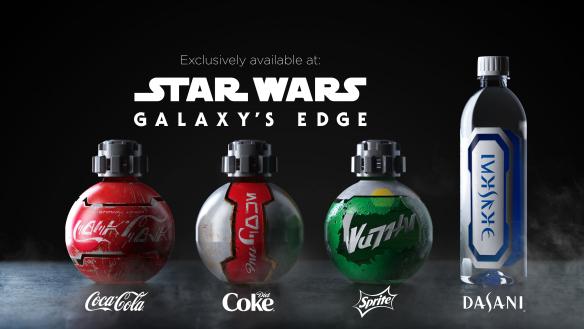 The idea to use Aurebesh text on the labels came during a tour of the Coke Archives in Atlanta, where Coca-Cola signage with the brand's iconic Spencerian script logo in various languages caught the attention of a few Walt Disney Imagineers.
"We started with a blank piece of paper and ideated and iterated with Walt Disney Imagineering on what Coca-Cola products and packaging would look like in Star Wars: Galaxy's Edge," said Ellen Gutierrez, director of strategic partnerships and brand marketing, Coca-Cola. "We think fans of both Star Wars and Coca-Cola will love what we came up with together."