Joy to the Flavors
Coca-Cola and Sprite are spicing up the holidays with limited-edition flavors inspired by the festive season.
For a limited time, Coca-Cola Cinnamon and Sprite Winter Spiced Cranberry are available nationwide in a range of packaging options. Both sparkling offerings bring refreshingly unique twists on familiar tastes for some yuletide cheer.
Coca-Cola Cinnamon –Coke's first-ever holiday flavor offered in the United States –blends the delicious taste of Coca-Cola with the warm spice of cinnamon to deliver an aromatic and delightfully unexpected drinking experience. A zero-sugar version launched last year in Central and Eastern Europe.
"We wanted to give consumers who love and enjoy Coke during the holidays a new and exciting way to get in the holiday spirit with a flavor that complements the season," said Oana Vlad, brand director, Coca-Cola. "Coca-Cola and the holidays have a storied history together –from partnering with artist Haddon Sundblom to create the modern-day image of Santa Claus, to bringing to life the beloved Coca-Cola Polar Bears. And while we always will celebrate our incredible holiday heritage, we also know it's important to find new ways to surprise and delight our fans during this special time of year."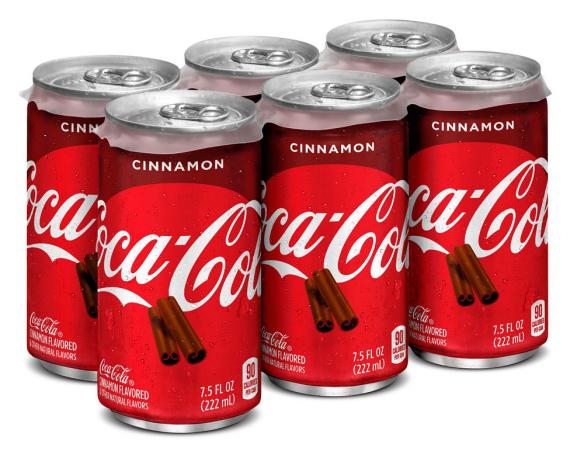 Fa-La-La-Limited Edition Flavors
The limited-edition flavor is the latest in a series of flavor innovations for Coca-Cola. Earlier this year, Orange Vanilla Coke and Orange Vanilla Coke Zero Sugar hit the market as the first Coke flavor extensions in over a decade. Next year will be another big year for the brand with the launch of Coke Energy and Cherry Vanilla Coke and Cherry Vanilla Coke Zero Sugar.
Retail, social, digital, out-of-home and radio advertising will promote the launch. "Our teams have done an amazing job of finding the right spaces and places where Coca-Cola Cinnamon makes sense," Vlad said. "You will see the magic of the holidays, the Coca-Cola Polar Bears, and the Sundblom Santa return in new ways and complement everything we are doing with this festive flavor."

Sprite Winter Spiced Cranberry, meanwhile, infuses the crisp, lemon-lime taste of Sprite with a warm spice blend and tart cranberry. The seasonally relevant flavor profile, created based on input from Sprite fans, delivers the essence of the "thirstiest time of the year." The new flavor adds a tasty twist to fan-favorite Sprite Cranberry, a seasonal staple since 2013.
"We always are looking at trends and listening to our fans to help guide what we offer," said Aaliyah Shafiq, brand group director, Sprite. "We remain committed both to offering Sprite in the varieties people know and love and to introducing highly appealing, innovative flavors. We're confident that Sprite Winter Spiced Cranberry will satisfy our loyal fans and entice our soon-to-be fans to try it out."
Sprite is refreshing its holiday spot to feature Sprite Winter Spiced Cranberry along with animated caricatures of basketball superstar LeBron James and hip-hop artist D.R.A.M. in a frenzied family scene. The spot, titled "Thirstiest Time of the Year", will run online starting Nov. 1, and on TV starting Nov. 4.