Good things come in small packages. That's certainly the case in India, where an innovative plastic Coca-Cola bottle is driving growth.
Known officially as the Affordable Small Sparkling Package – or "ASSP"– the new 250-milliliter bottle addresses age-old problems in a country that covers more than a million square miles and includes more than a billion inhabitants: keeping products both fresh and affordable.
"In a country the size of India, expanding the reach of products into rural areas, and doing so affordably, has been a key challenge facing the consumer goods industry for years," said T. Krishnakumar, CEO, Hindustan Coca-Cola Beverages Pvt. Ltd. "We all want to increase the availability of our products, but to do so requires transporting them over many miles – and sometimes many months – to reach the most rural areas."
To tackle this challenge, Krishnakumar's team, along with others from the Coca-Cola system and German packaging company KHS, worked for nearly two years to create a bottle that maintains the aesthetically pleasing look expected from Coca-Cola while ensuring carbonation is not lost during transit.
To preserve the sought-after "biting taste" sparkling beverages provide, the bottle's opening was redesigned to reduce the amount of gas loss from the cap. Additionally, a new protective coating was added on the bottle to lengthen beverage shelf life by five months.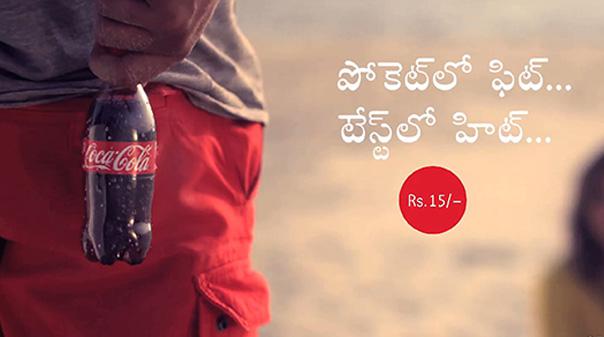 Previously, a small, affordable serving size was widely desired – but not always available – in rural India.
After just 10 weeks in market, early results for the new bottle showed promise, with more than 700,000 cases sold. Currently available in eight of India's states – Tamil Nadu, Kerala, Karnataka, Andhra Pradesh, Gujarat, Maharashtra, Goa and Rajasthan – Hindustan Coca-Cola plans to expand availability of the smaller bottle throughout India in 2017.
India continues to be a key market for Coca-Cola innovation, with the ASSP joining other recent local innovations such as Splash Bar, a new way shop owners are selling small, affordable servings of Coca-Cola; solar coolers, which make it possible to keep beverages cool in "off-the-grid" locations; and Vio Milk, which is the first value-added dairy product from Coca-Cola India.