Since 1917, Coca-Cola and the American Red Cross have teamed up to support communities in need through blood drives, disaster relief and more. The Coca-Cola Company and its charitable giving arm, The Coca-Cola Foundation – along with a network of local bottling partners across the country – have supported the Red Cross through financial support, beverage donations, employee volunteerism, and by sharing marketing assets, expertise and more.
"With the American Red Cross, we have a go-to partner that gives us national as well as local reach into communities across the country," said Lori George Billingsley, VP, Community Connections, Coca-Cola North America. "We have built a great partnership, and we trust that they always have the expertise and on-the-ground resources to support people in need."
In turn, the Red Cross benefits from Coca-Cola's passionate army of employee volunteers and access to its supply chain capabilities and promotional and advertising muscle. For example, Coke's digital billboard network often promotes American Red Cross relief efforts; consumers can donate to the organization via the Coca-Cola Give charitable giving platform; and the company hosts quarterly blood drives for associates and retirees. "We don't simply write a check when disaster strikes," Billingsley added. "This is a true hands-on, value-added partnership."
We spoke with Gail McGovern, president and CEO of the American Red Cross, about the past, present and future of the organization's partnership with Coca-Cola.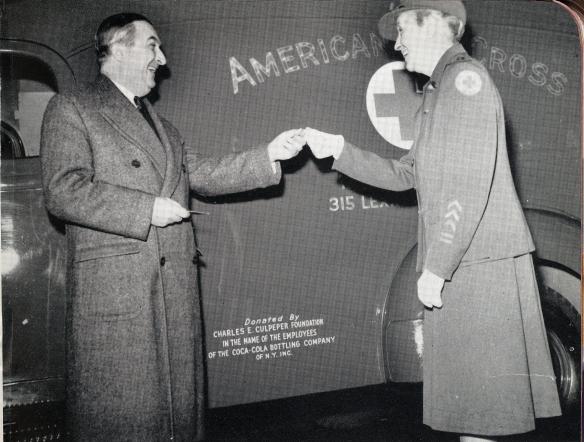 James Murray, president, The Coca-Cola Bottling Company of New York, hands over an ambulance ownership certificate to Everette Risley, a member of the American Red Cross board of directors in February 1943.
The Coca-Cola Company and the American Red Cross are celebrating 100 years of partnership in 2017. What have been the secrets to such a long, fruitful partnership?
First and foremost, I want to express my heartfelt gratitude to everyone at Coca-Cola for their overwhelmingly generous support of the American Red Cross during this deadly hurricane and disaster season. With compassionate contributions from donors like Coca-Cola, dedicated Red Cross volunteers and employees have worked tirelessly to shelter, feed and comfort individuals and families forced from their homes. Thanks to this support, we continue to stand with disaster survivors where the need is greatest – providing them with food, water, relief items, sorely needed cleanup supplies and a shoulder to lean on while they start to put their lives back together.
The Coca-Cola Company is undoubtedly one of our most longstanding and deeply valued corporate partners. Just like any other strong partnership, I believe the secret to the long and fruitful relationship between our organizations has been communication. I am very proud of the fact that the Red Cross and Coca-Cola have strong ties in this area. We are in touch on a regular basis, whether through daily disaster updates, phone calls and meetings, or even during weekends to discuss shipments of water to our shelters. We respond to your questions and concerns, and we are delighted to receive messages of thanks from Coca-Cola team members who have had rewarding experiences as our volunteers. I have had the opportunity to speak with The Coca-Cola Foundation Board of Directors in person, and I am delighted with the open dialogue that our organizations have developed.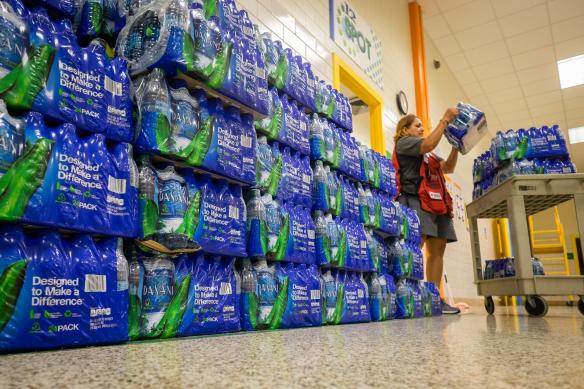 The American Red Cross prepares to deliver a shipment of DASANI to shelters in San Antonio, Texas, in the August 2017 aftermath of Hurricane Harvey. American Red Cross
How has the partnership evolved over the years?
Over the years, Coca-Cola's remarkable commitment to the American Red Cross and those we serve has continued to grow. Beginning in 1917, Coca-Cola ran annual Red Cross campaigns called "Red Cross Roll Calls," which raised funds for our organization's vital work – providing support for disaster relief, safety training and care of service members, as well as the work of the Red Cross overseas. What began with a fundraising drive for the American Red Cross in 1917 continues today with blood drives, donations and volunteer engagement around our lifesaving efforts. In addition, The Coca-Cola Company has given thousands of bottles of water for shelter residents and The Coca-Cola Foundation has provided millions of dollars in financial support for our disaster relief efforts at home and around the world.
Just this year alone, Coca-Cola has supported disaster relief efforts following Hurricanes Harvey and Irma, as well as during the California wildfires. And over the past decade, The Coca-Cola Company and The Coca-Cola Foundation have been supportive of the Red Cross in response to multiple significant disasters, including Hurricanes Katrina, Sandy and Matthew; the 2011 Haitian earthquake; the 2015 earthquakes in Nepal; and many more.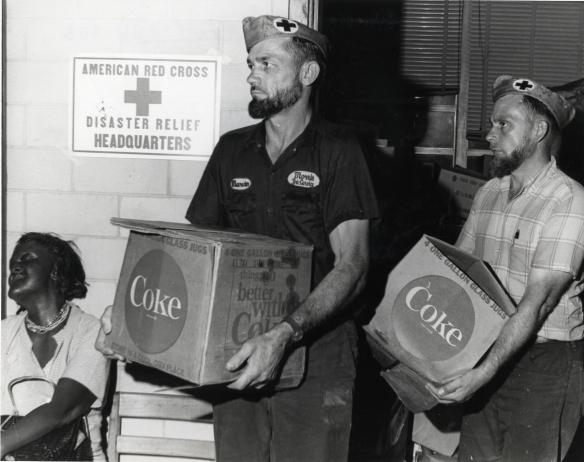 In 1969, Coca-Cola partnered with the Red Cross in the aftermath of Hurricane Camille to ship more than 14,500 gallons of water from its New Orleans syrup plant.
How is the partnership unique?
From the very beginning of our partnership 100 years ago, Coca-Cola leadership knew and trusted the mission of the American Red Cross enough to encourage their employees and customers to donate to our work. This incredible legacy of support is truly extraordinary, and is indicative of our long and steadfast partnership – especially when it comes to our disaster relief efforts in the U.S. and overseas. Another unique quality to our relationships is that Coca-Cola beverages are proudly served at Red Cross blood drives and in our shelters, as well as at our chapters across the country.
Why are Coke and the American Red Cross ideal partners? How do the two organizations complement each other? 
One reason why I believe that Coca-Cola and the American Red Cross are such ideal partners is because both our organizations have such trusted and recognizable brands. And when we work together to prevent and alleviate human suffering, we further strengthen and build the positive sentiment of both our brands. In addition, Coca-Cola truly understands the significance of their support. The Red Cross cares for tens of thousands of people who are displaced when disasters strike, and our trusted allies at Coca-Cola know they play an important role in supporting these efforts. In fact, both The Coca-Cola Company and Foundation respond with lightning speed, whenever we ask for help. And since many Coca-Cola team members have been personally affected by disasters over the years, you truly comprehend the need that people experience during these difficult circumstances. We are so very grateful that Coca-Cola leaders are willing to take our calls – any time, day or night – and are always there to respond with offers of vital assistance to those facing great need.
How does Coke's support empower the American Red Cross' overall mission and on-the-ground efforts?
Coca-Cola's tremendous commitment to community – which is shared across the entire Coca-Cola system – truly empowers the lifesaving work of the American Red Cross. Your bottlers donate essential products – including water, juice and POWERADE – that are served in American Red Cross shelters across the country. And Coca-Cola employees have generously donated to disaster relief efforts through our unique, co-created portal. In addition, Coca-Cola values the Red Cross as a community partner, especially in disaster relief. During the past seven years, the Red Cross has been actively engaged with your Public Affairs & Communications team to help lead the interaction between our organizations. This includes engagement and financial support during disasters, including in-kind beverages; health and safety training for employees; commitment to expanded company sponsored blood drives; and connections at the local level for volunteer engagement and support, including participation on our local chapter boards.
What would you cite as the partnership's key successes? Any special memories or stories stand out?
I believe the most notable successes from our ongoing partnership are the countless lives that we have touched together: from the disaster survivor who received food, safe shelter and a warm blanket, to the hospital patient who received a lifesaving blood transfusion, to the active duty service member who was able to reconnect with family at home during a time of emergency. Together, we continue to make a real and lasting difference – when and where it's needed most.
For me personally, one of the most special moments from our partnership took place in August 2015, when I had the privilege of delivering a presentation to The Coca-Cola Foundation's Board of Directors. It was a wonderful opportunity to give the Board additional insight on our role in supporting disaster relief work at home and overseas – including relief efforts in Nepal following the devastating earthquake that occurred there in the spring of 2015. At the time, I had just returned from a visit to Nepal, and I was able to share photographs and stories from my trip with the Foundation's board members. My travels to Nepal remain one of the most humbling and inspiring experiences I have had during my time with the Red Cross.
What's ahead for the partnership?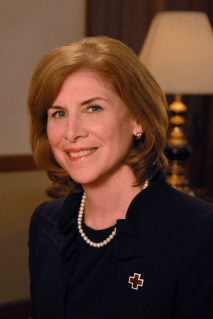 Gail McGovern
The American Red Cross is committed to continuing to report to Coca-Cola on our work, and to actively engage your team members as volunteers, blood donors and supporters. We would also be thrilled to work with you to ensure all members of the Coca-Cola family are trained in lifesaving first aid and CPR skills. And, of course, we would love to further engage Coca-Cola employees to expand our blood donor and volunteer base, thereby enhancing the reach of our lifesaving work.
This coming spring will be a great time for Coca-Cola volunteers to join us in installing smoke alarms to help save lives from home fires. Beginning April 28 through May 13, thousands of volunteers across the country will spend a few hours with us installing smoke alarms in the communities hardest hit by home fires. I know our teams are staying in close contact over the coming months to explore ways that our organizations can work together to promote this volunteer effort.