NOTE: This just in! In honor of International Friendship Day, Coca-Cola is revealing that the winning bidder will also receive an in-real-life Coca-Cola refrigerator. The retro, made-in-Italy SMEG FAB28—which officially hits the market in November—will be fully stocked with ice-cold Coca-Cola to share with friends. 
Coca-Cola is boosting its presence in the fast-growing metaverse with its first-ever NFT (Non-Fungible Token) collectibles. On International Friendship Day, July 30, four unique Coca-Cola NFTs will be up for auction as a single "loot box" through the OpenSea online marketplace.
Coca-Cola proceeds from the auction, which is open for all to bid, will go to longtime Coca-Cola partner and friend, Special Olympics International.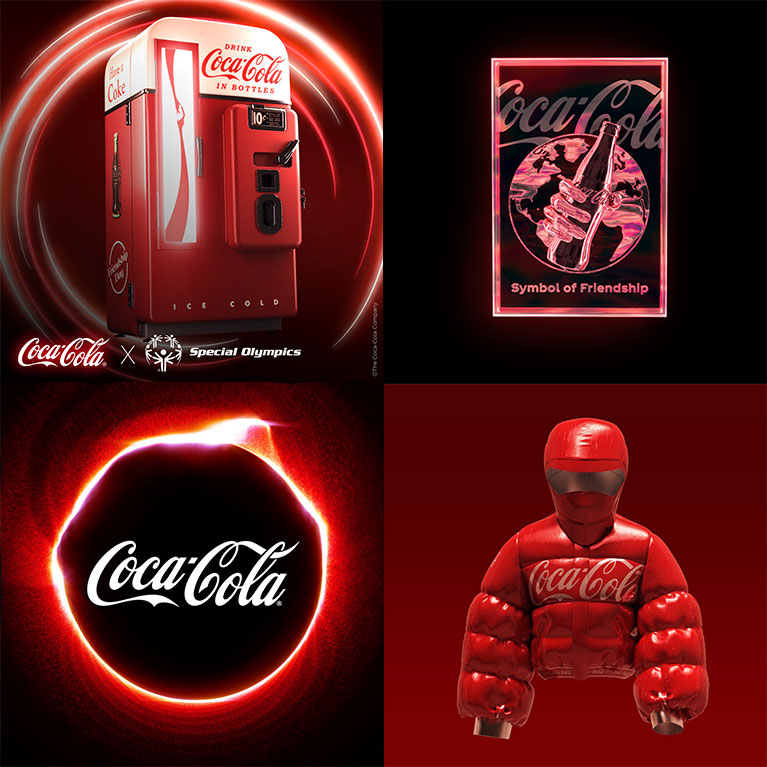 The inaugural collection of Coca-Cola NFTs reimagines some of the brand's iconic assets for the metaverse—with dynamic motion, movement and multisensorial elements—inspired by shared moments of friendship.

Auctioned as one lot, the collection features multi-sensory NFTs housed inside a Friendship Box (itself an NFT) packaged as a loot box, a play on the popular video game feature involving sealed "mystery boxes":

The Friendship Box reimagines a vintage Coca-Cola cooler as a dynamic loot box with motion and illumination enhancements, including the "living light" vortex effect that visually connects all of the NFTs. The exterior is decorated with symbols of friendship and sharing that will fade upon opening to reveal a vintage Coke vending machine. 

The custom-designed Coca-Cola Bubble Jacket wearable is illuminated with effervescent fizz, purposely featuring a futuristic look with subtle nods to Coke's nostalgic delivery uniforms. It also will include an unlockable version that can be worn in the Decentraland 3D virtual reality platform. Inspired by metaverse trends and utility, the jacket features the Coca-Cola color palette, fusing the metallic red of the aluminum can and caramel brown of the delicious drink.
The Sound Visualizer illustrates the instantly recognizable sonics of enjoying a Coca-Cola: from the pop of the bottle opening and sound of the drink being poured over ice, to the unmistakeable fizz and "ahhh" that accompanies that first sip, through a "living" iteration of the iconic Coca-Cola red disc that visualizes these audio cues. 
The Friendship Card refreshes 1948 artwork used in a set of Coca-Cola trading cards from the 1990s symbolizing friendship and refreshment. The metaverse-influenced iteration of the cards add motion, light and 3D features.  
The winning bidder will also receive an in-real-life Coca-Cola refrigerator. The retro, made-in-Italy SMEG FAB28—which officially hits the market in November—will be fully stocked with ice-cold Coca-Cola to share with friends. Additional surprises will be unveiled to the auction's highest bidder. 
"The Coca-Cola brand has played an active, authentic role in pop culture throughout history," said Oana Vlad, global senior brand director, Coca-Cola Trademark. "We've been watching NFTs, cryptocurrency and the metaverse, and see this as a timely opportunity to participate in and learn from this emerging space. International Friendship Day is the perfect occasion to bring people together virtually in a uniquely Coca-Cola way while raising funds for our close friends of 53 years at Special Olympics."
All of the NFTs are unique celebrations and articulations of friendship. Over the last 135 years, Coca-Cola's Spencerian script, glass contour bottle and iconic advertising have made it one of the most celebrated, and collectible, brands in the world. These NFTs reinterpret this storied heritage for the virtual world. 

NFTs are one-of-a-kind digital assets that can be bought and sold like any other piece of personal property, but have no tangible form. Like cryptocurrencies, NFTs are created on a digital ledger commonly known as a blockchain. Collectors and crypto investors purchase NFTs—which are created as tokens, a type of certificate of ownership—via online marketplaces like OpenSea. 

A cross-functional collective of Coca-Cola brand, design and licensing leads from the United States, Germany and Japan, and external agency partners including Virtue and Tafi, brought the project to life—from ideation and strategy, to development and execution—in less than two months.

"Tapping into culture in real time requires moving with speed and agility, and often taking an iterative, test-and-learn approach like we're doing here," Vlad said. "This has been a hyper-collaborative project that demonstrates the power of working together quickly as a networked team." 

The Coca-Cola NFT auction begins at 12:01 a.m. UTC on Friday, July 30, and closes at 8 p.m. UTC on Monday, Aug. 2. For more information, visit https://maketafi.com/coca-cola-nft.