When it comes to fizzy flavors, sparkling water shoppers have a fairly predictable palette to pick from.
Until now, that is.
AHA – Coca-Cola North America's first new major brand to launch in a decade – will bring a creatively refreshing array of flavor pairings to the crowded and competitive beverage aisle in March 2020.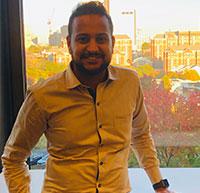 We asked Nilesh Karava, who oversees R&D for Coca-Cola North America's water and active hydration portfolios, and Julie Siwemuke, sparkling water director, Coca-Cola North America, to explain how they developed the eight AHA flavors – Lime + Watermelon, Strawberry + Cucumber, Citrus + Green Tea, Black Cherry + Coffee, Orange + Grapefruit, Apple + Ginger, Blueberry + Pomegranate and Peach + Honey – and helped take the brand from concept to prototype in just over six months.
What was your initial brief?
Nilesh: Sparkling water is a big category with a lot of players. We knew we needed to develop a line of flavored mainstream sparkling waters that would capture people's attention and give them a reason to reach for our brand over the many others on the shelf. So we set out to create a differentiated proposition that would bring something new and valuable to drinkers.
How did you land on the final eight flavors? Walk us through the process.
Julie: In addition to mining category purchase data, we spoke to thousands of consumers – from sparkling water loyalists, to occasional drinkers, to those who've tried a brand or two but haven't found what they like.
Nilesh: It was a fusion of art and science. After writing the R&D brief together with the brand team in early-April, we began brainstorming ideas for flavors. We knew we needed to deliver bold flavors with strong aromatics and unique sensorial experiences. So we made a list of about 80 pairings of mainstream fruit flavors  and trending, or niche, flavors, and ran them by consumers to see which would be the most appealing. From there, we pared the list down to 18 combinations to develop and test further. We did extensive taste tests in major cities across the country. By the end of May, we had our final eight.
Why did you decide to develop flavor pairings versus single-flavor offerings?
Julie: We knew we needed to launch something new and differentiated. But we wanted to appeal to a wide base of consumers. Some of the flavors we landed on – green tea, honey and black cherry, for example – are very niche. If we were to launch these on their own, we'd be limiting our consumer base. That's why we paired mainstream fruit flavors – berries and citruses – with trending tastes, or what we call "halo" flavors.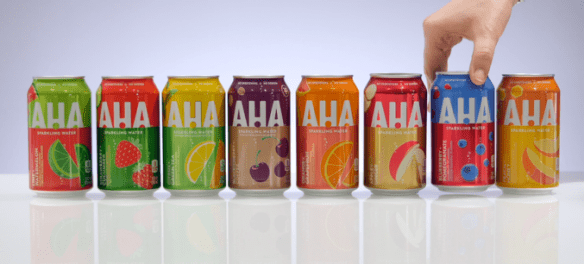 Did you have a certain consumer target in mind?
Julie: More Americans are reaching for drinks without sugar or calories – but with fizz and flavor – at home, on the go, or as a refreshing complement to a meal. They want bubbles, bold flavors, and a great drinking experience.
From an ingredient standpoint, were there any non-negotiables from the start?
Nilesh: We knew we wanted these new beverages to be sodium-free, sugar-free, calorie-free and only include flavors from natural sources.
Two AHA flavors (Citrus + Green Tea and Black Cherry + Coffee) contain 30 milligrams of caffeine, which isn't something sparkling water fans are used to. Why did you want to include caffeine, and what challenges did this present from a development standpoint?
Nilesh: Our research showed that some sparkling water fans are wanting – but not getting – a little pick me up. Adding caffeine is challenging because it has a naturally bitter taste, so we had to work our magic. Caffeinated beverages can contain anywhere from 10 to 50 milligrams of caffeine, but we netted out around 30 milligrams for these two AHA flavors. That's our sweet spot. Anything beyond that would compromise taste, which we of course couldn't do. We also knew that not all consumers wanted caffeine and that's why we decided to provide the option of caffeine versus offering on all of the eight SKUs.
Why were aromatics important?
Nilesh: When a consumer reaches for any food or beverage, the three most important aspects are appearance, aromatics and taste. The moment you open a can of AHA, you enjoy the effervescent aromatics before you take your first sip. Without sugar or juice, aromatics can be a challenge to have with sparkling water. So we intentionally pursued naturally aromatic flavors. Aromatics help deliver a more flavor-forward taste without adding sugar or sweeteners. Our marketing and design colleagues did a fantastic job of dialing up these aromatic cues in the packaging graphics.
What does the AHA launch say about The Coca-Cola Company's innovation culture?
Julie: As part of our evolution to be a total beverage company, we want to compete and win in every category where we see opportunity to meet consumer needs. As one of the fastest-growing segments of the beverage industry, sparkling water is critically important to this journey. The speed in which we took the AHA brand from idea to shelf is a clear demonstration of what we call our core growth behaviors – iterative, curious, empowered and inclusive – in action. We wanted to make a big statement with something people haven't seen in the sparkling water aisle before, and that curiosity drove us to explore such unique and unexpected flavor pairings and find a way to add caffeine. And a fast-moving project of this scope required close collaboration and trust across functions, including R&D, Technical, Marketing, Design, Legal, Commercial and more. We're incredibly proud of this work – what we've created, and how we've created it – and can't wait to see what people think.