Coca-Cola hopes to bring new fans into the energy drink category next year with the U.S. launch of Coca-Cola Energy, an approachable and appealing option offering the kick people want with the great Coke taste they love.
Coca-Cola Energy, Coca-Cola Energy Cherry – a flavor available exclusively in the U.S. – and their zero-calorie counterparts will be available nationwide in 12-oz. sleek cans starting in January 2020. All four varieties include 114 mg of caffeine per 12-oz. serving (roughly the equivalent of a 12-oz. cup of drip coffee), guarana extracts and B-vitamins.   
Coca-Cola North America unveiled the first-ever energy drink under the Coke brand alongside several other beverage innovations this week at the National Association of Convenience Stores (NACS) expo in Atlanta. Convenience retail is the primary channel for the immediate consumption (IC)-driven energy drink category, making the tradeshow a logical launching pad for the new beverage.
The rollout supports Coke's ongoing efforts to deliver more beverage options that meet changing preferences, lifestyles and tastes. It's also an example of the company's commitment to move quickly, take intelligent risks to bring more drinks to the shelf, and "lift and shift" innovations around the world. Coca-Cola Energy debuted earlier this year in Spain and Hungary, and is currently available in 25 countries including Great Britain, Ireland, Spain, Germany, Holland, Norway, Sweden, France, Belgium, Romania, Hungary and Australia.
Coca-Cola Energy continues the Coke brand's recent track record of innovation in the U.S. and is one of several new extensions in the pipeline. Coca-Cola Cinnamon will hit the market this fall as a limited-edition holiday flavor, and Coca-Cola Cherry Vanilla and Coca-Cola Cherry Vanilla Zero will launch next year. All follow the successful rollout of Coca-Cola Orange Vanilla and Coca-Cola Orange Vanilla Zero, the first new Coca-Cola flavor extensions in over a decade.
We spoke with Janki Gambhir, Coca-Cola Trademark innovation brand director, about the company's plans for Coca-Cola Energy.
Why is the Coke brand getting into energy drinks for the first time in the U.S.?
As a total beverage company, we're constantly looking for ways to evolve our portfolio and bring people the drinks they want – in a range of categories and package options. Coca-Cola Energy was developed by listening to people who told us they wanted an energy drink that tastes more like Coca-Cola than a traditional energy drink.
We saw an opportunity to meet an unmet need in the category. While energy drinks are one of the fastest-growing NARTD beverage categories in the U.S. – with sales growing around 5% annually – household penetration has slowed.
Why is that?
Research shows that people are open to trying energy drinks, but are hesitant to give these products a try because of  unfamiliar brands touting unfamiliar ingredients.
Taste is a strong driver when people are deciding what beverages to enjoy, especially in a market where there are so many options. We know Coca-Cola fans love the taste of Coke… and, with Coca-Cola Energy, we found there was an opportunity to extend Coca-Cola to a category many people haven't tried.
Why do you think people are looking for more caffeine today?
People are busier than ever. They don't just work from 9 to 5 and call it a day. Their lives are full, and they're doing so many more things after "work." Coke Energy offers great-tasting energy to do the things they need to do, but also the things they want to do.
And two zero-calorie options should extend the appeal of Coca-Cola Energy to even more people.
Indeed. The energy category is still led by full-calorie options (approximately 80%), but we're seeing zero-calorie options are driving a lot of the growth. We're confident that our zero-calorie options – and our inclusive brand – will appeal to an even broader audience. We will bring Coke Energy to market differently than people are used to seeing from Coca-Cola or other energy drink brands. Stay tuned!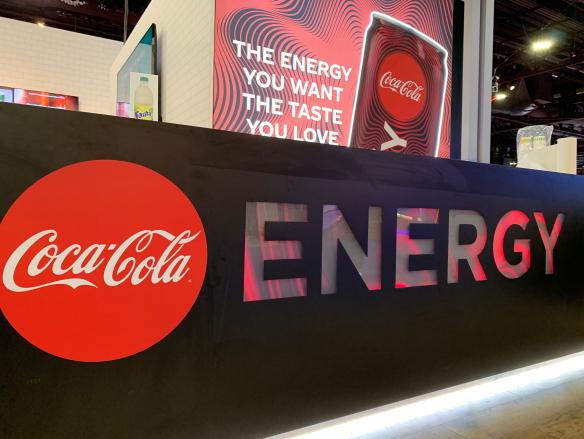 Why was cherry chosen as a flavor extension for Coca-Cola Energy? It's not offered in Europe.
Americans love Cherry Coke! The brand has a cult-like following here. Since our ambition is to bring Coke drinkers into the energy category, what better way to do so than with an extended Coca-Cola Energy range built on the great taste credentials of a flavor people recognize, trust and love.
What does the success of Coke Orange Vanilla say about the innovation potential of the brand, and how are these learnings informing the Coke Energy launch?
It shows the potential of the Coca-Cola brand to deliver new and exciting tastes people love, both with and without calories. The success of Orange Vanilla Coke is one great reminder that people love the Coca-Cola brand and the recent innovations we are bringing to market. With Coca-Cola Energy, we are giving people even more reasons to reach for a Coke. Coke Energy is a disruptive proposition that will push Coca-Cola to places it hasn't been before. Next year will be another big year for the brand in the U.S. with the launch of Coke Energy and Cherry Vanilla Coke and Cherry Vanilla Coke Zero Sugar. Our fans have told us they want and expect innovation from Coke, so we're delivering.