Big Innovation, Small Packages
At Coca-Cola, big ideas can actually be small.
Really small.
The company recently tapped several "miniaturists" – artists who specialize in small-scale, dollhouse-like representations of life-sized landscapes and slices of life – to create 14 brand-specific "tiny worlds" for fans to experience exclusively through the sip & scan digital content platform.
For a limited time, scanning the on-pack sip & scan icon via a mobile device unlocks a virtual doorway to video footage of handcrafted models inspired by each brand's personality and passions. For example, Coca-Cola fans can soak up a few rays at a beach club; Seagram's lovers can set out hors d'oeuvres for friends and mix up a mocktail in their well-appointed apartment; Sprite creators can mix it up in the recording studio; and smartwater enthusiasts can pop in a startup. New Coke even makes a cameo with a NETFLIX/Stranger Things-inspired throwback to 1985.
A Tiny Peek Into Big Worlds
"We had the idea of diving inside the bottle to explore what each brand's 'world' would look like, and miniatures seemed like a natural way to bring the concept to life," explains Heather Bell, group director of KO:OP, Coke's in-house creative agency responsible for the project, citing the booming popularity of the micro art genre. "We saw it as a great way to personify our total beverage portfolio and give our fans a fun, playful and unexpected opportunity to interact with the brands they love."
Karen Anderson, the artist behind the buzzed-about Tiny Doors Atlanta public art project, was the first partner to come onboard. KO:OP created "mood boards" to guide Anderson and her fellow makers.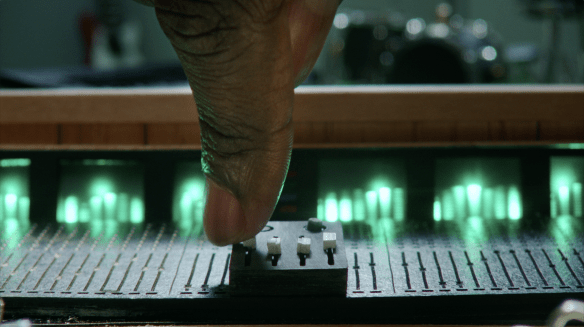 "We included each brand's color pallet and core attributes, but also wanted the artists to We wanted the artists to clearly understand the passions and interests of each of the brand's fanbase," said Taylor Crawford, creative director. "This meant choosing the right settings, appropriate styling, and providing a detailed prop list. It was a bit like being an interior decorator."
Delicate Yet Impactful
The artists built petite, meticulously detailed sets measuring approximately two feet by two feet –with props so tiny they had to be positioned with a tweezer. "There's a delicateness to not only building these models, but also capturing them on film," Crawford said. "Everything we shot was one-twelfth scale, so getting everything just right –from pouring Coke into a teeny-tiny bottle with a syringe, to squeezing a pea-sized garnish into a mini glass – was like threading a needle."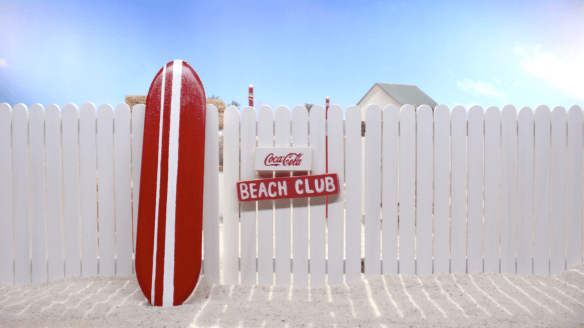 To capture the items' diminutive size, the videos show hands dropping down onto the sets. Fingers can be seen doing tiny barbell reps in the POWERADE world, catching a fish in the Mello Yello world, and lighting a tiki torch in the FUZE Tea world, for example.
"You'd think that being able to hold your entire set with your hands would make the shoot a little easier," recalled Tom Pritchard, director of photography. "But it's actually a decent amount harder."

Each sip & scan video includes calls to action to order mini cans (and other sizes) via a digital commerce site and explore other tiny beverage worlds.
"Sip & scan is an always-on pathway for our fans to engage with our brands and unlock shareable moments of delight," said Ellen Duncan, group director of digital platforms and innovation, Coca-Cola North America. "The tiny worlds concept is a great fit for this mobile-first platform...everyone who has had the chance to experience this content can't help but smile."