Coca-Cola is returning to its artisanal roots with the release of two new specially crafted beverages, combining the timeless taste of Coca-Cola with peach flavor sourced from peaches grown in Georgia and raspberry flavor sourced from raspberries grown in California.
Coca-Cola Georgia Peach and Coca-Cola California Raspberry are available starting this week in 12-oz. glass bottle singles or four-packs and can be found in local restaurants, bars and grocery stores nationwide. The company hopes to capitalize on the growing popularity of craft sodas and build on the success of Coca-Cola from Mexico, which the company began importing into the U.S. in 2006 and has posted solid growth ever since.
"Specialty sodas are particularly appealing to people who enjoy discovering crafted flavors and who have a desire to try curated food and beverage experiences," said Lillian Norton, senior brand manager, Coca-Cola Innovation. "We see an opportunity to make more of a full portfolio play in this space with these new locally inspired flavors."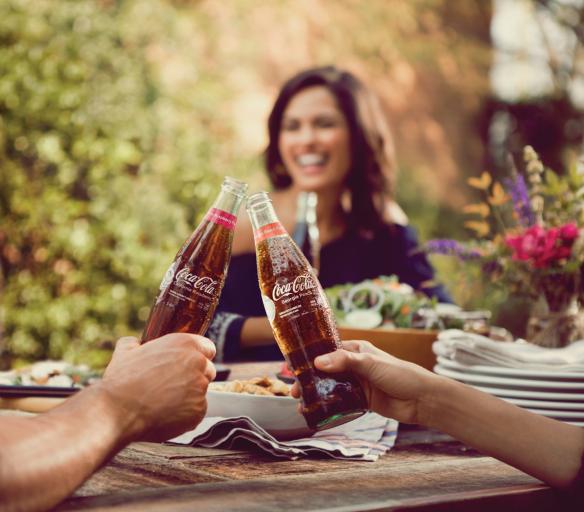 Coke's R&D team worked with nearly 9,500 consumers and explored more than 30 flavor options, mostly rooted in fruit, for what would be the brand's first flavor innovations since Vanilla Coke in 2002.
"We let the consumer lead us to these flavors through several rounds of research," Norton said. "Peach and raspberry floated to the top."
The brand team found inspiration from Coke's handcrafted heritage. More than 130 years ago, Atlanta pharmacist Dr. John Pemberton created the syrup for Coca-Cola, and carried a jug of the new product down the street to Jacobs' Pharmacy, where it was sampled, pronounced "excellent" and sold for five cents a glass. Carbonated water was paired with the new syrup to produce a "Delicious and Refreshing" drink.
Until 1932, when a fountain dispenser automated the process of combining carbonated water and syrup at the spout, Coca-Cola was mixed and poured by hand at drugstore soda fountains across the country.
"Soda shops would experiment with different flavors," explains Ted Ryan, Coca-Cola archivist. "Vanilla and Cherry were favorites, of course, but you'd also find locally sourced flavors on tap in different parts of the country. Peach was popular in the South and, believe it or not, maple syrup was common up north."
Ryan said he sees the new drinks as a modern-day interpretation of this ritual of personalizing Coca-Cola with locally relevant tastes. They also align with people's desire for more information about the foods and beverages they consume.
"We know that our consumers want more transparency," Norton added. "They want clear ingredient information, and they're seeking out more local products. They're shopping local, and eating local. So we wanted to allow people to experience some unique local flavors no matter where they live in the United States."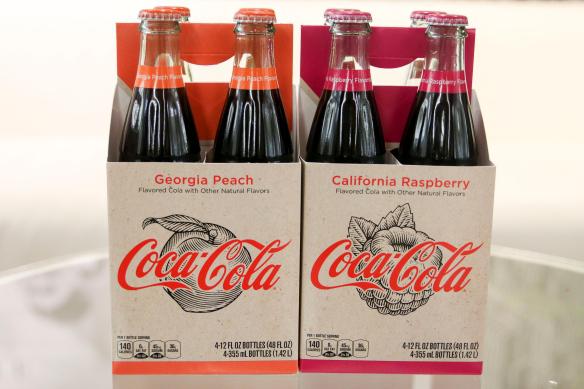 The bottle and package designs reinforce the local, craft-inspired personality of the new beverages. "The logos and imagery are printed directly on the glass bottles versus a label, the four-pack carrier is designed in an artful, understated way, and the on-pack copy shares the story behind these beverages," Norton said.
Coca-Cola Georgia Peach and Coca-Cola California Raspberry both tested well with consumers and could help recruit new drinkers into the trademark, Norton said. Two in three non-Coke drinkers who tried the new beverages said they would buy them.
Coke is taking a lowkey, grassroots approach to marketing. To help create a word-of-mouth buzz about the new beverages, the brand is collaborating with local artisans and artists in Georgia and California to create statement pieces, like murals, installations and street art, inspired by the flavors and their hometowns. Greg Mike, Trish Andersen, Michael Kalish and Geoff Gouveia will share their creative journey with their communities and across their social channels.
Similar to the handcrafted inspiration behind Coca-Cola Georgia Peach and California Raspberry, these art pieces will connect to each artists' unique craft with inspiration from Coca-Cola and the local flavors. Norton said the team is considering similar partnerships with chefs and mixologists.
"We learned a lot from Coca-Cola from Mexico and how it has grown organically," Norton said. "So we're being purposeful in deciding how to launch these new products, keeping in mind the importance of allowing consumers the opportunity to discover the new products for themselves, and making that discovery process part of their own personal narrative."