From Idea to Implementation
Four years ago, Megan Rosenberger developed the idea for a community rain barrel program in her United States Naval Academy dorm room, she never imagined it would grow into a nonprofit organization in five states.
Rain barrels –containers that capture rainwater from a roof for non-drinking household purposes –help reduce water consumption and flooding, while preventing runoff that carries pollutants into storm drains and waterways.
Their flood-prevention capacity was of particular importance to Rosenberger, whose hometown of Natrona Heights, Penn. was devastated by floods in 2004. So, when she learned about the environmental value of rain barrels while on a high school field trip, she was inspired to install one of her own. She quickly started encouraging others to install the easy-to-assemble devices.
Rewarding Excellence
For Rosenberger's community-mobilizing environmental efforts, she was named a 2013 Coca-Cola Scholar, supporting her pursuit of higher education at the United States Naval Academy.
In 2015, while a 19-year-old midshipman, she solidified her passion by foundingBarrels by the Bay, a 501(c)(3) nonprofit organization that inspires the next generation of community activists through a rain barrel environmental education program. This program includes environmental curriculum, rain barrel painting, and installation. Through this initiative, Rosenberger and her team seek to combat flooding and storm water runoff, educate communities about global water issues, and inspire students to preserve the Earth's water resources.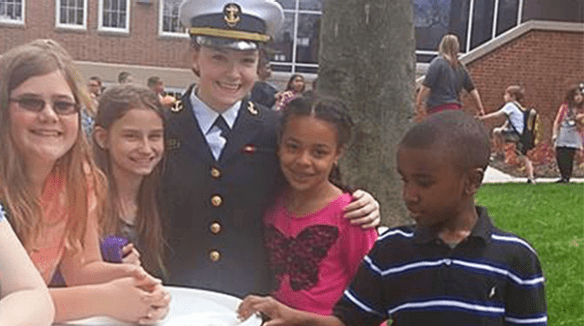 Megan Rosenberger with a few of the many students who have painted rain barrels through Barrels by the Bay.
From the start, Rosenberger's challenge was finding materials that could serve as rain barrel basins. Rosenberger did not need to look far for this answer.
As a proud Coca-Cola Scholar," she recalls. "Coca-Cola immediately came to my mind."
A Community-Minded Partnership
When she reached out to request used-syrup drums, the company responded with enthusiasm. "Coca-Cola, as a company, has been so supportive of my initiative. I reached out to them before this organization even blossomed, and they were very supportive of the idea."
Barrels by the Bay has since blossomed. The organization has installed 722 rain barrels across five states and has provided an environmental curriculum in nearly 300 classrooms.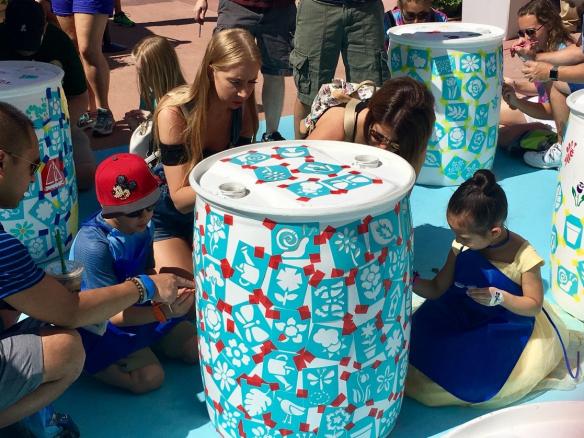 Families paint rain barrels at the 25th Annual EPCOT Flower and Garden Festival in Orlando, Fla. in March. Barrels by the Bay partnered with Coca-Cola Beverages Florida on the project for the second year in a row.
Most rewarding for Rosenberger is seeing the spark of excitement in students as they realize the impact that they can have on the environment and their communities. She sees herself in the students her program impacts, remembering how first learning about rain barrels sparked her own passion for environmental activism.
Reflecting on her journey, she says, "It has come full circle. When I was nine years old, my community flooded. At 14, I installed my first rain barrel. Now, success to me is inspiring that next generation who has never heard of a rain barrel to see their excitement through this process."