When the 2019 ESSENCE Festival kicks off Friday in New Orleans, Coca-Cola will once again be there to help celebrate, empower and refresh African-American women.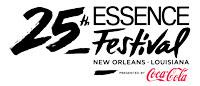 Coca-Cola has been the longest presenting sponsor of the ESSENCE Festival for 24 of its 25 years. With three days and nights of concerts, inspirational speakers, networking sessions and community volunteerism opportunities, the festival continues to grow both in prominence and mission with more than half a million attendees annually.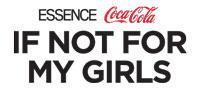 Coke will have a major presence at this year's festival, anchored by its partnership with ESSSENCE on the "If Not For My Girls" campaign showcasing the power of friendship and sisterhood. A four-part video series on ESSENCE's Facebook Watch platform features real-life friends Actress LeToya Luckett-Walker, R&B Singer Keri Hilson and Influencer Eudoxie Bridges, who share how their own incredible bond helped to serve as a strong and uplifting foundation in each of their lives.
"If Not for My Girls" will come to life at Coke's official festival booth through the lens of art celebrating sisterhood. The booth also will feature energetic dance lessons, lip-sync battles and the Girlfriends Collection Photo Booth and sampling bars featuring refreshing Coca-Cola beverages.
We spoke with Helen Smith Price, vice president of global community affairs and president of The Coca-Cola Foundation, to learn more about the history of the partnership and how it brings to life the values ESSENCE and Coca-Cola share.
How did this partnership come to be?
ESSENCE Festival was first held in 1994 to celebrate the 25th anniversary of ESSENCE magazine, which has long served as the definitive media outlet for African-American women. They wanted to hold a one-time event – a party with a purpose – to mark the milestone. Our competitor was the marketing sponsor that first year. Ingrid Saunders Jones, who at the time was the company's senior vice president for community affairs and chair of The Coca-Cola Foundation, decided we should check it out for community engagement.
So a few of us made the trip down to New Orleans. It was a small, but impactful celebration of African-American women. I remember it being fun and entertaining, but with a strong sense of purpose, pride and connection. It celebrated the fact that black women are special, strong and beautiful in many ways – from hair to music, from financial expertise to fashion and entertainment. It affirmed that, "Yes, we're unique and accomplished across the spectrum of business, health, education, law and more." It was a validating moment of empowerment for black women to embrace our unique style and culture.
Ingrid saw the event's impact on the community, as well, and imagined what it could be with the support of Coca-Cola's marketing power. Based on the success of the first year, ESSENCE decided to bring the festival back in 1995. We worked out a deal to serve as a sponsor. Adding our brand and marketing execution took the marketing and community impact to a different level. And we were able to help attract additional sponsors, like McDonald's and Walmart. Over the years, the festival and our partnership have grown astronomically.
Why does it make sense for Coca-Cola to play such an active role in the ESSENCE experience?
The festival is the country's largest gathering for African-American women's empowerment. It's not just an event – it's an institution. Attendees are consumers who care about the companies that care about them. Everyone in New Orleans knows Coca-Cola is the presenting sponsor of the festival; our presence is powerful and authentic. Hundreds of thousands of people who attend every year – our consumers – associate our brand, company and bottling partners at Coca-Cola UNITED with women's empowerment. It's a wonderful venue for us to share our story of community engagement and women's empowerment, and to engage fans through interactive experiences.
Who attends the festival, and why does the content resonate with its audience?
It's a celebration of all things related to African-American women and our culture. The crowd cuts across generations. During the day, there are empowerment sessions at the convention center with noted speakers and opinion elites. These events are free and open to the public. We talk about fashion and music and food, but also education, finance, careers and our current challenges in politics, education, financial markets, religion, health and more. At night, concerts at the Superdome are a hot ticket. The agenda is all-encompassing and shifts year after year based on the national dialogue.
What someone my age gets out of the experience may be different than that of a 25-year-old. For example, some women may gravitate to sessions on financial stability, health and wellbeing, while others may be more interested in kickstarting their careers, or finding the right love interest. And because the focus is on women's empowerment, it's a sisterhood. The weekend is a fun, friendly and supportive occasion.