Product launches from The Coca-Cola Company are historically years-in-the making endeavors. Extensive R&D, consumer focus groups and market testing all stand between an innovator's idea and the marketplace.
Not this time.
Coca-Cola North America recently used the Indiegogo crowdfunding platform to gauge America's thirst for Valser, a premium mineral water that has long been available in Europe.
The campaign gave early backers an opportunity to be the first in the U.S. to purchase 750-ml glass bottles of Valser Classic (sparkling) or Valser Silence (still) – shipped directly from Switzerland – and provide feedback on its taste, brand proposition and price.
The company exceeded its crowdfunding target for the one-month campaign and is now piloting the brand in select restaurants in Atlanta.
The effort supports Coca-Cola President and CEO James Quincey's vision to build a total beverage company powered by an agile, innovation-driven culture committed to following the consumer, taking risks and quickly scaling winning brands and ideas around the world.
The Coca-Cola innovators behind the Indiegogo pilot are part of an Atlanta-based innovation team focused on fast pilots like a project launched last year to test a water dispensing machine, known as Dasani PureFill, on the Georgia Tech campus and for the initial launch of the Coca-Cola Arctic Chill Cooler.
"Given how rapidly consumer tastes are changing, our team is challenged with taking risks, testing, iterating and cycling through ideas quickly to see what works," said Dave Preston, vice president, innovation, Coca-Cola North America. "We saw Indiegogo as an opportunity to quickly get Valser out there and see if there is a demand."
The platform yielded "transactional learning" as well as two-way feedback from and dialogues with the Indiegogo community. "We were able to follow up with both people who bought Valser and those who didn't, and understand why and refine if needed," Preston said. "We saw this as a unique launch platform but also a way to get a clear read on what consumers want."
Slava Rubin, Indiegogo founder and chief business officer, said other leading CPG companies such as Procter & Gamble and Heineken have used the "enterprise crowdfunding" platform as part of their product development strategies. "By using Indiegogo, companies of all sizes can connect with our passionate community of backers in an unprecedented way," he said. "Innovation teams are now using pre-order transactions as a new kind of real-world validation to learn what people actually want, and using those insights to decide which amazing new products to bring to market."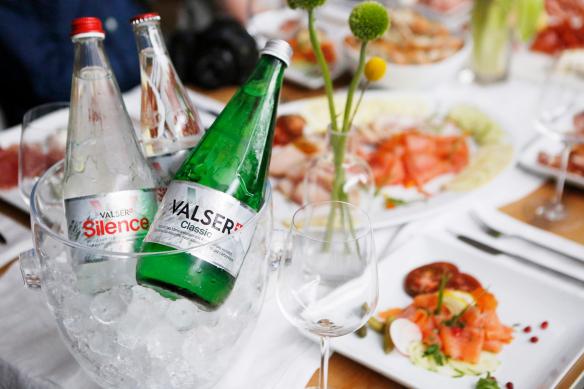 Lifting and Shifting
A unique benefit of Coca-Cola's global scale is that the company makes and markets more than 300 beverages currently not sold in the United States. This creates opportunity for the North America innovation team to quickly evaluate and test which global brand could be tested in the company's home market next.
George Parker, director of innovation platforms for Coca-Cola North America, identified imported premium sparking water – the fastest-growing segment of the bottled water category – as one area of opportunity after evaluating the company's global portfolio. "Valser clearly stood out as a brand with a differentiated proposition," he said. "Its crisp taste, created from its high mineral content, makes it the ideal pairing with food and a way to enhance the dining experience."
Valser's Indiegogo page shares the story of "Coca-Cola's Secret from the Swiss Alps", with photos and details on the "made by mountains" mineral water, which Coca-Cola acquired in 2001. "Filtered through mountain depths for 20 to 200 years, Valser is naturally infused with more minerals and less sodium than other import waters – creating a distinct taste profile that uniquely enhances fine food and wine," the copy reads.
This unique story and proven track record in Switzerland appealed to Indiegogo trend-savvy community, said Preston, who said his team is considering similar tests with other brands from Coke's global portfolio.
"Walk into a natural foods store today and you'll see an array of offerings from around the world," he said. "Consumers are interested in experimenting with new ingredients, foods and beverages."
Valser complements Coca-Cola North America's existing portfolio of sparkling and still waters, which currently includes DASANI, smartwater and Topo Chico.