More Than a Beverage
Fanta is much more than a beloved fruit-flavored sparkling brand. It's truly "a thing", thanks to a hyper-connected legion of fans, who take to social media to channel their creativity, originality and passion for self-expression.
That's the foundation of "It's A Thing," a new campaign that brings Fanta's world of extraordinary flavor to life for today's teens via original video content, Augmented Reality (AR)-powered outdoor ads, creative social extensions and brand partnerships with youth-focused media platforms.
Fanta Brand Director Tutul Rahman said the new creative brings a modern twist to a brand that has always embraced the passions and values of its young, fiercely independent fanbase.
"Today's world is more layered and more complex than it was a generation ago," he explained. "And that means young people are taking more conscious steps to stand out as individuals and express themselves uniquely through their micro-passions. 'It's A Thing'still very much expresses the Fanta voice we know and love, but in a way that feels relevant and true to this generation."
Connecting With a Younger Generation
"It's A Thing" launched in July with digital videos focused on four of Fanta's most popular flavors – Orange, Pineapple, Strawberry and Grape – and companion out-of-home ads in Atlanta, Los Angeles, Miami, New York City and Washington, D.C.
The creative tunes into each flavor's unique personality and passions. "It's An Orange Thing" is inspired by teens' enthusiasm and passion seen on social media; "It's A Pineapple Thing" embraces teens' bold confidence and love of retro gaming; "It's A Strawberry Thing" is powered by teens' love for music discovery; and "It's A Grape Thing" is all about self-expression.
From a convenience store dripping with orange flavor and its own DJ cat, to an 8-bit videogame-ified pizza parlor, the digital films transport fans to parallel universes of their favorite hangout spots, made more extraordinary and fantastic once a Fanta is opened.
"We noticed a lot of conversation about Fanta in social media," said Jessica Kalish, senior manager, integrated marketing communications (IMC), explaining the strategic insights behind "It's A Thing." "And this chatter was not coming from the Fanta brand. People are interacting with and talking about Fanta in modern, culturally relevant ways tied to their core interests."
Beyond the Brand
The Fanta team also tuned in to sub-groups of fans who are passionately loyal about their favorite flavors. "We let this naturally occurring conversation drive the campaign, which brings trends and subcultures to the forefront and serves up fun ways to discover, share and co-create Fanta content," Kalish added.
For example, "Finstas" – secondary Instagram profiles for each core flavor – are populated with hidden content and experiences that can only be discovered via easter eggs hidden in posts on Fanta's official Instagram profile.
And Fanta is evolving its traditional advertising with next-generation technology via a first-of-its-kind partnership with Snapchat. Fanta fans can use their mobile cameras to bring to life images on outdoor ads and explore flavor-specific Fanta AR worlds for deeper engagement, customization and sharing using Snap AR Marker Tech technology. Scannable Snapchat codes also unlock four filters and AR sticker packs.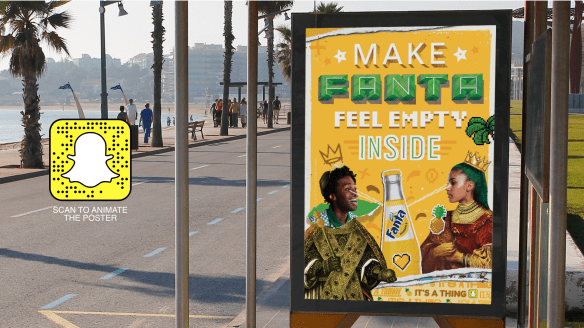 "Fanta is leaning into the world of augmented reality in an incredibly original way, bridging the gap between user's physical and digital worlds by providing immersive AR experiences that empower users to be creators themselves," said Christina Kavalauskas, creative strategy lead, Snapchat. "This is one of the first times that Snapchat users are able to take artistic elements directly from the physical world – AR stickers, in this instance –and leverage those design elements within their own user-generated Snaps."
Partnering For a Stronger Brand
Partnerships play a key role in the participatory "It's A Thing" platform. Fans can enter the Adult Swim "How to Draw" Fanta t-shirt design contest, add to the Fandom x Fanta digital art mosaic by creating their own "It's A Thing" inspired tile, and post to Instagram and PicsArt using custom Fanta "It's A Thing" filters.
"This is not a one-way conversation," Kalish concludes. "'It's A Thing' is an invitation to collaborate. We want to inspire exploration and sharing and encourage our fans to express themselves and embrace their boldness and brightness on their own terms.
"Fanta is available in a wide variety of bright, bubbly and instantly refreshing flavors: Orange, Grape, Pineapple, Strawberry, Grapefruit, Wild Cherry, Mango, Apple, Peach, Berry, Fruit Punch, Green Apple, Blue Raspberry, Cherry Limeade and Kiwi-Strawberry. All are caffeine free and made with 100% natural flavors. Fanta Zero is available in Strawberry, as well as our signature Orange flavor.