A Legacy of Innovation
When Chris Hellmann first saw a Coca-Cola Freestyle unit back in 2010, he couldn't believe a machine its size could deliver so many beverage options –all mixed, chilled and served on demand.
"I kept looking behind it to see where the rest of it was," he recalled. "I was amazed by the fact that so much choice was packed into such a small footprint."
Coca-Cola Freestyle –which reinvented the beverage fountain experience in 2009 by offering an unprecedented array of choices in a fun, interactive format –is continuing its innovation journey in 2018. The touchscreen-operated dispenser uses "micro-dosing" technology to deliver nearly 200 drink options –including 117 low/no-calorie beverages and more than 100 varieties that can't be found anywhere else (Sprite Peach, anyone?).
A Growing Demand
More than 50,000 Coca-Cola Freestyle units pour 14 million drinks per day in restaurants, cinemas, convenience stores, amusement parks and other locations across the United States and a handful of other countries. Beverage servings are up 8% in Freestyle outlets, and calories-per-serving in these locations are down nearly 10%.
"When we introduced Freestyle, it was truly a disruptive innovation," said Hellmann, vice president general manager, Coca-Cola Freestyle. "Today it's a billion-dollar business."
Hellmann and his team are focused on using technology and consumer data to continually enhance the Coca-Cola Freestyle experience through innovation in both new equipment and in the software that powers the existing fleet. Freestyle, Hellman said, is a real-world manifestation of Coke's vision to become a total beverage company that quickly brings innovations and new ideas to market.
"Choice and customization are not fads –they're here to stay," he said. "So, we're focused on making sure the Coca-Cola Freestyle platform stays current and contemporary and that we continue to offer more beverages people want."
Continuing to Innovate
Coke will unveil the newest member of the Freestyle family –the Coca-Cola Freestyle 9100 –this weekend at the National Restaurant Association (NRA) tradeshow in Chicago. The unit, which will be available nationally in 2019, features a 24-inch, high-definition touchscreen and Bluetooth connectivity, which lets fans connect to the Freestyle mobile app when they enter an outlet with a machine and cue up their favorite beverage or create a new mix.
"We've built features into this dispenser that are not only contemporary for today," Hellmann said. "We've also future-proofed the platform with not-yet-activated features like audio capability, optical sensors and a new equipment option that will eventually support the addition of drink categories not available on Freestyle today, such as teas, cold coffees and new varieties of juices."
A new, agile Coca-Cola Freestyle operating system includes a revamped touchscreen menu designed to make it easier and faster for users to find the beverages they want.
"Our brands are now presented in a way that's simple for consumers to navigateand find their favorite choice or try something new," Hellmann said. "We want consumers to have a fun, contemporary experience, whether they're on the go and want a drink with a meal or have a few moments to explore something new."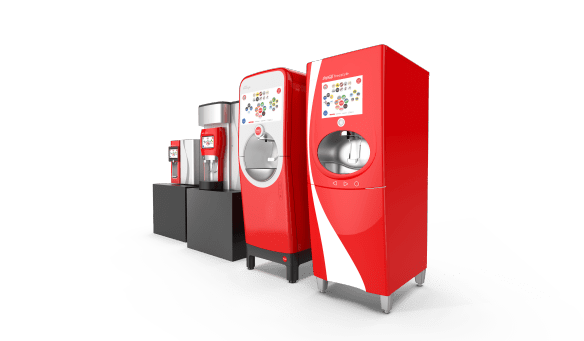 A Refreshing Experience
In addition to the next-generation machine, the team plans to push the new Freestyle operating system to all dispensers in the market to deliver new benefits to existing customers, including access to a diagnostics dashboard with real-time drink inventory levels.
"Across all of the models of Freestyle we have in market today, our intent is to have one software system across the entire fleet that delivers increased benefits to our retail partners and to every consumer who interacts with the Freestyle platform," Hellmann said.
A Unique Marketing Opportunity
The new operating system integrates with the Coca-Cola Freestyle content management system (CMS) introduced last year. The system lets restaurants quickly launch exclusive Freestyle beverages –down to the recipe –and on-dispenser promotions.
"We're making it easier for our customers not just to operate their Freestyle machine, but also to use it as a flexible marketing asset," said Eric Lewis, marketing group director,Coca-ColaFreestyle. "We've gone from four weeks to deploy new content to four days thanks to the new CMS."
As recent examples, Wendy's introduced a Freestyle-exclusive Dave's Cherry Cream Soda (named after founder Dave Thomas), and Zaxby's launched limited-edition Sprite and Mello Yello mixes for University of Georgia and Georgia Tech fans to enjoy during college football season. Both customers developed the new drinks and launched them into market in a matter of months.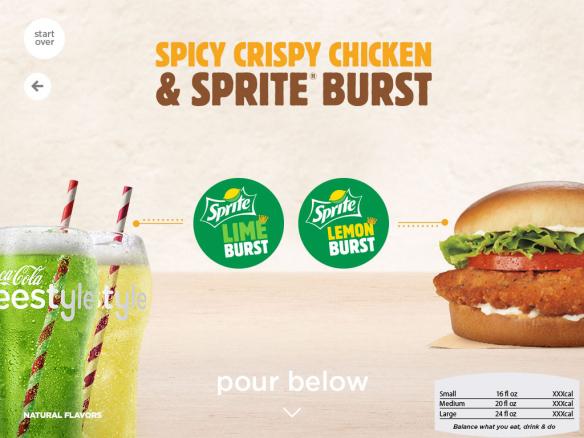 Freestyle also lets restaurants pair menu items with new or existing drinks. Firehouse Subs recommends Cherry Coke with its Hook & Ladder turkey sandwich, and Burger King recently promoted the launch of its new crispy spicy chicken sandwich with the custom-made Sprite Lime Burst.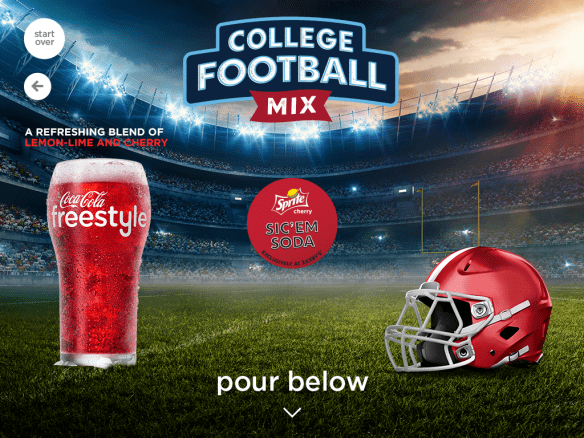 "We're listening to our customers to learn what they want to talk about, and then find a way to be a part of that conversation with their guests," said Lewis, adding that the exclusive mixes and custom content deliver value to Freestyle customers and consumers alike. "We're bringing a surprise-and-delight experience to consumers and offering them even more variety."
Supporting Sustainability
The Freestyle team also continues to look for ways to use the innovative platform to support sustainability priorities, such as efforts to reduce packaging waste. Refillable cups, equipped with micro-chipped, ValidFill®radio frequency identification (RFID) technology, have recently been introduced for use with Coca-Cola Freestyle machines via a variety of universities, cruise lines and theme parks. These refillablecups directly interact with Coca-Cola Freestyle, conveniently providing preset pours of favorite beverages and new tastes.
Additionally, Coca-Cola Freestyle SmartPAK™ cartridges have a smaller carbon footprint than traditional syrup packaging, are manufactured in a Gold LEED certified facility with renewable power and water conservation technology and contain 15-30% recycled content.