Letting Fans Decide
Sprite is once again handing over the mic to its fans with the launch of a community-powered platform showcasing under-the-radar music talent.
Sprite Way premieres today with a Spotify playlist of 20 tracks recommended by fans on the brand's social media channels. An accompanying podcast series co-hosted by a pair of prominent voices on the Atlanta music scene – Jawn Joi (@TheJawnJoi) and radio personality and DJ Dusei Da Great (@DuseiDaGreat) – will drop new episodes over the next five weeks featuring commentary on the artists.
"Sprite Way is an always-on social platform programmed by fans, for fans," said Richard Toranzo, Sprite director, Coca-Cola North America Social Center. "We want to help the voices of our community to be heard, and to show that Sprite values and elevates their points of view."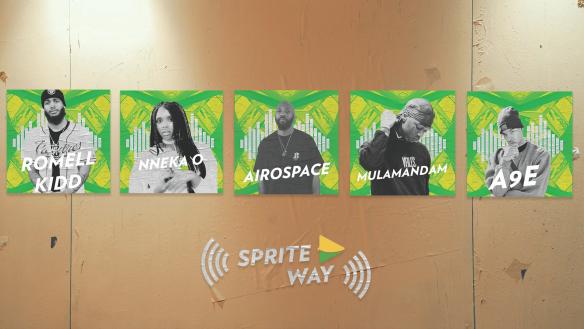 Generating Buzz
Sprite kicked things off on Feb. 10 – the night of the biggest awards show in music – by asking its Instagram followers to suggest unsigned artists who "deserve more shine in 2019". The call to action resulted in roughly 20,000 comments and thousands of artist submissions, primarily in the hip-hop and R&B genres.
Sprite further excited fans by giving attendees and artists at the "Atlanta House" by Choose ATL at SXSW 2019 a sneak peek at the Sprite Way hosts and featured artists via an on-site announcement.
From there, Sprite rebooted its Spotify channel and repopulated it with a diverse array of fan-tapped acts with minimal social media followings – from old-school and new-wave rappers, to up-and-coming reggaetón artists.
While Sprite Way is launching with a focus on music, Toranzo said the platform will eventually lean into other areas where the brand has a credible voice – from sports to social issues.
"We wanted to find conversations that our heritage lets us be a part of," Toranzo said. "Given our longstanding ties, our fans associate hip-hop with Sprite. We have a lot of credibility there. The same can be said with basketball. So while we're starting with hip-hop, we hope to stretch the conversation into other mediums inspired by hip-hop and showcase cut-through creatives our community cares about – from graffiti artists to sneaker designers."
Sprite Way will complement the brand's #GetVocal campaign launched last fall, which invited fans to download a custom beat created by Izze the Producer and record a 60-second topical freestyle to share it on social media.