A Tradition of Supporting Culture
For more than 30 years, Sprite® has supported and embraced the music, culture and community of hip-hop in a refreshingly real way by authentically championing the genre's top names and underground artists alike.
Now the brand is bringing the genre's emerging talent to the forefront through the "Thirst For Yours" campaign. The multi-year platform will spotlight tastemakers and innovators –musicians, designers, artists, photographers and more –who are shaping the future of hip-hop culture through both their craft and creativity.
Launching today, "Thirst For Yours" will feature a series of TV spots, social media content, influencer engagement, outdoor advertising and experiential activations tapping into key cultural moments within the spaces of music, art, film and fashion.
"Our core fanbase of 13-to 24-year-olds cares deeply about artists who are not only talented, but also cultural curators and arbiters who are making a mark on the world," said Aaliyah Shafiq, group director, Sprite. "Our connection to hip-hop music is at the heart of 'Thirst for Yours', but we're leaning into our audience's related passion points."
"Two commercials shot in the reigning home of both hip-hop and Sprite –Atlanta –"The Artist" (:30) and "The Empire" (:30) chronicle the journeys of an ambitious young rapper and fashion designer from everyday life to superstardom as their dreams become a reality", said Dipal Shah, director, integrated marketing communications (IMC), Sprite.
The Roots of Our Brand
Sprite tapped a pair of up-and-coming artists who embody the "Thirst For Yours" mentality and authenticity –Atlanta-based rapper Kodie Shane and rising fashion designer and current Clark Atlanta University student Seth Giscombe –to star in the spots, which were directed by the award-winning filmmaker duo, We Are From L.A.Rachel Morrisonserved as Director of Photography for each spot. She is best known for her work on Black Panther, Fruitvale Station and Mudbound, the latter of which solidified her as the first female nominee within the Best Cinematography category at the Academy Awards.
"The Artist" and "The Empire" will debut during the June 23rd telecast of the 2019 BET Awards and run across Sprite's social and digital channels.
"Thirst For Yours" builds on the March launch of Sprite Way, a community-powered Spotify playlist and podcast highlighting unsigned hip-hop and R&B talent, and the #GetVocal campaign launched last fall, which invites fans to download a custom beat created by Izze the Producer and record a 60-second topical freestyle to share on social media. Stefan Miller, senior brand manager, Sprite, called "Thirst for Yours" a modern-day evolution of the seminal "Obey Your Thirst" campaign, which promoted self-expression and individuality.
"The 'Yours' in 'Thirst for Yours' is intentionally open-ended," he explained. "We want the community to interpret and define it in their own unique way. And while our fanbase hasn't changed over the years, the world around them has. So not only does this work represent a pivot in how we're talking to our fans –by shifting focus from Sprite to them –but it's also a reflection of what's happening in hip-hop culture."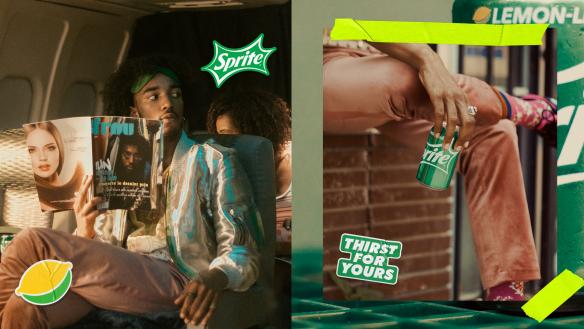 Cultural Intersections
The "Thirst For Yours" campaign will include several activations where hip-hop music, fashion, art and culture intersect, starting with the BET Experience Weekend and the 2019 BET Awards in Los Angeles, CA. On Friday, June 21, Sprite will host an exclusive media event celebrating "Thirst For Yours" at The Terrace at L.A. Live. Joined by hip-hop talent, influencers and Spritebrand executives, the event will culminate with a panel discussion featuring Shane, Giscombe and Sprite Way talent, who will discuss their personal journeys and share how Spritehas helped advance their careers.
Sprite will partner with the BET Experience at L.A. Live on June 21 and 22 for DJ Hed Presents Kicksperience sponsored by Sprite. The immersive pop-up celebrating the rise of sneaker culture will feature Sprite photo booths, sampling stations and performancesfrom Sprite® partners Rapsody, Kamaiyah and Villain Park. Featured Sprite Way artist Bino also will perform on the main stage during Saturday night's BET Experience.
Learn more about "Thirst For Yours" at Sprite.com, or follow @Sprite on Instagram, Twitter and Facebook and via the #ThirstForYours hashtag.
Sprite's ties to hip-hop date back to 1986 when rapper Kurtis Blow appeared in a commercial for the brand and continued into the 1990s with the "I Like the Sprite in You" campaign featuring several of thedecade's top artists. In 1994, Sprite cemented its status as the signature soft drink of hip-hop culture with the launch of a groundbreaking series of ads under the "Obey Your Thirst" tagline.
"Being an MC, we try to be cool about what we do," Rakim, who appeared in an early-2000s Sprite radio ad and was featured in the 2015 "Obey the Verse" collection of Sprite cans featuring iconic hip-hop lyrics, said in a2016 interview. "But this is one of those things, that when they call, you tell your man, 'I got a Sprite deal.' Because it means something. It's something that has lasted in the hood... it's authentic."