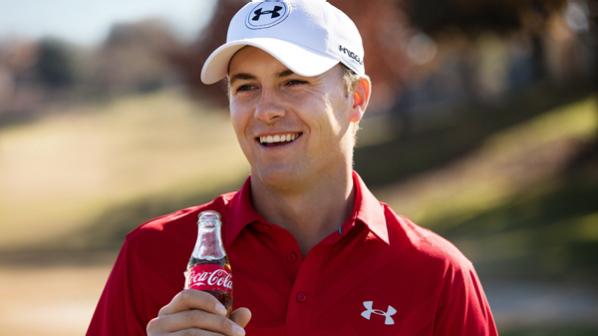 Atlanta – January 13, 2016 – In 2015, Jordan Spieth became the face of professional golf by winning The Masters and The U.S. Open Championship, claiming the PGA TOUR's 2015 FedEx Cup with his win at the Tour Championship by Coca-Cola, and finishing the season at No. 1 in the Official World Golf Ranking.
Fresh off of his impressive win at the 2016 Hyundai Tournament of Champions in Kapalua, Hawaii, Coca-Cola® today announced that Spieth will become an ambassador for the brand's sports marketing campaigns and beyond. The new multi-year partnership will feature Spieth in television advertising, digital and social media, point-of-sale, out-of-home, experiential marketing, packaging and more. Golf fans can expect to see Spieth promote the company's Dasani brand as well.
"Coca-Cola has always been associated with iconic sporting events and some of the world's greatest athletes, so this is an incredibly cool opportunity for me," Spieth said. "As a brand ambassador, I look forward to growing awareness for the sport of golf globally and engaging with fans in exciting new ways."
Spieth will be featured in a steady stream of initiatives throughout the PGA Tour season. As an Olympic hopeful, he also will become a member of Coca-Cola's 6-Pack of Olympians and Paralympians during the run up to the Rio 2016 Olympic Games, as golf returns to Olympic competition for the first time since 1904.
"There is no question Jordan is a generational talent, even as his professional career is just getting started," said Stuart Kronauge, senior vice president, Brand Marketing, Coca-Cola North America. "As a company, what we admire most about Jordan is the way he has embraced being a role model. His actions, values and character both on and off the course make him an ideal Coca-Cola brand ambassador."
Coca-Cola's partnership with Spieth marks the latest chapter in The Coca-Cola Company's rich history with golf, which dates back to Bobby Jones — co-founder of The Masters and regarded by many as one of the greatest players of all time. Jones appeared in a Coca-Cola advertising campaign in 1947 honoring the great champions of sport and he became a
Coca-Cola bottler shortly thereafter. Spieth won the 2015 TOUR Championship by Coca-Cola at East Lake Golf Club in Atlanta — Jones' home course, where he is said to have played his first and last rounds of golf.
About The Coca-Cola Company
The Coca-Cola Company (NYSE: KO) is the world's largest beverage company, refreshing consumers with more than 500 sparkling and still brands. Led by Coca-Cola, one of the world's most valuable and recognizable brands, our Company's portfolio features 20 billion-dollar brands including Diet Coke®, Fanta®, Sprite®, Coca-Cola Zero™, vitaminwater®, POWERADE®, Minute Maid®, Simply®, Georgia® and Del Valle®. Globally, we are the No. 1 provider of sparkling beverages, ready-to-drink coffees, and juices and juice drinks. Through the world's largest beverage distribution system, consumers in more than 200 countries enjoy our beverages at a rate of 1.9 billion servings a day. With an enduring commitment to building sustainable communities, our Company is focused on initiatives that reduce our environmental footprint, support active, healthy living, create a safe, inclusive work environment for our associates, and enhance the economic development of the communities where we operate. Together with our bottling partners, we rank among the world's top 10 private employers with more than 700,000 system associates. For more information, visit www.coca-colacompany.com, follow us on Twitter at twitter.com/CocaColaCo, or find us on LinkedIn at www.linkedin.com/company/the-coca-cola-company.
About Jordan Spieth
Jordan Spieth is an American professional golfer who turned professional at the age of 19 and has quickly risen to top of the Official World Golf Rankings. A two-time Major winner and the defending Fedex Cup Champion, his 2015 season was arguably one of the most historic golf seasons ever played, having shattered records with his first major victory at the 2015 Masters Tournament as the second youngest player to earn a green jacket. He followed with another extraordinary major victory at The U.S. Open Championship at Chambers Bay, becoming the youngest golfer to ever hold the first two legs of golf's majors at just 21 years old. Jordan finished the season number one in the Official World Golf Rankings and was unanimously named 2015 Player of the Year. In 2014, Jordan established the Jordan Spieth Family Foundation to raise awareness and lend support for his three pillars of philanthropic interest: special needs youth, junior golf and military families.
###