Sustainable Innovation
Coca-Cola continues to think outside the bottle –literally –as it finds innovative ways to conveniently and sustainably dispense drinks people want while also reducing packaging waste.
A pair of equipment innovations in North America invite thirsty consumers to stay hydrated and refreshed – while reducing their carbon footprint by going packageless. DASANI PureFill gives college students the ability to fill (and refill) their own personal bottles with free, ultra-filtered water, or they can add zero-calorie flavors – Berry, Lime, Black Cherry and Blood Orange – and/or carbonation for a small fee.
After a successful pilot on the Georgia Institute of Technology campus in 2017, DASANI PureFill stations can now be found at Ohio State University and the University of Central Florida. Several additional schools, hospitals and at-work locations are eyeing rollouts in the coming months.
Technology-Driven Refreshment
DASANI PureFill is paired with a custom-built smartphone app, which lets users track their hydration and geo-locate a nearby machine, and a cashless payment system. "Young people, especially college students, always have two things with them throughout the day –a water bottle and a smartphone," said Jeffrey Busch, director of equipment commercialization, Coca-Cola North America. "We're trying to dial in to those habits and add value to a water brand they know and love with a unique solution for on-the-go hydration–without a package."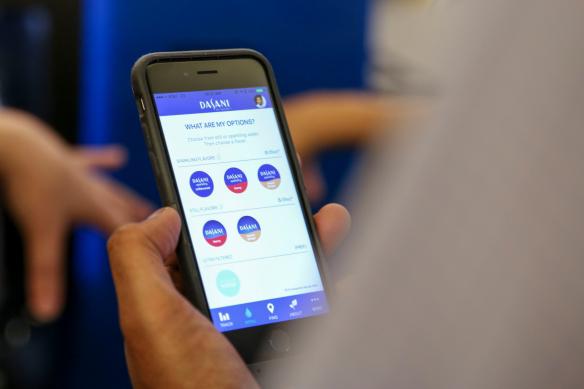 The team behind the touchscreen-operated Coca-Cola Freestyle fountain dispenser continues to look for ways to use the innovative platform to reduce packaging waste. Refillable cups equipped with micro-chipped, ValidFill® radio frequency identification (RFID) technology are being used with Coca-Cola Freestyle machines in theme parks and on university campuses and cruise lines. The "smart" refillable cups directly interact with Coca-Cola Freestyle, conveniently providing preset pours of favorite beverages and new tastes.
Hydrating Campuses Across the World
Ohio State University and the University of Reading in Great Britain are two universities that have implemented the innovation. OSU launched its MyCup program in 2016, handing out 15,000 personalized, premium cups to freshmen and sophomores. The high-tech cups, which came encoded with 10 free drinks, communicate with the more than 20 Coca-Cola Freestyle dispensers on campus.
In 2017, Coca-Cola European Partners (CCEP) and The University of Reading partnered to place Coca-Cola Freestyle machines on campus and offer compatible, micro-chipped refillable bottles for purchase by students and staff. Users, who had access to pre-paid refills throughout the 10-week term, poured familiar favorites and tried drinks from Coca-Cola's total beverage portfolio –including some not even available in Great Britain stores.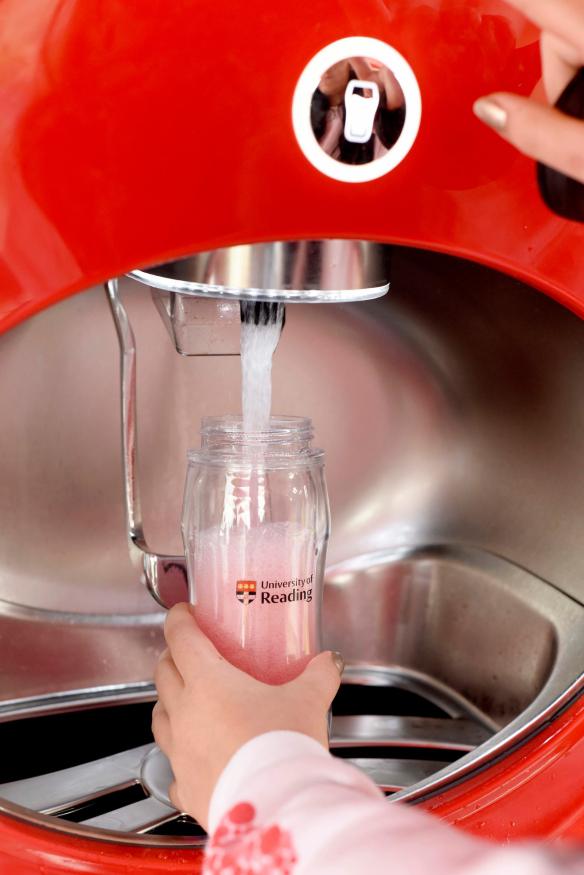 Solutions like Dasani PureFill stations and ValidFill refillable cups demonstrate the possibilities for achieving The Coca-Cola Company's global "World Without Waste" goal to collect and recycle the equivalent of a bottle or can for every one it sells in the marketplace by 2030. In addition to package-less delivery, the company is increasing its use of recycled and renewable content in its bottles and cans and investing in recycling and recovery infrastructure with local partners across the U.S