DASANI – a brand that has been at the forefront of sustainable innovation since debuting PlantBottle™, the first fully recyclable PET bottle made partially from plants – today previewed a pipeline of packaging breakthroughs that will remove at least 1 billion virgin PET plastic bottles from its supply chain over the next five years.
America's leading mainstream bottled water brand will roll out a next-generation lineup of recyclable, reusable and package-free options – anchored by the first-ever HybridBottle™ in the U.S. made with a mix of up to 50% plant-based, renewable material (PlantBottle) and recycled PET (rPET). These 20-oz. bottles will launch nationwide in mid-2020 and will include on-pack messaging educating people about HybridBottle technology and encouraging them to recycle.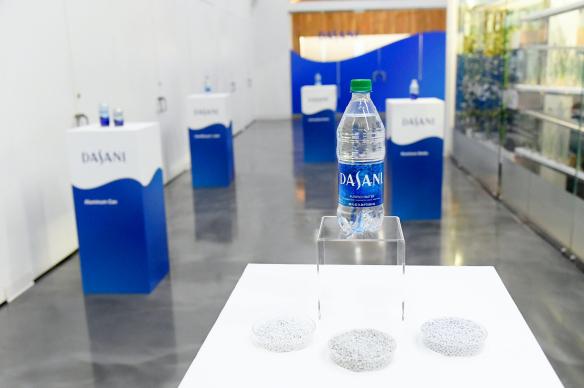 HybridBottles – the first of their kind in the United States – contain up to 30% recycled PET, 21% PlantBottle and 49% virgin PET.
DASANI also will introduce aluminum cans this fall in the Northeast and expand to other regions in 2020; aluminum bottles in several cities in mid-2020; and up to 100 DASANI PureFill water dispensers leveraging Coca-Cola Freestyle technology starting this fall. Additionally, the brand will continue to lightweight its packaging to reduce the amount of virgin PET plastic sourced by the Coca-Cola system.
While many of these technologies have been building over several years, the multi-faceted commitment went from ideation to execution in just under a year. The nimble, multi-disciplinary effort is a testament to The Coca-Cola Company's commitment to build a culture of iterative innovation and smart risk-taking.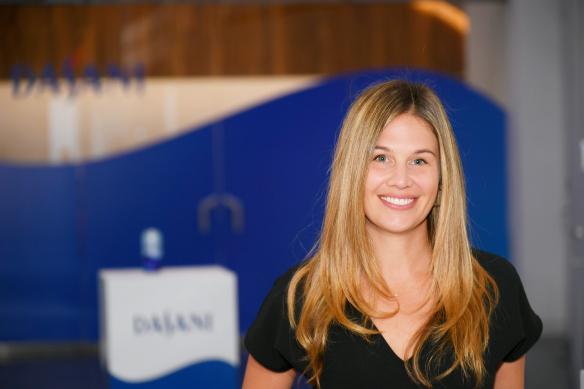 Lauren King, brand director, DASANI.
"I've never been in so many meetings where all the answers were 'yes' and everyone nodded their heads," recalls Lauren King, brand director, DASANI. "Collectively, we agreed right away that these innovations make sense not only from a sustainability perspective, but also from a business perspective. They're the right thing to do for our brand, the environment and the bottom line."
The innovations support The Coca-Cola Company's global World Without Waste goals to make 100% percent of its packaging fully recyclable by 2025 and to produce bottles and cans with an average of 50% recycled material by 2030.
We spoke with King, who assumed leadership of the DASANI business a year ago after stints on the Diet Coke, Coke Trademark and FUZE and Peace brand teams, to learn more about the platform and its potential to help build a circular economy where all bottles and cans are collected, recycled and reused.
Why is DASANI the right brand in Coke's portfolio to introduce this sustainable packaging platform?
This journey really started in 2009 with the PlantBottle rollout. Over the last decade, DASANI has become a water brand that stands for sustainability, therefore, is a natural candidate to continue to lead the way. The credibility we've earned through our leadership in this space empowers us to continue the conversation in an authentic way. Our consumers expect us to be out in front, which is both a great honor and a great responsibility. Purity and enhanced minerals for taste are important table stakes for DASANI, of course, but our key differentiator is our commitment to sustainability through packaging design and innovation.
What trends inspired this series of innovations?
First, growing consumer expectations that companies and brands should help contribute to a better world. Second, the public's desire for customization and the ability to enjoy the beverages they want, where they want them, and in convenient and sustainable packaging. Third, they want beverages that support a healthy lifestyle. We translated these trends into our strategy, recognizing a great opportunity to double down on the equity built over the last decade. We have an authentic story to tell, thanks to our history with PlantBottle.
What impact has PlantBottle had on the brand, and how did those learnings inform this next chapter?
When DASANI introduced PlantBottle, the brand was at a real inflection point after 10 years on the market (DASANI launched in 1999). PlantBottle helped differentiate DASANI in a very competitive and crowded category, and ultimately become a billion-dollar brand. We gained – and regained – retail and foodservice customers after introducing PlantBottle, and saw boosts in both consumer purchase intent and overall credibility. It became a powerful case study of the importance of sustainability to this brand.
We're facing a similar inflection point today as our company works to achieve ambitious goals to give our packages second and third lives, and to reduce packaging waste overall in support of our global World Without Waste goals. Everyone, including us, is committed to reducing waste and boosting recycling given the serious issue of plastic waste in our waterways and in our communities. Now's the time to make major innovations like the ones we're announcing today to ensure we can continue to growth the DASANI brand responsibly over the next 10 years and beyond.
This is a multi-faceted announcement. Why reveal everything at once?
We believe we need to take several actions across multiple channels to clearly demonstrate to the market our commitment to renewables. Given the fact that DASANI is the country's number-one mainstream water brand, we can quickly help bring scale to increasing demand for recycled PET. We also don't believe there is a single solution to the problem of plastic waste. We believe in piloting multiple sustainable solutions to give people options that support their changing behaviors, preferences and passions.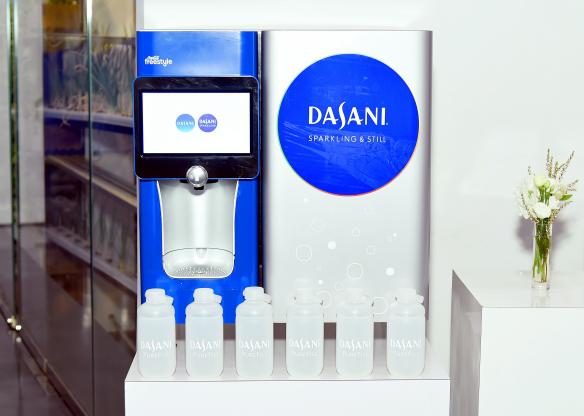 DASANI PureFill package-less water dispensers leverage the Coca-Cola Freestyle platform.
Or no vessel at all. What inspired DASANI PureFill 2.0?
PureFill started by imagining what the DASANI experience could look like without packaging. With more and more people carrying around refillable water bottles for on-the-go hydration, we have to deliver value to a new set of on-the-go water consumers. PureFill provides chilled, ultra-purified DASANI water with the ability to add bubbles and flavors. By moving to the Coca-Cola Freestyle platform, we hope to scale the PureFill experience more efficiently than we did in our initial test phase.
How did the HybridBottle concept come to be?
It came down to two primary steps: Working with our R&D team to develop this packaging technology, and exploring the availability of recycled PET. It's remarkable how quickly we were able to turn on such a groundbreaking innovation. We briefed the team in May, had working prototypes in July, and will be in the market nationally in less than a year.
How is this a reflection of the company's entrepreneurial mindset?
Our culture has helped us break free of the idea that everything has to be a home run on the first shot. PureFill, which launched in 2017, is a great example. It was built with off-the-shelf equipment parts, and the company agreed up front that it didn't need to be perfect right away. We knew we wanted to get it in front of consumers to test the concept and gather insights before moving to a 2.0 version. And that's what we did.
Another first for the brand is the introduction of aluminum cans and bottles – something we're seeing more and more of in other beverage categories.
Indeed. Sales of wine in aluminum cans were up significantly in 2018. This is a great example of how categories not traditionally associated with aluminum packaging are embracing this material. Craft beer is another example. And, perhaps most relevant, more than 40% of sparkling water in the U.S. is sold in aluminum cans. From our testing, we've found that DASANI tastes great in a can or a bottle and provides another great option for consumers.
Is aluminum more sustainable than plastic?
Both PET plastic and aluminum have various environmental benefits. Most important, they are both fully recyclable and, when collected and recycled, can be remade into new cans, bottles and many other valuable products. We have to continue to drive awareness that both PET and aluminum are valuable, and we want the material back.
The sustainability benefits – and support of the company's World Without Waste goals – are clear. Why is this a smart business move?
Anything we do from a sustainability point of view has to contribute to the bottom line. The work we've done to lightweight our half-liter bottle – which accounts for the majority of DASANI sold in the U.S. – is a true win-win, for example. We're planning to take 20 to 30% of the gram weight of plastic out of that bottle while maintaining its rigidity of how it feels in your hand. And it takes unnecessary costs out of our system.
How important is marketing and messaging?
Incredibly important, especially when you consider the fact that HybridBottles will look and feel the same as our traditional 20-oz. PET bottles made with up to 30% plant-based material. Our packaging delivers billions of impressions each year and is, by far, our most valuable communications asset. We are updating our graphics to prominently feature HybridBottle branding, explain how these bottles are made, and how they can be recycled. We will also communicate via the DASANI website and social media and digital channels, including a tracker of how many virgin PET bottles these efforts are taking out of our supply chain. Combined, these will help solidify our story and hopefully inspire action. And while we of course want to be number-one, we want a vibrant category. We welcome competition, because when our peer brands join us on this journey, they bring more attention to our platform and, ultimately, to the impact we can all have over the long run.
Your role is a complex one that touches branding, marketing, manufacturing, supply chain, packaging, customer/commercial and more. What excites you most about the opportunity you and your team have to continue to build the brand's legacy of sustainable innovation?
We're humbled to guide our brand and company on this path, and to contribute to the DASANI story and what it means in the minds of consumers. Because of our brand's scale, we have the ability to make a big impact through relatively small changes. And the opportunity to take our journey a step further – and the potential of what we can explore in the future – is incredibly exciting.