In 2018, Coca-Cola set an ambitious goal to help solve the problem of packaging waste in the United States and around the world. The company pledged to collect and recycle a bottle or can for every one sold by 2030; to make all of its packaging fully recyclable by 2025; and to make its bottles and cans with 50% recycled content by 2030.
This global goal builds on the company's longstanding support for recycling programs in partnership with environmental organizations. With the help of Keep America Beautiful, The Recycling Partnership and The Closed Loop Fund, The Coca-Cola Company and The Coca-Cola Foundation have donated more than 1 million recycling bins over the past decade. The company and foundation also have awarded more than $17 million in grants to The Closed Loop Fund and The Recycling Partnership and other organizations to help expand curbside recycling and provide recycling education to residents in more than 1,400 communities. These combined efforts have diverted more than 800 million pounds of recyclables from landfills.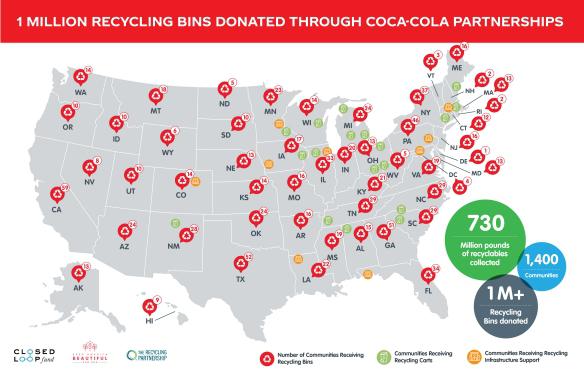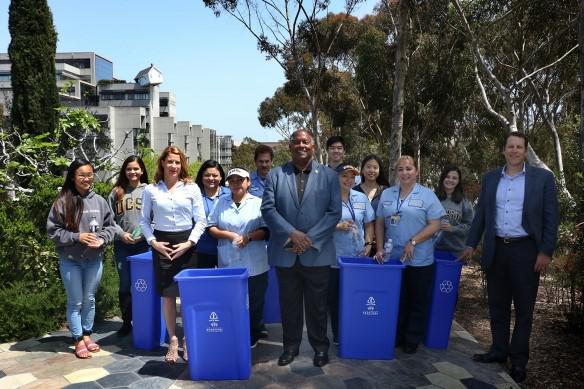 Coca-Cola provides 150 recycling bins to the University of California San Diego for use on campus.
"While Coca-Cola and its partners have been working for decades to do our part to build more sustainable packaging and more effective recycling programs, it's time to do more," said Bruce Karas, vice president of sustainability, Coca-Cola North America. "The world has a packaging problem, and we like others have a responsibility to help solve it so bottles and cans don't end up in places where they don't belong. That's why we have set a goal to help collect and recycle the equivalent of a can or bottle for every one we sell by 2030."
For the past 10 years, The Coca-Cola Foundation has supported an annual The Coca-Cola Foundation/Keep America Beautiful Public Space Recycling grant program, which has donated public space recycling bins to more than 1,400 communities across the country.
The program addresses one of the primary barriers to recycling in public spaces – access and convenience. In addition to the grants, Keep America Beautiful provides technical guidance to grant recipients and organizations to help them set up effective, away-from-home and on-the-go recycling programs.
The company recently joined the American Beverage Association (ABA), industry peers PepsiCo and Keurig Dr Pepper, and environmental partners World Wildlife Fund (WWF), Closed Loop Partners and The Recycling Partnership, to launch the Every Bottle Back initiative to reduce the industry's use of new plastic and invest $100 million to improve recycling infrastructure in key regions of the country.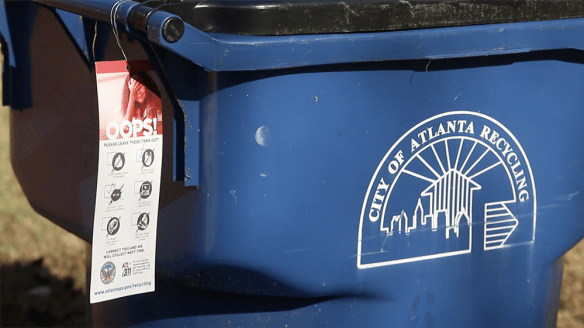 The launch of this program followed The Coca-Cola Foundation's March 2019 announcement to award $5.4 million in grants to fund community recycling pilots in Atlanta, Boston, Denver, Essex County (N.J.), Houston, Long Beach (Calif.) and Orange County (Fla.). In each city, grant recipients will partner with city governments and environmental organizations to boost recycling rates and help inspire a grassroots movement.
"Our global giving priorities focus on areas where we have the ability to make the biggest impact on sustainable communities through both our funding and the collective skills and expertise of Coca-Cola employees," said Carlos Pagoaga, group director, community partnerships, The Coca-Cola Foundation. "In each pilot city, local partners will work together to identify barriers to recycling on a local level and test a range of solutions. We hope the learnings from these 'model markets' can offer solutions to other cities facing similar challenges."
Through these recycling programs and infrastructure improvements, Coca-Cola hopes to continue to advance a circular economy for its bottles and cans where every package is collected, recycled and reused to make another product. In this way, Coca-Cola will be able to achieve a world without waste for its packaging reduce the company's use of virgin plastic and prevent bottles and cans from ending up waterways and public spaces.