Fans of the Netflix series Stranger Things will travel back to "the summer that changed everything" – 1985 – when season 3 of the show hits the streaming platform on July 4.
Coincidentally, the summer of 1985 changed everything for Coca-Cola when the company infamously changed the formula of its beloved flagship beverage with the short-lived launch of New Coke.
In a first-of-its-kind partnership for Netflix, the Stranger Things team collaborated with Coca-Cola to immerse viewers in 1980s nostalgia. Executives from Netflix visited the Coca-Cola archives in Atlanta last year to study New Coke packaging, memorabilia, advertising and more to ensure the script accurately reflected historical events and that all props and visuals stayed true to the time period. New Coke will appear in several episodes.
And (spoiler alert!) New Coke will be available this summer via a (very) limited promotional run to bring to life one of 1985's biggest cultural moments – both on and off screen.
"In a world of shifting media consumption, we continue to challenge ourselves to find creative and meaningful ways to participate in non-advertising platforms like Netflix to engage with the millions of fans who subscribe to streaming content services," said Geoff Cottrill, senior vice president of strategic marketing, Coca-Cola North America. "We're excited to partner with Netflix and play a key role in recreating the summer of 1985 in a uniquely Coca-Cola way."
As video streaming hits continues to expand, Cottrill says this summer's Netflix partnership will offer even more ways to connect Coca-Cola brands to fans around the world. "We have always found the right pop culture moments to show up where people are having fun, and this is the latest example," he added.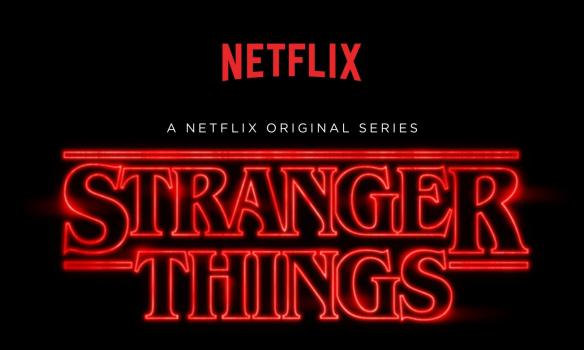 Stranger Things creators and showrunners Matt and Ross Duffer ("the Duffer Brothers") – longtime Coke fans – have gone to great lengths to weave the brand into the show's storyline since its first season. To date, Coca-Cola products, ads and logos have appeared more than a dozen times in the series.
"New Coke was always going to play a role this season," the Duffer Brothers, said in a joint email interview with The New York Times. "It was one of the first ideas in our Season 3 brainstorm. It was the summer of '85, and when you talk about pop culture moments, New Coke was a really big deal. It would have been more bizarre to not include it."
Stuart Kronauge, president of Coca-Cola North America's sparkling business unit, agrees. "One thing that makes Stranger Things so special is its commitment to authentically portraying the decade in which the show takes place," she said. "When we heard that Season 3 would be set in the summer of 1985 and they wanted to integrate New Coke, we knew we had an opportunity to revisit that time period in a fun and unexpected way that would also allow us to be part of one of this year's most anticipated pop culture moments."
Moviegoers will see another "first" from the Coke-Netflix partnership this summer – the first-ever advertisement directed by the Duffer Brothers. The ad, which will run online and in select cinemas nationwide starting May 24, features Stranger Things characters enjoying New Coke at a movie theatre. The spot brings Season 3 into the real world by placing the show's cast in the plotline of a 1980s Coca-Cola TV ad set to the original music.
"The partnership with Coke gives Netflix the opportunity to reach a massive audience via one of the most recognizable brands in the world in a deeply authentic way," said Barry Smyth, head of global partner marketing, Netflix. "It also gives Stranger Things fans the chance to expand their engagement with the show into their lives like never before."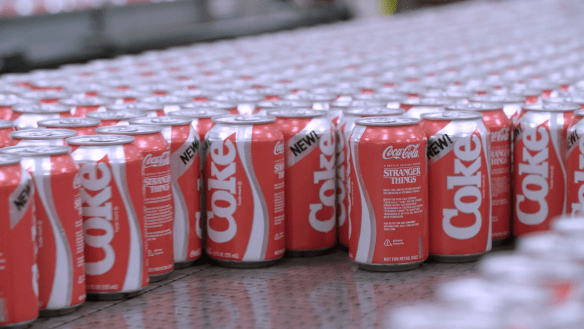 New Coke cans roll off a production line near Atlanta earlier this month. On Thursday May 23, Coca-Cola will release a limited number of New Coke cans online as part of a partnership with the hit Netflix show Stranger Things.
What Was New in 1985 is New Again in 2019
The New Coke comeback will extend beyond cameos on the show, however. Coca-Cola is bringing back a very limited promotional supply of the ill-fated product – which was pulled after only 79 days on the market following public outcry – this summer.
Beginning May 23 at 5 p.m. ET, Coca-Cola will release a limited number of 12-oz. cans of New Coke – yes, the same recipe from 1985 – as part of a bundle that includes two New Coke cans along with a limited-edition and numbered Stranger Things/Coca-Cola and Coke Zero Sugar 8-oz. glass bottle at CokeStore.com/1985.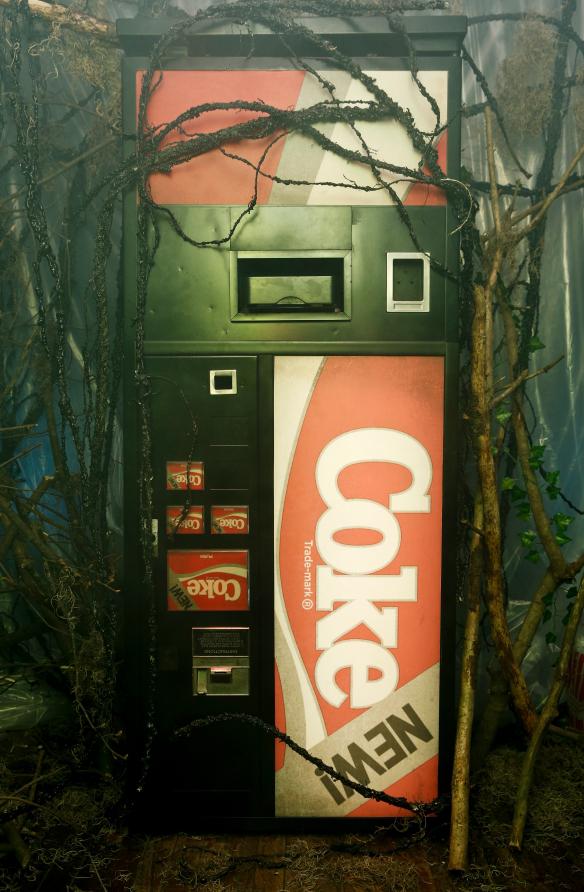 Fans can also get their hands on New Coke via an "upside-down" Stranger Things-inspired vending machine that will pop up in select cities, starting May 23 in New York, to dispense free cans of New Coke for a limited time. And fans who buy a ticket to the World of Coca-Cola in Atlanta or make a purchase of $19.85 or more at Coca-Cola Store Las Vegas on select days during the week of June 3 will have a chance to get New Coke cans as a gift, while supplies last.
Read more about how the team resurrected New Coke.
"Bringing back New Coke for the first time in 34 years seemed like the most organic way to bring this partnership to life," said Kronauge. "Our commitment to innovation entails more than launching new drinks – it's also about taking risks and trying bold new things in fun ways to bring delight and value to our fans. Partnering with Stranger Things undoubtedly delivers against this objective."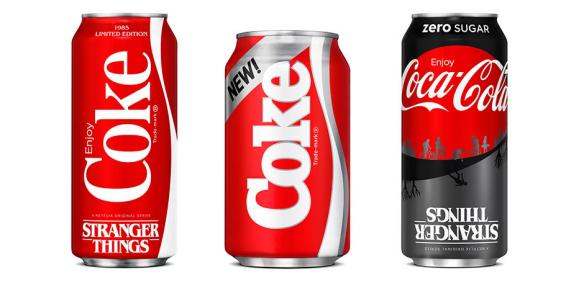 Because the limited supply of New Coke is only expected to last a few weeks, Coca-Cola also is unveiling limited-edition Stranger Things packages to engage more fans in the partnership, including a 16-oz. can of Coke featuring the original (pre-New Coke) 1985 design with "Enjoy Coke" and the Stranger Things logo, and a 16-oz. Coke Zero Sugar can with a limited-edition Stranger Things design. The "sip & scan" icons on the cans unlock chances to win a variety of Stranger Things experiences as part of the "Enjoy Coca-Cola" summer campaign.
Stranger Things is not the first hit show to tap into the Coca-Cola archives. The final scene in the series finale of AMC's Mad Men featured Coke's iconic 1971 ad, "Hilltop."