Over the last few months, Coca-Cola has announced a fair bit of news about acquisitions and investments.
M&A can be like buses. You wait ages, then several come at once. One thing isn't a coincidence – if you look closely, all of these deals are part of being consumer-centric.
In becoming a total beverage company, we believe multiple approaches are important. We focus on internal innovation, like our introductions of new brands such as Gold Peak and I LOHAS or new flavors for existing brands. We lift, shift and scale successful brands from one market to another, like Georgia coffee and our international tea brand, Fuze Tea. And we pursue M&A.
M&A isn't a strategy in and of itself but rather an enabler of our strategy. While the focus of M&A is continuously evolving in its breadth and scope to both anticipate changes in the marketplace and catch up with some consumers, the mission of M&A as an enabler remains consistent.
M&A serves many purposes, like filling gaps in our beverage portfolio or entering emerging categories. When we see small companies with great brands, M&A provides the opportunity to acquire or invest – and to create value by making these brands bigger and better than they already are.
M&A is also a tool to build capabilities across our supply chain, such as ingredient or equipment solutions, or our digital reach. And we always think about whether an investment or acquisition will work across our system to improve our effectiveness and efficiency.
Finally, we have different M&A priorities for each region of the world, depending on the state of local development and our strategic priorities.
As a company, we've talked a lot lately about our focus on explorer, challenger and leader brands. An explorer is a brand that is emerging, disrupting and gaining traction with consumers. In M&A, more often than not, the best fit is a brand that is ready to move into the challenger stage, which means it is expanding distribution reach and gaining scale. This puts it on track to become a leader.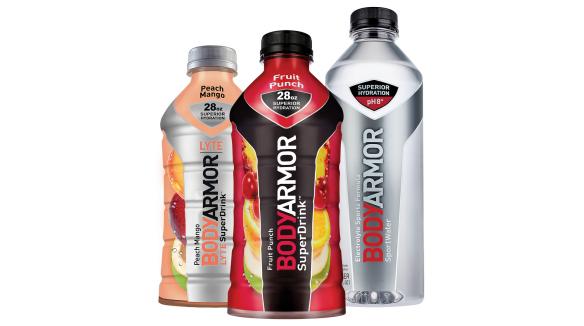 As an example, we identified BodyArmor as a brand with an edge in the sports drink segment. BodyArmor is moving quickly from explorer to challenger. We started with a minority investment, which was announced in August. It's an approach similar to other deals we identified through our Venturing & Emerging Brands unit in Coca-Cola North America. The initial minority stake we made in BodyArmor gives us a path to future ownership, which is also what we did with Honest and ZICO in the United States and innocent in the United Kingdom.
Historically, some acquisitions haven't worked out, in part because we moved too far and too fast in integrating a company or brand into our system. We've learned that incubation – as opposed to immediate absorption – has proven to be a better approach, even if it's not the only approach.
Besides the recently announced investment in BodyArmor, we also announced a minority investment in Australia's Made Group, which is known for products like cold-pressed juice and high-protein smoothies. We partnered with our bottler in the region, Coca-Cola Amatil, to make the investment. The idea is for Made Group to continue to operate independently and selectively use the resources of the Coca-Cola system to grow Made's suite of emerging brands and products.
In other cases, a full acquisition is the right approach. Usually, these are what we call bolt-on acquisitions. We announced a couple of note in the third quarter.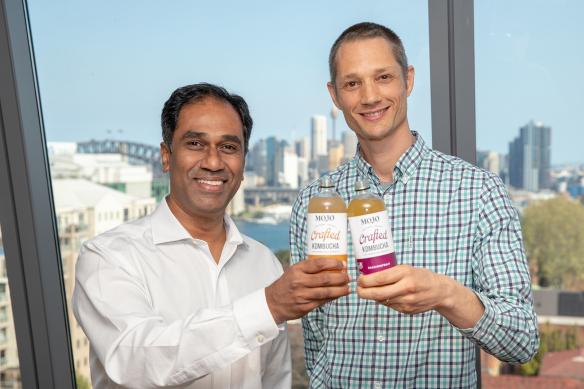 Vamsi Mohan (left), president, Coca-Cola Australia, and Anthony Crabb, co-founder and CEO, Organic & Raw.
In Australia, we purchased Organic & Raw Trading Co., which makes the Mojo kombucha brand. This is our first company-owned kombucha brand. It's a great example of adding an entrant in a fast-growing category. The existing management of the company will remain in their current roles and run the business with a separate-but-connected approach that has worked well in the past.
In France, we also completed a bolt-on acquisition with the purchase of Tropico, which gives our business in that country a strong foothold in still, fruit-flavored beverages.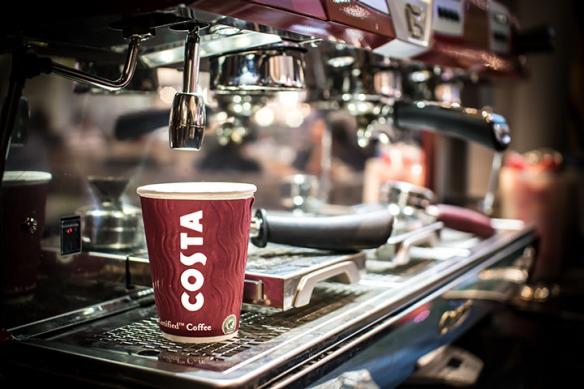 Of course, our biggest announcement of the quarter was our planned acquisition of Costa. This is also a bolt-on acquisition, albeit a very large one that will give Coca-Cola a new platform in coffee. At $5.1 billion, it's a large deal – in fact, our biggest for a brand and our second largest in recent history.
What we get with Costa is, again, a platform that is much more than a brand. We're adding new capabilities, thanks to Costa's global expertise in the coffee category. Coffee is a complex business, from the supply chain to consumer engagement to the retail environment.
Of course, we've heard many questions about getting into retail. It's a good question, and a fair one. We believe a retail presence is important to build a coffee brand. Think of retail as a flagship approach that will help the brand across other channels and formats. This gives us a much stronger total beverage proposition to sell to our customers, including other foodservice and on-premise customers.
Despite the size of Costa, our approach will be similar to other deals. We'll aim to preserve the unique capabilities Costa brings, while adding the strength of the Coca-Cola system.
We've done this before, such as when we bought AdeS in Latin America, which expanded our portfolio into plant-based drinks. We gained capabilities in that unique supply chain and in manufacturing. As with Costa, AdeS was the right fit at the right time. We've used our new capabilities with AdeS in new markets, with the launch of the brand in Europe.
Or consider Jugos del Valle, which we bought with our bottlers in Mexico. Before Jugos del Valle, our portfolio was predominantly sparkling drinks in Latin America. We needed a platform in still products. We found a lot of success by adding Jugos del Valle. The business is now about five times the size it was when we bought it, and it's become a regional leader in Latin America.
Our success with Jugos del Valle also led us to acquire Santa Clara, a dairy company that fits nicely with the Jugos del Valle platform. This shows how M&A can be an accelerant.
The examples go on, such as smartwater. This was a brand acquisition that went on to become very successful across multiple countries and regions.
Of course, our recent M&A activities add work. And that is one of the reasons for our recent management announcements.
Brian Smith becomes our president and chief operating officer on Jan. 1, 2019, with a big focus on accelerating our portfolio transformation. We've also created a new president of Global Ventures, which will be filled by Jennifer Mann.
Jennifer's number-one job is to get maximum value out of the things we've already bought or invested in. There's a lot of opportunity to leverage what's already underway.
Finally, it's critical that we continually evaluate our performance in M&A so we can learn more about what works and what doesn't. We have an M&A accountability process that measures the performance of transactions against the original business case. Specific people are accountable for driving the strategic vision and performance the deal was intended to deliver. This performance is reviewed regularly.
The past few months have been a time of many deals in the beverage sector worldwide. I read the news, too, and I see that others deals are possible.
But for Coca-Cola, should you expect to see this many deal announcements in one quarter again? Or will our strategy change?
Probably not. You should expect that bolt-on M&A will continue to be an important tool – although far from the only one – for Coca-Cola to continue to accelerate its total beverage company strategy. 
James Quincey is president and CEO of The Coca-Cola Company.