Water is essential to every person and ecosystem in the world. It's also The Coca-Cola Company's most essential ingredient.  
That's why, on World Water Day 2021, the company announced a new holistic strategy to achieve water security for its business, communities and nature everywhere it operates, sources agricultural ingredients for its beverages and touches people's lives by 2030. This local, context-based strategy focuses on three core priorities: reducing shared water challenges around the world; enhancing community water resilience with a focus on women and girls; and improving the health of priority watersheds.
World Water Day 2022 presents an opportunity to highlight the importance of groundwater, the water found underground in the cracks and spaces in soil, sand and rock, which can be held in aquifers and extracted by wells or naturally through springs or discharged into lakes or streams.  
One-third of the world's population—approximately 2.5 billion people—depends on groundwater to meet their basic water needs. But a third of the world's biggest groundwater systems are already in distress. Communities and ecosystems depend on robust groundwater systems, making their protection a critical piece of the greater water stewardship puzzle. Properly managed groundwater systems—which are primarily used for crop irrigation and agricultural production—sustain vegetation and reduce flood risks.  
Here's how The Coca-Cola Company is working with four key partners who have provided strategic development and implementation support on groundwater-focused projects around the world:  
Coca-Cola and TNC are jointly pursuing Nature-Based Solutions not only to protect watersheds, but to unlock meaningful benefits for people and the planet. This commitment includes projects focused on maintaining the health of groundwater systems, like the Greater Cape Town Water Fund in South Africa, where water-hogging invasive plant species threaten local municipal water supplies including the Atlantis Aquifer. Coca-Cola and other partners supported a TNC-led project to remove invasive species, clearing the way for the reestablishment of native vegetation and releasing water back to the supply system.  
TNC also led the development of the watersheds portion of Coca-Cola's 2030 Water Strategy, outlining a goal to make measurable, positive contributions to watershed health and resilience in 100% of the company's priority watersheds. The strategy marks a shift from water replenishment as a standalone goal to improving overall watershed health. The partners are now establishing watershed health plans in priority areas around the world. 
Since 2012, Coca-Cola and WWF have replenished more than 1.4 billion liters of water back into the environment, improving water security in some of the most water-stressed areas of the world. The partners' water stewardship work began in 11 freshwater basins before expanding to programs in 50 countries.  
WWF-Mexico, The Coca-Cola Foundation and Coca Cola-Mexico Foundation have installed more than 3,700 rainwater harvesting systems in 37 Indigenous communities to reduce vulnerability to droughts and frosts. The partners also have trained more than 500 community members to operate the systems.   
The Coca-Cola Foundation and WWF-South Africa are working to optimize the country's water supply through projects in primary watersheds in greater Cape Town and along the Eastern Cape. Projects are focused on removing invasive plants from main water catchment and investing in ecological infrastructure solutions to address upstream water security issues in in cost-effective and locally appropriate ways.  
In addition to expanding clean water access through climate-resilient solutions in countries such as Bangladesh, Eswatini, Tanzania and Nigeria, WaterAid and Coca-Cola helped reverse groundwater depletion in Nepal by installing 51 recharge wells and filter chambers. These climate change adaptive measures leverage available rainwater for urban communities during droughts and dry seasons, resulting in groundwater recharge of up to 13 million gallons annually. 
Since 2017, GWC, in collaboration with The Coca-Cola Foundation, the Water and Development Alliance (WADA) and Ipsos, has examined the transformative impact of water access on women's empowerment. The coalition-sponsored Ripple Effect Study provided evidence that clean water uniquely empowers women and transforms communities. Using these insights, GWC established the "women for water" platform to mobilize collective action for clean water access for women and communities in 21 countries across Africa, North and South America, the Middle East and Central Asia.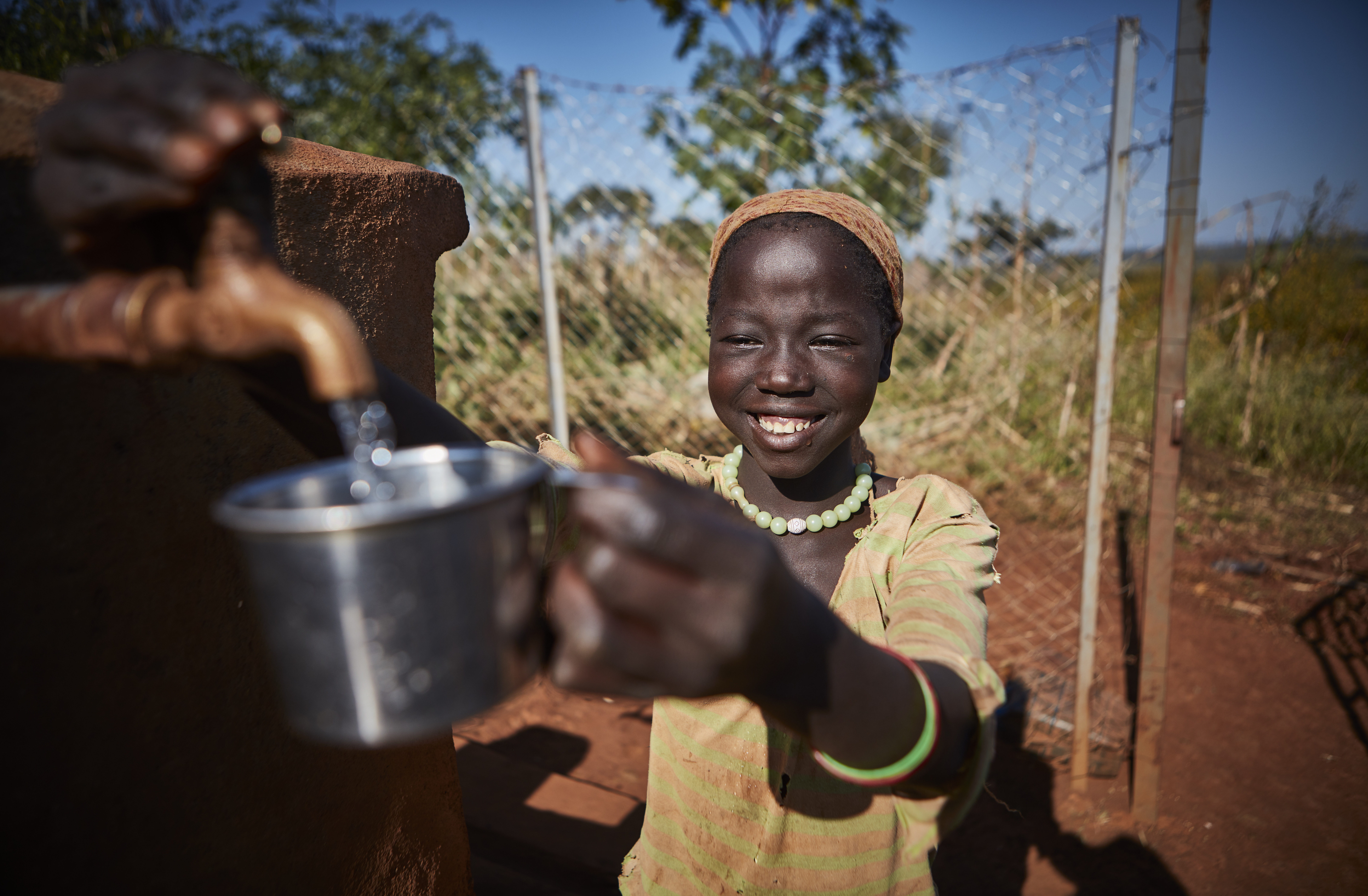 Awogiki fills her cup at one of the new water taps built in her village in through the Replenish Africa Initiative (RAIN) project in partnership with iDE in Ethiopia. The project provided clean water access for 12,500 individuals across Damot Pulasa, Duguna Fango and Kindo Koysha woredas.
Learn more about our water stewardship strategy and programs.