The snack bar at the 49er Drive-In Theatre in Valparaiso, Ind., was modernized in 2000, but its overall appearance hasn't changed much since it opened in 1956. Red and white tubs of hot-buttered popcorn are arranged neatly under a vintage illuminated Coca‑Cola wall sign listing hot sandwiches, onion rings, caramel apples and other snacks for sale. A stainless-steel machine dispenses soft drinks, and candy bars are stacked inside a glass cabinet.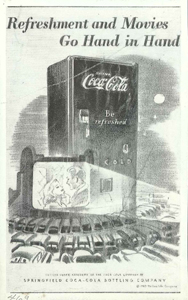 America's first drive-in movie theater opened in New Jersey in 1931, and concession stands quickly became an important part of the growing industry as families and couples embraced the outdoor movie-going experience and turned the evening into a fun night out. 
Coca‑Cola, already a fixture at car-hop restaurants, played a key role in drive-in movie concessions, especially during the 1950s and 1960s, according to Ted Ryan, Coke's director of heritage communications. The company tailored many of its advertising signs, slogans and dispensing machines specifically to drive-ins, he said, and a 1962 fountain sales catalog, distributed to Coca‑Cola's field sales representatives, singled out the drive-in movie industry, along with dining out and baseball games, as an important factor in the changing social and refreshment habits of people. 
By 1963, high-volume eating places like drive-in theaters and restaurants were Coke's No. 1 outlet for fountain sales, Ryan said. Around the same time, the company debuted a pressurized dispensing machine (known as the Satellite) with multiple nozzles, tailored to serve a maximum number of customers in a short period of time. 
"It may seem a little dated now, but in 1962, this was really cool — it was state-of-the-art technology," Ryan said.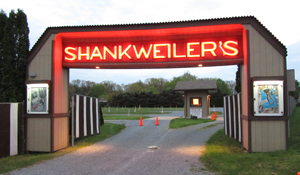 Shankweiler's Drive-In opened in 1934 and is the oldest operating drive-in theater in the U.S.
Drive-in movie theaters also offer an interesting glimpse into Coca‑Cola's early advertising strategies. The company used all kinds of tools, from film trailers to snack-bar displays, to build concession sales. It promoted candy and other snacks at the snack bar for free in exchange for a theater owner's agreement to sell Coke products, Ryan pointed out. These included a multifaceted "Co-stars" mobile featuring a clown surrounded by snacks and beverages, for instance, or animated film shorts shown before the feature urging folks to visit the snack bar for hot dogs, hamburgers, popcorn, and even Chilly Dilly pickles — all of which could be washed down with an icy cold Coke. 
"The advertising we produced was geared toward theater owners to make their lives easier," Ryan said. "This was very specialized advertising [that] also highlighted the quality of the food and service you were getting at the drive-in theaters." 
While many drive-in theaters today have upgraded to HD-quality digital projectors and sound systems, their snack-bar menus have largely remained the same. Burgers, hot dogs, candy and popcorn are staples at places like Shankweiler's in Orefield, Pa., which opened in 1934 and is the oldest operating drive-in theater in the country. 
"Popcorn and Coke are probably our best sellers," says owner Paul Geissinger, who runs the business with his wife, Susan. 
The drive-in movie theater evokes a modern, yet nostalgic, image similar to the bowling alley, notes Ryan, who recalls visiting Atlanta's Starlight Drive-In as a kid with his family. 
"It's so old school," he says, "yet it manages to appeal to people of all ages."
5 of America's Longest-Running Outdoor Theaters
The drive-in movie industry hit its peak in 1958, with more than 4,000 theaters in operation, according to the United Drive-In Theatre Owners Association (UDITOA). Many closed in the 1980s due in part to the rising costs of land and an increase in entertainment options like home video. There are currently 348 theaters operating in the United States and Puerto Rico, with the largest concentrations in New York, Pennsylvania, and Ohio, according to UDITOA. 
Here are five of America's longest-running outdoor theaters -- all worth checking out on a starry summer evening. 
1. Shankweiler's
Orefield, Pa. 
The country's oldest continuously operating drive-in theater is in its 81st consecutive season. Owner Paul Geissinger started out as a projectionist in 1971 and bought the property with his wife, Susan, in 1984. The property added digital projection and new sound equipment in recent years, but maintains an old-fashioned snack bar serving hot dogs, popcorn with real butter, and ice-cold root beer. 
 
2. 49er Drive-In
Valparaiso, Ind. 
Named for the year it opened, the 49er is a Midwest fixture owned by brothers Steve and Mike Cotten. Families are encouraged to come early and play soccer on the wide lawn. Valparaiso is also the site of Orville Redenbacher's first popcorn-making facility and an annual popcorn festival. 
 
3. Starlight Drive-In
Atlanta, Ga.
Located on a forested hilltop south of downtown, the Starlight draws tailgating patrons who come early to grill and take advantage of the park-like setting. It also offers a few modern perks such as four screens, a movie lineup that often mixes first-run features with B-movies and horror films, and a year-round schedule. 
 
4. Delsea Drive-In
Vineland, N.J. 
New Jersey's only drive-in movie theater offers double and sometimes triple features on two screens and an eclectic snack menu that includes shrimp kebabs, stir-fried asparagus, and pulled-pork sandwiches. First opened in 1949 (it closed in 1987 before reopening in 2004), it offers gently sloped parking spaces, though many patrons prefer to enjoy the film under the stars on blankets or lawn chairs. 
 
5. Wellfleet Drive-In
Wellfleet, Mass. 
Cape Cod's only drive-in theater, the Wellfleet runs double features of first-run movies every day of summer and also offers miniature golf, a playground, and a dairy bar and grill with pizza, milkshakes, and homemade onion rings.