Harvey Gabor, an advertising legend best known as the art director for Coca‑Cola's 1971 commercial, "Hilltop," visited Coke's global headquarters in November 2012 to discuss the making of the iconic spot – and how his wish to "buy the world a Coke" came true four decades later through an award-winning project with Google.
Gabor almost didn't get the chance to work on "Hilltop." One of the two previous Coke ads he developed, an unpopular spot titled "No Mean People", nearly got him fired.
"It's hard to find a big idea in advertising," Gabor said. "You can go a year without one."
The dry spell for Gabor and his colleagues at McCann Erickson was short-lived. Bill Backer, the agency's creative director who coined the "Things Go Better With Coke" and "It's the Real Thing" jingles, was waiting on a flight to London in January 1971 when he scribbled down a few words on a napkin: "I'd like to buy the world a Coke and keep it company."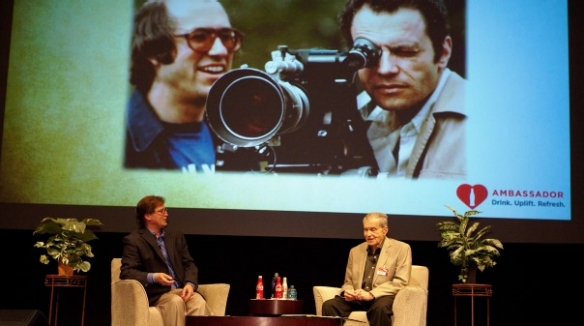 Gabor (right) chats with Coca‑Cola Archivist Ted Ryan, November 2012.
The lyric quickly became a song. A few weeks later, Backer sent the tune to Gabor's office in New York.
"I hit play and was stunned," Gabor recalls. "It was simple and beautiful... you could play the melody with one hand on the piano. At the time, it was Janis Joplin screaming, the Rolling Stones and Tom Jones. (Backer and his co-writers) had the temerity to slow it all down, which I think is such an incredible gift."
Tasked with translating the song to the screen, Gabor came up with the idea of the "First United Chorus of the World." He wanted to film an international group of young people singing together on a hillside.
Backer presented the storyboards to Coca‑Cola Advertising Manager Ike Herbert, who approved a $100,000 budget to shoot the spot – nearly double the average cost of a commercial back then.
The initial plan was to film on the Cliffs of Dover in England. Hundreds of British schoolchildren were cast and the cameras were ready to roll, but Mother Nature wasn't cooperating. "We show up and the wind is blowing 65 to 70 miles an hour, and we were told it would continue for the next four days," Gabor recalls.
The crew relocated to Rome and cast more than 1,200 young people. After more rain delays and countless other glitches, they completed the climactic helicopter shot. But they'd run of out of daylight... and money.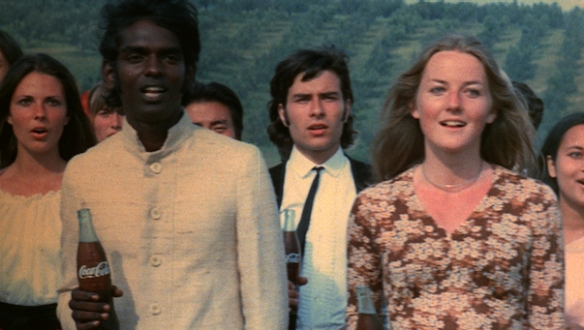 The 'Hilltop' commercial, which includes the iconic jingle 'I'd Like to Buy the World a Coke', premiered in 1971.
When they entered the screening room that night, they realized they didn't have enough to finish the spot. And to add insult to injury, the production company split town for another gig.
"We had no money, no footage and no production company," Gabor said.
Mercifully, the account supervisor at McCann Erickson agreed to draw from another budget to re-shoot in Rome. The final price tag would eventually top $250,000.
The crew's woes continued in Italy, however. After casting another chorus of young people from foreign embassies and local schools, the actress hired to play the lead bailed out at the last minute. Gabor and his colleagues were forced to search the streets of Rome for a suitable replacement.
"You haven't lived until you've seen two 35-year-old guys going up to women saying, 'You're beautiful... would you like to be in pictures?" joked Gabor.
Finally, they spotted a British governess pushing a baby carriage in Piazza Navona and signed her up. "Hilltop" had its leading lady.
The weather cooperated on the day of the rescheduled shoot, and the crew breathed a sigh of relief and wrapped production. Gabor returned to New York to screen the film for Backer, who was notoriously hard to impress.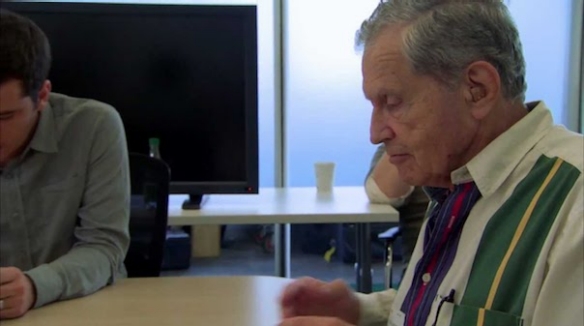 Gabor brainstorming at Google's New York offices in 2012.
"I look back and he's crying," Gabor said of his boss. "He said, 'If the world only remembers me for this commercial, I'll have lived a pretty good life.'"
"Hilltop" – and "I'd Like to Buy the World a Coke" – were both immediate hits. Coca‑Cola received more than 100,000 letters praising the ad, and radio stations across the country were flooded with requests for the song. At a time when conflict was dominating headlines, "Hilltop" became a rallying message of tolerance and hope, and is widely considered to be one of the most iconic ads ever created.
'A Fascinating Collision'
In 2012, Google lured Gabor out of retirement with a unique proposition: to reimagine "Hilltop" for the digital era using today's technology as part of a unique experiment called "Project Re:Brief." Despite his fear of all-things-digital, it was an offer he couldn't refuse.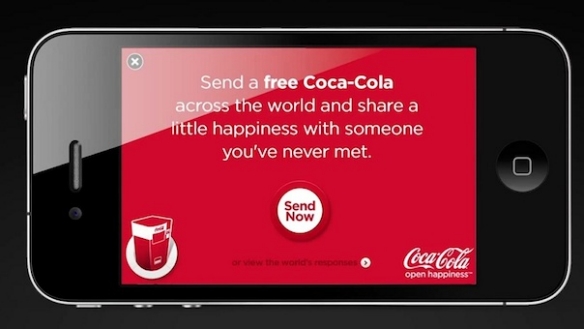 In a 10-minute documentary film on the project, he joked that he only knew Google as the search engine he used to research his aches and pains and the diseases he was likely to die from.
"I didn't want them to know I'm one of the old guys who gets dewey-eyed when I see dials and knobs," Gabor said.
After picking up a quick tech tutorial from his son and grandson, Gabor traveled from his home in Michigan to New York, where he spent a week collaborating with a team of creatives and technologists at Google HQ. He played around with an iPad for the first time and learned about target advertising.
Google's culture put him at ease. "It was a fascinating collision," he said of the experience. "I thought they would patronize me, but they didn't. They were terrific."
The updated "Hilltop" literally let consumers "buy the world a Coke" from their computer or smartphone, and connect with others across the world through the magic of Google's display ad platform and specially engineered vending machines.
In the spirit of the original work, someone in Cape Town could record a message and send it along with a free Coke to someone in Buenos Aires, who can complete the connection by responding with a text or video message.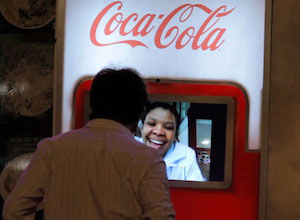 A consumer in South Africa buys a stranger a Coke in Argentina.
Gabor saw the technology first-hand in a vending machine on 13th Street in Manhattan.
"In the most jaded city in the world, people went nuts," he said.
The creative industry did, too. "Project Re: Brief" won a Mobile Grand Prix at the coveted Cannes Lions International Festival of Creativity. Gabor made the trip to south France to accept the award, where he was treated like advertising royalty and bombarded with requests for autographs and pictures.
"For six days, I was Frank Sinatra," he said.
Though he admits to being a bit nervous going into the project, Gabor walked away impressed and inspired by the young team's creativity and passion.
"I learned a lot from them... they had a better idea than me," he said. "Sending a Coke to Paris, if you had to measure it, is equal to 'Let's Buy the World a Coke."