The year was 1928. Women would compete in track and field events for the first time at the Olympic Games. A symbolic flame would light a cauldron, and ignite a tradition. And a freighter carrying American athletes to Amsterdam would also bring Coca-Cola to its first Olympic Games.
History has been made many times at Olympic Games through the decades. And Coca-Cola has been there, at every host city since 1928, to see records being broken, dreams being fulfilled, and rivalries and camaraderie served up in equal parts.
The Coca-Cola Company is the longest continuous sponsor of the International Olympic Committee (IOC), and today it announced it is extending its relationship another 12 years, for a total of a historic 104 years.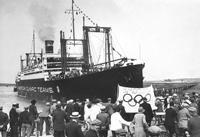 But this contract signifies a new era as tradition meets innovation with the IOC's first ever Joint TOP (The Olympic Partners) Sponsorship. The Coca-Cola Company and China Mengniu Dairy Company will co-own the non-alcoholic beverage category, with Mengniu taking the lead in an expanded dairy category. 
"We are honored and privileged to be a part of the movement that makes it possible for athletes from all over the world to come together to represent their nations, pursue their dreams and be a part of history," said James Quincey, Chairman and CEO of The Coca-Cola Company. "A lot has changed since we sold the first Coca-Cola at an Olympic event in 1928. With a fresh approach to our business and to our sponsorship, we are proud to join with Mengniu to promote and celebrate future Olympic Games."
The Coca-Cola Company and Mengniu are well acquainted with one another in China as Mengniu's largest shareholder, COFCO, is also the parent company of COFCO Coca-Cola, one of The Coca-Cola Company's bottlers in China.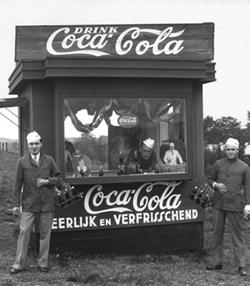 With its current IOC contract ending after the Tokyo 2020 Olympic Games, The Coca-Cola Company can now begin planning for Beijing in 2022, Paris in 2024, and in Los Angeles in 2028 – 100 years after women made history in Amsterdam. The company will be there for the 2026 and 2032 Olympic Games – in cities that have yet to be named.
"We've been a part of bringing so many incredible moments to Olympic Games fans over the years – moments that have been inspired by the pursuit of excellence, the possibility of opportunities, the spirit of competition, and a vision for a better world,' said Bea Perez, Chief Public Affairs, Communications, Sustainability and Marketing Assets Officer for The Coca-Cola Company, "With the past 90 years as our foundation, we can't help but be excited for what the future holds."