AHA disrupted the sparkling water category in its first year on shelves, breaking through the clutter of a crowded and competitive category with bold flavor combinations, enlivening sensory experiences, and first-to-market zero-calorie caffeinated options.
The brand will build on its early momentum this month with the launch of its first 360-degree marketing campaign – "Can I Get an AHA?". Featuring actors and comedians Lauren Lapkus and Colton Dunn, the joyful and bright creative highlights AHA's pick-me-up credentials and eye-catching, reaction-worthy portfolio of flavors.
"As the sparkling water category continues to gain traction, we're excited to unveil AHA's first-ever comprehensive marketing campaign featuring a bold and unexpected duo reflective of our brand ethos," said Ulises Ramírez, group director, hydration category, North America Operating Unit, The Coca-Cola Company. "With a name that's fun to say and a beverage that's fun to drink, we're leaning into humor with the goal of enlivening our fans' everyday moments. We're incredibly proud of the brand love we've earned in our first year on shelves and are looking forward to reaching an entirely new fanbase with the help of the brilliantly funny and always refreshing Lauren Lapkus and Colton Dunn."
The creative – which will roll out across TV, radio, social media and streaming platforms beginning May 10 – is meant to evoke a joyful reaction, just as a sip of AHA does, and play on the brand's ethos of energizing everyday moments.
"This AHA campaign really was a fun one," Lapkus said. "I feel like people always say, 'this was a fun one,' but it's just the truth this time. For real, I prAHAmise."
Dunn added, "I was already a fan of AHA before jumping in on this campaign, but now I'm a full-on fAHAnAHAtic. Like, for real, it's a prAHAblem. Send AHAlp."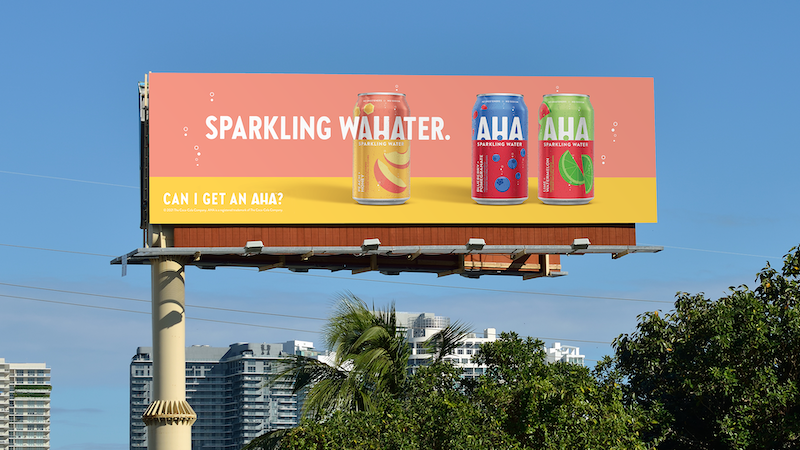 AHA Surpasses Key Metric Benchmarks in 2020 and 2021
From vibrant, eye-catching packaging and cans, to a memorable brand name and logo, to buzzworthy social media content, a differentiated visual identity helped AHA cut through during an unprecedented launch year. Despite launching in the early stages of the COVID-19 pandemic, AHA has posted strong results. The brand outperformed category benchmarks across key metrics like brand love, taste preference and repeat purchases, and finished 2020 with an 8.3% share of the unsweetened flavored sparkling water category.
Overall, flavored sparkling water sales were up 24% from January 2020 to January 2021, with innovation accounting for 52% of total category growth (source: Nielsen Scanning All Measured Channels). Success has continued as AHA has grown in 2021, achieving +57% in sales in the month of March vs. last year (Source: Nielsen scanning $, March 2021 vs PY).
AHA recently added even more fizz and flavor to its lineup of boldly refreshing sparkling waters, and introduced two new flavor combinations: Raspberry + Acai and Mango + Black Tea, which contains 30mg of caffeine – driven by extensive research and consumer testing. Like all existing AHA flavors – Lime + Watermelon, Strawberry + Cucumber, Citrus + Green Tea, Orange + Grapefruit, Blueberry + Pomegranate and Peach + Honey – the new offerings feature surprising yet accessible flavor combinations pairing mainstream fruit flavors with trending but less-expected tastes with sensory appeal. Bold aromatics help give all AHA options a flavor-forward taste that stands out in the crowded and competitive sparkling water category.
AHA Sparkling Water is available at stores nationwide in 12- and 16-oz. cans. For more information, visit drinkaha.com.