Make Your Mix
Votes for the Coca-Cola Freestyle "Make Your Mix" contest poured in–literally–over the last few months, with fans ultimately crowning Danuta Rybak's flavorful fusion of Coca-Cola Cherry, Fanta Cherry and Minute Maid Lemonade as the tastiest consumer-generated concoction offered on the interactive fountain beverage dispenser.
The first-ever program kicked off this summer by inviting Americans to mix two or three of the nearly 200 drink choices offered on Coca-Cola Freestyle and share photos of their creations on Twitter or Instagram with the hashtag #MakeYourMixContest.
A panel of Coca-Cola beverage experts narrowed the submissions down to five finalists, including Danuta, who had their namesake mixes available on select Coca-Cola Freestyle machines across the country from Aug. 25 until Nov. 4. Coca-Cola Freestyle users poured Danuta's Harmony Mix more than the other finalists.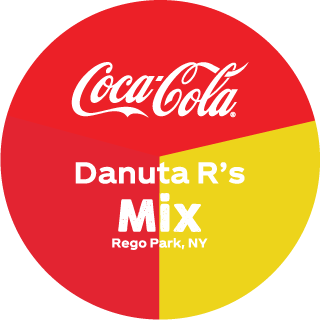 Danuta, 43, created her mix on a Coca-Cola Freestyle machine at a Target near her home in Queens, N.Y. A lover of cherry-based desserts, she knew Cherry Coke (40% of her mix) would be her base. She added the complementary tartness of Minute Maid Lemonade (35%) and the citrus kick of Fanta Cherry (25%) to create a bright, bold recipe. Download the Coca-Cola Freestyle mobile app to create the mix to try yourself.
A lifelong foodie and Coca-Cola fan, Danuta runs a blog and YouTube channel featuring her original recipes. The native of Poland plans to use the $10,000 grand prize to open a Polish-inspired food truck.
"Big thanks to Coca-Cola Freestyle and a special thanks to everyone who voted for my mix," Danuta said. "This win will help me finalize and launch my own small business, Danutella's Corner, which has always been a dream of mine. This contest was a life-changing opportunity, for which I am very grateful."
Personalization with Every Pour
Coca-Cola Freestyle uses "micro-dosing" technology to deliver a portfolio of touch-to-pour drink options–including 117 low/no-calorie beverages and more than 100 varieties that can't be found anywhere else. These include a pair of just-released holiday mixes: Coca-Cola Raspberry (and Coca-Cola Raspberry Zero) and Sprite Vanilla Frost (and Sprite Vanilla Frost Zero).
Customization has been at the heart of the Coca-Cola Freestyle experience since its launch, and mixing continues to gain popularity on the platform. Fan creativity has even helped fuel some of Coke's recent beverage innovations. By getting real-time data from each machine, the company track trending flavors and the "most poured" combinations. These insights have helped power the company's innovation pipeline –including the 2019 launches of Sprite Lymonade and Orange Vanilla Coke.
The "Make Your Mix" content showcased the variety of beverages offered on Freestyle and brought to life Coke's vision to become a total beverage company that listens to consumers and quickly brings innovations and new ideas to market."
"This campaign was all about empowering our fans to do something they're already doing –making Coca-Cola Freestyle beverages that are 100% their own," says Sarah Greenberg Sachs, marketing director, Coca-Cola Freestyle. "It's pretty incredible that we invited a consumer into our brand, and not only did she have fun and share her creation, but we also helped change her life."