The Japanese arm of Coca-Cola has invented strange-sounding concoctions with all kinds of flavors and purposes, from fiber-fortified Coke to water that helps you sleep.
But one of the biggest successes that the company has seen over the last few decades is the explosion of the ready-to-drink (RTD) coffee business.
Coca-Cola, a company not known around the world for its coffee, was one of the first companies to spark the trend. Now, 42 years after its launch, Georgia Coffee (named for Coca-Cola's home state) is the highest-grossing ready-to-drink coffee product in the world.
Canned coffee has become fairly well known as a Japanese invention, but that might still surprise outsiders who associate the country with its rich traditions in a different kind of brewing: tea. While tea continues to be Japan's most popular beverage, coffee consumption is rising fast.
According to the All Japan Coffee Association, Japanese people downed 462,000 tons of coffee in 2015, a record for the country and its fourth consecutive annual increase. AJCA also reported in 2012 that Japan ranked third globally in coffee consumption among importing countries. Coca-Cola Japan currently sources primarily from Brazil and Colombia, according to Coca-Cola Japan Vice President of Procurement Takao Kajiwara.
Almost all of that is for canned coffee.
"People have a misperception about canned coffee and the high quality you can have," says Takashi Wasa, senior vice president of marketing and new businesses for Coca-Cola Japan.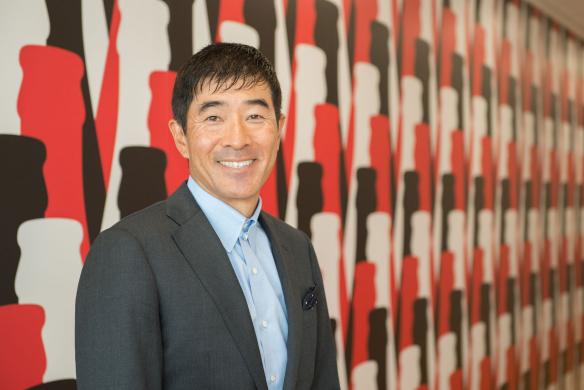 Takashi Wasa, senior VP of marketing and new businesses for Coca-Cola Japan. remembers drinking canned coffee from the vending machine at the local, public bathhouse from the time he was a child.
Industrial Buzz
RTD coffee is gaining popularity worldwide (particularly in the U.S.), but the frequency with which Japanese people drink it is unique; according to an AJCA survey, around a quarter of the country's coffee consumption in 2014 was RTD.
Convenience is one of RTD's biggest benefits, and the reason it initially exploded onto the Japanese scene in the late- 1960s. As rapid industrialization met with the expanding vending machine business, blue-collar workers saw to-go cofee as the perfect pick-me-up in the middle of a hard day's work. In a commercial for a still-popular Georgia Coffee campaign, a blue-collar worker declares that "The world is made up of somebody's work," honoring thousands of workers in burgeoning metropolises like Tokyo.
Georgia wasn't the first canned coffee on the market (UCC Ueshima Coffee Company staked that claim in 1969). But its 1975 release by Coca-Cola was driven by a heavy dose of strong marketing and widespread distribution among the company's vending machines (Coca-Cola now owns around 980,000 of Japan's 2.5 million beverage vending machines). Coca-Cola quickly jumped out as a market leader.
"From 1975 to 1992, we were the only ones competing in ready-to-drink coffee," Takashi says. "During that time, Japan was economically recovering. The message was that Georgia Coffee was always there to support you in your work. Competitors tried to chase us, but we had a 20-year advantage."
Bitter or Sweet?
More than 40 years later, canned coffee is still a go-to drink for people working in Japan's fast lane. The country has the highest density of vending machines in the world: approximately one vending machine for every 23 people, according to the Japan Vending Machine Manufacturers Association. For the Japanese, quick, easy access is a necessity.
"I brew my coffee at my home, but when I get to the office, I drink canned coffee," Takashi says. "Then after lunch, I get canned coffee at the vending machine. At 4 o'clock I get tired, so I drink a canned coffee again."
Takashi says some Japanese consumers have even commented that canned coffee's unique flavor is appealing. Stan Mah, president of Coca-Cola Tokyo Research and Development Company Ltd., calls it a "cooked" taste, which Takashi says some of the brand's older consumers have grown fond of. Others disagree.
Coca-Cola and other companies have continuously searched for ways to make their coffee products taste more like a freshly brewed cup of joe.
One approach is to give RTD coffee a smoother, sweeter taste by adding milk and sugar. Close to two-thirds of Georgia Coffee's approximately 30 varieties are coffee-and-milk blends. However, coffee products with high amounts of sugar have gradually lost popularity in Japan, while low-sugar, low-milk and black varieties are surging.
Another approach to fresh taste is to find an alternative to the sterilization process, which currently involves heating the coffee to 250 degrees Fahrenheit, breaking down the acidity and boosting its bitterness. The ongoing challenge, Mah says, is to increasingly minimize the time it takes to sterilize the coffee. "The shorter sterilization time, the better the taste," he says. 
One solution is cold-brewing, which has become an increasingly popular technique among coffee makers. In the cold-brewing process, grounds sit in cold water for at least 12 hours before filtration. This allows for the full extraction of flavor from coffee beans to occur while keeping the coffee's acidity low.
For years, the time consumption and increased cost of cold-brewed coffees presented distribution challenges for large companies. But last year, Coca-Cola Tokyo R&D Company invented two new Georgia Coffee cold-brew products (black and café latte) after inventing a low-temperature extraction process. Mah says the move was a major breakthrough for Japanese companies aiming to compete in the coffee business with fresh-tasting brews.
"We are the first to launch cold-brew, ready-to-drink coffee in Japan," Mah says.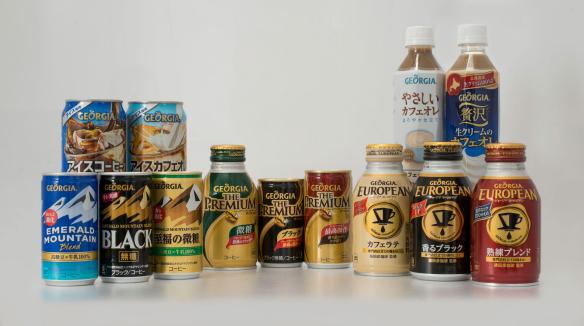 Georgia Coffee boasts a variety of about 30 different products, most of them coffee-milk blends. Currently, low-sugar and no-sugar products are trending.
Global Energy Boost
Georgia Coffee is one of Coca-Cola Japan's fastest-growing brands, and it is narrowly beating out competitive, RTD coffee brands.
But what happens in Japan doesn't always stay in Japan. In the U.S., ready-to-drink coffee sales have soared in the last few years; the segment saw a 300 percent increase from 2013 to 2015, according to nonprofit trade group Specialty Food Association. The category has also seen double-digit growth in the U.S. every year since 2011, according to a Bloomberg report.
Beverage companies, including Coca-Cola, are jumping on the bandwagon. Earlier year, Coke teamed with Dunkin' Donuts to launch its own bottled coffee drinks in retail outlets across the U.S. The Gold Peak tea brand also launched a ready-to-drink coffee product line. Both are growing quickly.
Even Georgia Coffee has broadened its horizons. Japan's most popular canned coffee is now sold in China, Hong Kong, India, Korea, Macao, Singapore and Taiwan.
"Despite being the number-one ready-to-drink coffee brand in the world, the volume mainly comes from Japan and Korea," Mah says. "It just shows that there are plenty of white space opportunities for Georgia to expand both within and outside of Asia going forward as we have the technical know-how in making great-tasting, ready-to-drink coffee."