A Critical Challenge
Water has always posed great challenges for the Middle East, North Africa and Pakistan. With rapid population growth, and climate change, these challenges are becoming more critical than ever. The World Resources Institute forecasts that the Middle East will become the most water-stressed region in the world by 2040.
Over 60 percent of the MENA region's population lives in areas with high or very high surface water stress, compared to a global average of about 35 percent. Despite water scarcity, the region has the world's lowest water tariffs and, at 2 percent, the highest proportion of GDP spent on public water subsidies.
Governments in the region have a crucial role to play in creating the regulatory environment and infrastructure required to manage water better, but alone they cannot solve water scarcity. What the World Bank terms a new "water consciousness" is needed, in which water scarcity is understood to be the shared responsibility of government, but also business, communities and individuals.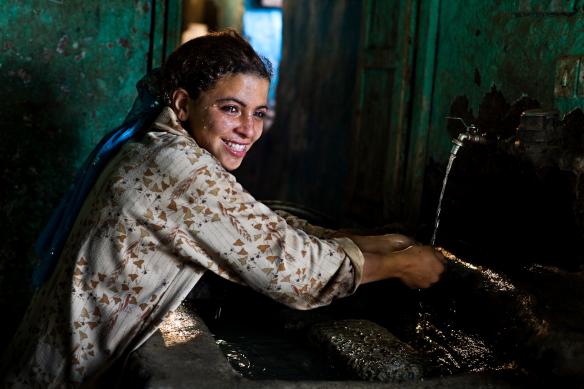 Coca-Cola supports clean water connections to households in Upper Egypt.
Partnering to Conserve
WWF and The Coca-Cola Company have been working together for over a decade to help conserve the world's freshwater resources. We understand that water is the ultimate shared resource and we can only manage it sustainably if all water users in a river basin work together. WWF believes that it is critical to work with the private sector to tackle issues that impact fresh water. We need business to act as catalysts for change in local watersheds, sothat we can create the conditions for collaborative, sustainable management of freshwater resources. This collective action approach is at the heart of the partnership between WWF and Coca-Cola.
The Coca-Cola Company, for our part, is working to steward rigorously the water used in our production process. We have steadily reduced the amount of water used in our plants around the world, including in the Middle East. In addition, Coca-Cola's "Replenish" goal was a first for the beverage-producing private sector when it was set in 2007. It committed the company to return 100 percent of the water Coca-Cola uses in its global sales volume by 2020 through projects that give people water access, water for productive use and watershed conservation activities. Many of these projects were conducted by WWF and other expert partners.
Replenishing Water
As part of this commitment, Coca-Cola already returns 1.75 billion liters of water per year to nature and communities in the Middle East, North Africa and Pakistan. But we are now accelerating action to meet the global target in MENA, with a suite of new programs worth around $4 million just started or about to commence in 2018, in Algeria, Morocco, Egypt, Gaza, Iraq, Jordan, Lebanon, Pakistan and Sudan.
The theme of World Water Day in 2018 is nature-based solutions to water challenges. Several programs Coca-Cola is supporting in the Middle East, North Africa and Pakistan support such nature-based interventions. Partnerships with organizations like the World Wildlife Fund (WWF) are essential to making headway.
In Pakistan, Coca-Cola has partnered with WWF since 2008 to promote integrated watershed management (IWM) in the Ayubia National Park, which spans over 3,312 hectares in the Galliat region of the Western Himalayan Ecoregion. The partnership rehabilitated the watershed through groundwater recharge, including reforestation and soil restoration, as well as helping communities with rainwater harvesting and water storage and new piping infrastructure. Also in Pakistan, Coca-Cola partnered with the Indus Earth Trust in 2017 to utilize rain water harvesting techniques to decrease the time women and girls spend collecting water and to enhance groundwater recharge in more than 30 villages in the Thatta District, with transformational effects on the local community.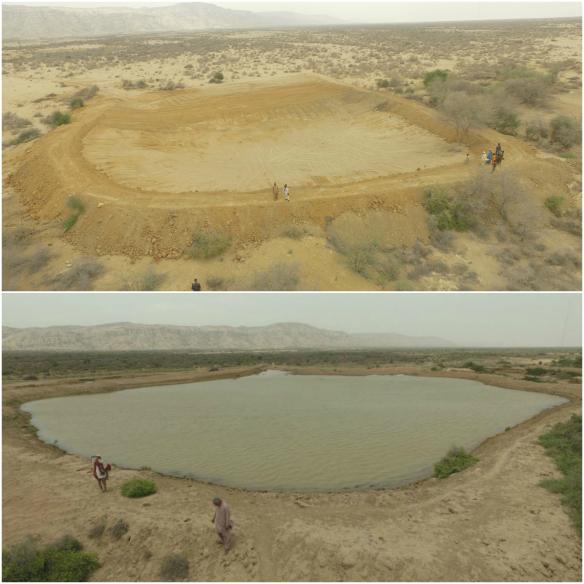 Before and after the rain: reservoirs constructed by Indus Earth Trust with Coca-Cola funding in 2017 in Kohistan, Pakistan, save women and girls long daily walks to collect water.
A Portfolio of Support
Other nature-based interventions are being supported, such as in Tata Province in Morocco where NGOL'ALCESDAM, has introduced efficient irrigation systems to restore an oasis which had been deserted by its former farming communities. More than 800 million liters of water per year have been generated through this program to date. And in Algeria, The Coca-Cola Foundation's partnership with the United Nations Development Program (UNDP) will restore a 60-hectare area of the dune cordon in the Guerbes-Sanhadja Wetland Complex that has been degraded by human activity.
As well as these nature-based interventions, Coca-Cola and our partners are providing clean water access to thousands of people in MENA as part of the same Replenish initiative. In Pakistan, again with WWF, Coca-Cola has supported the Paani Safe Water Initiative, improving water access for 500,000 people through community outreach and education.
In Egypt, more than 80,000 people have already been connected to clean water, but on March 12, The Coca-Cola Company announced a new project in Egypt using ground breaking technology to extract clean water from the banks of the river Nile which will reach another 100,000 people per year with safe water. And in Gaza, Coca-Cola started working with Mercy Corps in 2017 to provide desalination technology to enhance water access for more than 125,000 people.
WWF and The Coca-Cola Company will continue to work with governments and other stakeholders tomanage and help combat the water challenges facing the MENA region. Partnerships like ours allow us to bring the power of our global brand together with those who have expertise in delivering solutions to water scarcity. We recognize our responsibility tonot exacerbate the problem of water scarcity in MENA through careful stewardship of water, but more than that, we can be part of the solution.
Note:
New projects recently started or to start in 2018:
Algeria: UNDP Guerbes-Sanhadja Wetland Complex. Integrated management Plan for the Guerbes-Sanhadja Wetland. Supported by The Coca-Cola Foundation - Planned
Egypt: UN Habitat Nile River Basin Initiative. Clean Water for Integrated Village Development - Confirmed
Lebanon: Waterwise Schools-Chouf Pilot Project. G Association - Confirmed
Sudan: Mercy Corps. Increasing Access to clean water and WASH training. Supported by The Coca-Cola Foundation - Confirmed
Pakistan: WWF Integrated Watershed Management and Livelihood Improvement Project in Selected Sub-catchments of Khanpur Dam - Confirmed; Zindagi. Rotary International - Confirmed; Community Stewardship and Water Replenishment for Drinking and Hygiene. MGPO - Confirmed
Morocco: L'Alcesdam Phase 2. Efficient Irrigation in Tagmout, Morocco - Planned
Iraq: AMAR Foundation. Replenishing Water in the Southern Iraqi Marshlands - Confirmed
Jordan: Jordan River Foundation. Water Conservation in Mleih-Madaba - Planned; and UN Habitat. Improving Sustainability of WASH Service Delivery in Za'atari and Azraq Refugeecamps - Confirmed