After 35 years, America's No. 1-selling zero-calorie beverage brand is entering a new era.
(And no, the one-and-only Diet Coke is not being reformulated. It continues to be available nationwide.)
With an updated look, sleek new packaging, the debut of four bold, new flavors and a new campaign, The Coca-Cola Company is re-energizing and modernizing Diet Coke for a new generation of drinkers – and offering its millions of current fans a new look and more flavors.
"Diet Coke is one of the most iconic brands loved by millions of fans in North America," said Rafael Acevedo, Coca-Cola North America's group director for Diet Coke. "Throughout this relaunch journey, we wanted to be bold, think differently and be innovative in our approach. And most importantly, we wanted to stay true to the essence of Diet Coke while recasting the brand for a new generation."
He continued, "We know Diet Coke has all kinds of fans – from people who have loved its great taste since it launched in 1982 to Millennial men and women who are always looking to try new things. We're modernizing what has made Diet Coke so special for a new generation. The same unapologetic confidence still comes through and the same great Diet Coke taste people love is here to stay, but we're making the brand more relatable and more authentic."'
The two-year innovation process was fueled by consumer research pointing to younger Americans' affinity for big, yet refreshing and great-tasting, flavors in their favorite foods and beverages – from hoppy craft beers to spicy sauces.
"Millennials are now thirstier than ever for adventures and new experiences, and we want to be right by their side," Acevedo continued. "We're contemporizing the Diet Coke brand and portfolio with sleek packaging and new flavors that are appealing to new audiences."
The company spoke to more than 10,000 people from across the country to get their ideas and inputs on potential flavor extensions, packaging updates and more. From these insights, Coca-Cola's R&D team developed and tested more than 30 Diet Coke flavor combinations, featuring tropical, citrus and even botanical notes. Ultimately, Diet Coke landed on four flavors that received the most positive consumer responses.
Ginger Lime, Feisty Cherry, Zesty Blood Orange and Twisted Mango bring more variety to the trademark by complementing the unique, crisp taste of Diet Coke with unexpected-yet-delicious tastes. They aim to satisfy adventurous fans' thirst for bolder tastes and more dynamic and uplifting experiences.
(And the company has heard fans loud and clear on one thing: the same great Diet Coke taste loved by millions of fans is not changing!)
Acevedo said Diet Coke and its new flavors complement the brand's no-calorie cousin, Coca-Cola Zero Sugar. "Diet Coke and Coke Zero Sugar are two delicious, no-calorie sparkling choices – it's just a matter of personal preference. For people looking for an option that tastes like a Coca-Cola, Coke Zero Sugar is a great choice. Diet Coke and its expanded flavor portfolio provide a crisper taste and bolder flavors," he explained.
Diet Coke and the new flavors will be packaged in sleek 12-oz. cans and sold as on-the-go singles and in eight-packs. Diet Coke also will continue to be offered in all existing package sizes, such as standard 12-oz. cans, mini cans, glass bottles and more. All new packaging and flavors hit store shelves this month.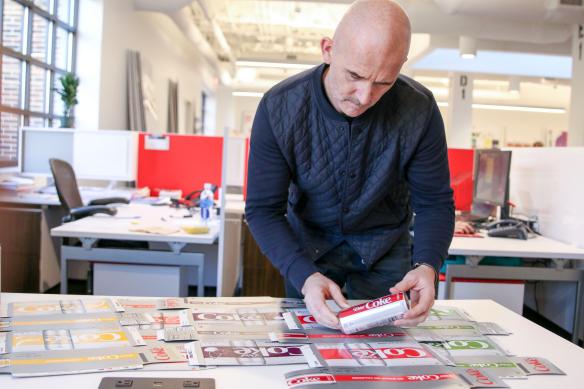 James Sommerville reviews comps of the new Diet Coke packaging designs.
New Packaging, New Look
The sleek cans – the same shape and size DASANI Sparkling fans know and love – will give Diet Coke a more contemporary feel. A refreshed visual identity, meanwhile, lives up to Diet Coke's new flavors and packaging.
"For a design team, the opportunity to rethink such an iconic brand with the scale and reach of Diet Coke – to build on its heritage and create a visual language that will help write its next chapter – is a rare brief," said James Sommerville, vice president, Coca-Cola Global Design. "This visual evolution elevates the brand to a more contemporary space, while still using at its foundation the recognizable core brand visual assets."
Anchored by the brand's iconic silver color, the new look-and-feel has a simplified color palette focused on silver and red with accents of bold color to represent the new flavors. A slightly refined typography simultaneously preserves Diet Coke's heritage, yet presents it in a more progressive manner.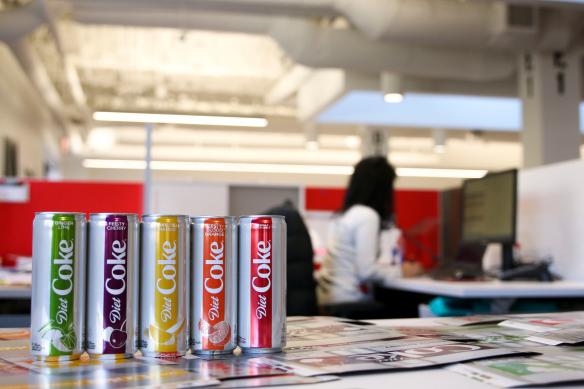 The new look also features a dynamic asset Sommerville and his team named the "High Line" – a vertical red band that flows through Diet Coke packaging and into all communications, from outdoor advertising to social media.
"The 'High Line' is a Coca-Cola red disc that has gone for a walk," Sommerville explains. "It visualizes how the Diet Coke brand, the innovation – and the consumers who love Diet Coke – are continually on the move, with confidence."
He adds, "With a brand recast, designers are challenged with determining how far is too far, and how close is not far enough. We set out to demonstrate progressive change and innovation with a look that would appeal to a consumer seeking bolder flavors, but without alienating the loyal Diet Coke fan base."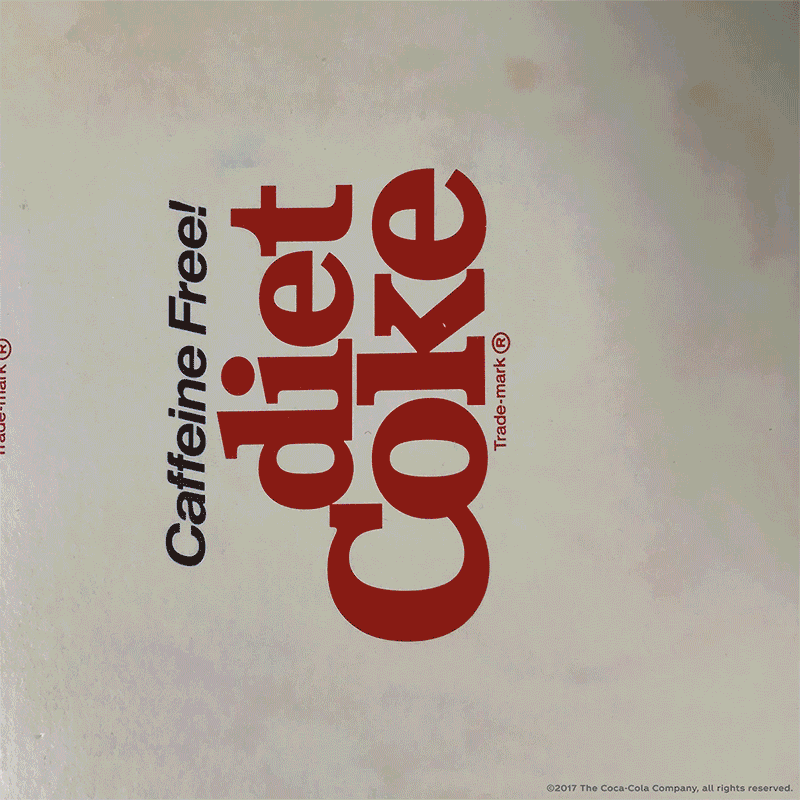 A Personality Evolution and a Brand Rejuvenation
Together, the new packaging designs and visual identity represent a personality evolution – a brand rejuvenation – for Diet Coke. A robust integrated marketing campaign launching later this month will celebrate the delicious, uplifting taste of Diet Coke and express an unapologetic, emboldened point of view for the brand.
Acevedo concluded, "We continue to believe and invest in Diet Coke because it's a great-tasting, zero-calorie beverage loved by millions. While the low- and no-calorie beverage category has been under pressure, its performance has been improving recently, and Diet Coke remains an incredibly strong brand. Following the double-digit growth we've seen from Coke Zero Sugar since its introduction last fall and with this full Diet Coke brand relaunch, we believe we can continue to re-energize and strengthen our no-calorie business. We're building a portfolio for the future with great-tasting options people want."
Diet Coke, known as Coca-Cola light in most international markets, is available in more than 110 countries around the world. The brand's new design and flavors will be available first in the United States, followed by Canada in February.