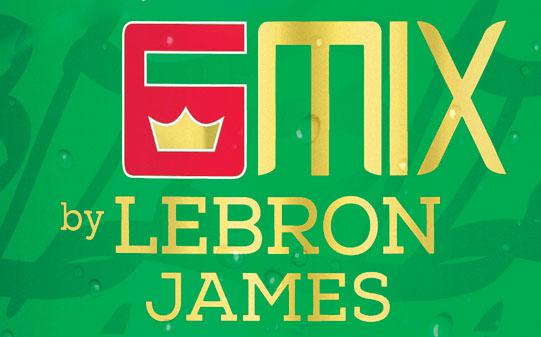 ATLANTA, March 19, 2014 – NBA superstar and cultural icon LeBron James has made thousands of spectacular plays during his basketball career. But this spring, he's changing the game and taking his creative expression off the court to collaborate with Sprite on a unique, new flavor.
Sprite 6 Mix by LeBron James is the first limited-edition Sprite flavor formulated in partnership with the NBA champion and cultural icon. The game-changing beverage combines the refreshing taste of traditional Sprite with a splash of cherry and orange flavor. The flavor formulation, packaging graphics and product name of Sprite 6 Mix were co-developed with James to truly reflect his style and taste preferences.
"LeBron James is the perfect partner to bring our fans new product innovation," said Kimberly Paige, Associate Vice President, Sprite Brands, Coca-Cola North America. "We've enjoyed an amazing relationship with LeBron since he entered the NBA in 2003, and we're proud to have him contribute to Sprite in a meaningful way that we know will excite Sprite lovers and his fans."
Beginning in mid-March, Sprite 6 Mix by LeBron James will appear on store shelves nationwide for a limited time. It will be available in 20-ounce bottles and 19.2-ounce cans, and will be sold in convenience retail and value stores. Special packaging for the new flavor features a custom logo sporting James' name and jersey number, and his initials appear on the background of the label. The packaging also features a custom "6" with a crown integrated to represent James' most popular nickname – "King James."
"Growing up drinking Sprite, I never imagined I would have my own flavor someday," James said. "I had a great time working with the Sprite team to turn my favorite flavors into a pretty cool variation of one of my favorite brands. I'm proud of what we created and I'm excited for my fans to try it."
Sprite® 6 Mix™ by LeBron James will be supported by a multichannel advertising campaign. The effort will include a 15-second commercial and digital videos featuring James and his marketing team during a real working session at LRMR offices in Akron, Ohio. Out-of-home on digital billboards and digital banner ads will feature the product and campaign tagline: LeBron Has Changed The Game. Again.
Fans of Sprite can enter cap codes from each bottle of Sprite 6 Mix by LeBron James online at Sprite.com/6mix or via text to redeem instant rewards, including LeBron street art wallpapers and music download codes. Plus, enter codes to win prizes including a signed LeBron James jersey, autographed cans, UNKNWN® apparel, gift cards and more.
About The Coca-Cola Company
The Coca-Cola Company (NYSE: KO) is the world's largest beverage company, refreshing consumers with more than 500 sparkling and still brands. Led by Coca-Cola, one of the world's most valuable and recognizable brands, our Company's portfolio features 17 billion-dollar brands including Diet Coke, Fanta, Sprite, Coca-Cola Zero, vitaminwater, Powerade, Minute Maid, Simply, Georgia and Del Valle. Globally, we are the No. 1 provider of sparkling beverages, ready-to-drink coffees, and juices and juice drinks. Through the world's largest beverage distribution system, consumers in more than 200 countries enjoy our beverages at a rate of 1.9 billion servings a day. With an enduring commitment to building sustainable communities, our Company is focused on initiatives that reduce our environmental footprint, support active, healthy living, create a safe, inclusive work environment for our associates, and enhance the economic development of the communities where we operate. Together with our bottling partners, we rank among the world's top 10 private employers with more than 700,000 system associates. For more information, visit www.coca-colacompany.com, follow us on Twitter at twitter.com/CocaColaCo,  or find us on LinkedIn at www.linkedin.com/company/the-coca-cola-company.
###